Italian company Treemme Rubinetterie presents the 5MM taps collection, this sophisticated design highlights the essential technological characteristics that compose the product. The main peculiarity is given by the constant thickness, not only when the water is released from the mouth of the tap, but also internally during the passage in all its dynamics of mixing. A preview of novelties that this company will display at Cersaie 2013.
5MM is made of brushed stainless steel (any trace of lead, chromium and nickel is completely absent) and is available both in the flat version (55 mm wide, 210 mm deep and 155 mm high) and in the wall version (150 mm wide, 220 mm deep and 60 mm in height).
This patent in fact allows the passage of water in five millimeters also in the flat version.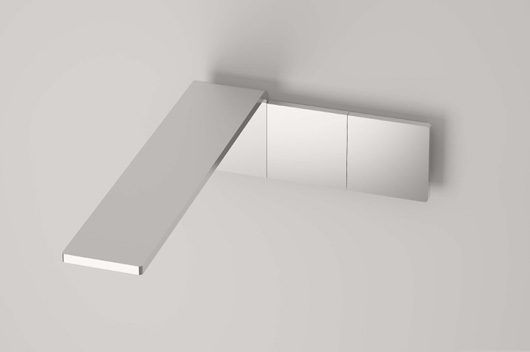 The use of a single thickness for all the components of the tap, for the control levers and for all the applications of the series make the design of 5mm light, imperceptible.. almost ethereal.
It is a technology developed in the details to ensure an innovative aesthetics, a cutting edge line and, at the same time, a high attention to the environmental sustainability and to water saving.
Source: Tremme Rubinetterie
Read more news related Tremme Rubineterie published at Infurma
Visit the Treemme Rubinetterie website