Nordica kitchen by Key Cucine. The ideal link between kitchen and living areas in the new contemporary living styles
Once again at Milan Design Week cooperation between Key Cucine -innovative kitchen company Vicenza based combining design and high end customization- and Agape 12 Concept Store in Milan, where Nordica, with its elegantly natural and contemporary look was displayed during Design Week.
Nordica's many features include a brand new possibility to change the look of your kitchen any time you want, or at least in line with the seasons.
Nordica is a design project with a functional, sober elegance that is able to interpret new styles in contemporary living, in an ideal link between kitchen and living areas. A long central island - the result of joining the cooking area with a bleached fir worktop - embodies the sheer know-how and love of materials for which Key Cucine is known, and it has been designed to become the very heart of the energy and the domestic and social dynamics of the home. The refined and at the same time, clean-cut, almost Scandinavian feel behind the choice of materials is also "zero km": Key Cucine in fact takes inspiration from the glorious past of its own geographical surroundings, making the grey stone of Vicenza - a material widely used by sculptors and architects of the Renaissance, starting with Palladio - a feature of this setting , bringing a new look to tradition and once becomes a living space feature. Textures and lightness are a feature of the wall block that houses the washing area, with a sink that is a seamless part of the worktop in grey Vicenza stone, treated to leave a smooth, waterproof, and oil-repellent finish that is easy to clean and maintain.
One wall is used for the important column units, with recessed doors - in cast-iron-coloured liquid metal finish - to make the most of storage space and also house large and small domestic appliances and cupboards. It can be opened and closed as needed to reveal the Nordic styling of the interior, in pale dusty blue with bleached fir wood shelves.
The use of Ecomalta for the wall panels - which house shelving and sliding panels to organise, conceal and show off, when needed. It completes a room with excellent usable spaces and an ultra-contemporary feel that makes the most of the convivial nature and seamless continuation of living space.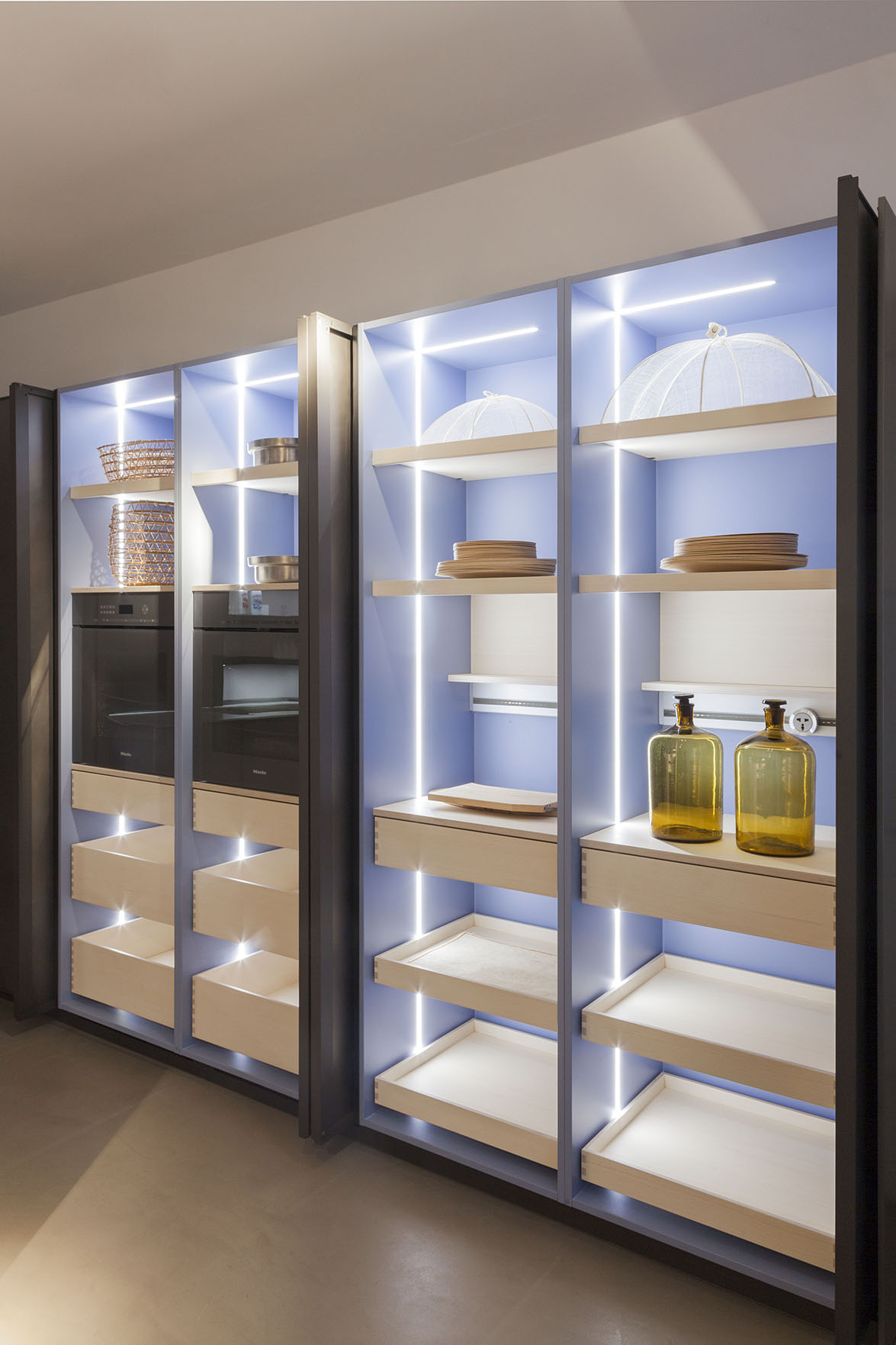 For the first time, Nordica incorporates the Variant system, created in conjunction with the firm, Benedini Associati, to meet the desire for change that we all feel, with what is practically an infinite range of applicable materials and finishes. An aluminium frame houses the front panels of the units, that can be easily changed, choosing from a rich palette of materials - wood, laminates, lacquer finishes, metals, stone, and glass... - as the interior designer, architect and customer prefer. The result is a kitchen that is finally able to define the mood we want to create, either during the design stages or even when just renewing units already in place.
Elegance, a sense of order and lots of room to move are what make this living set by Key Cucine stand out, representing a perfect link between the kitchen and living room, and customisable to suit needs and desires.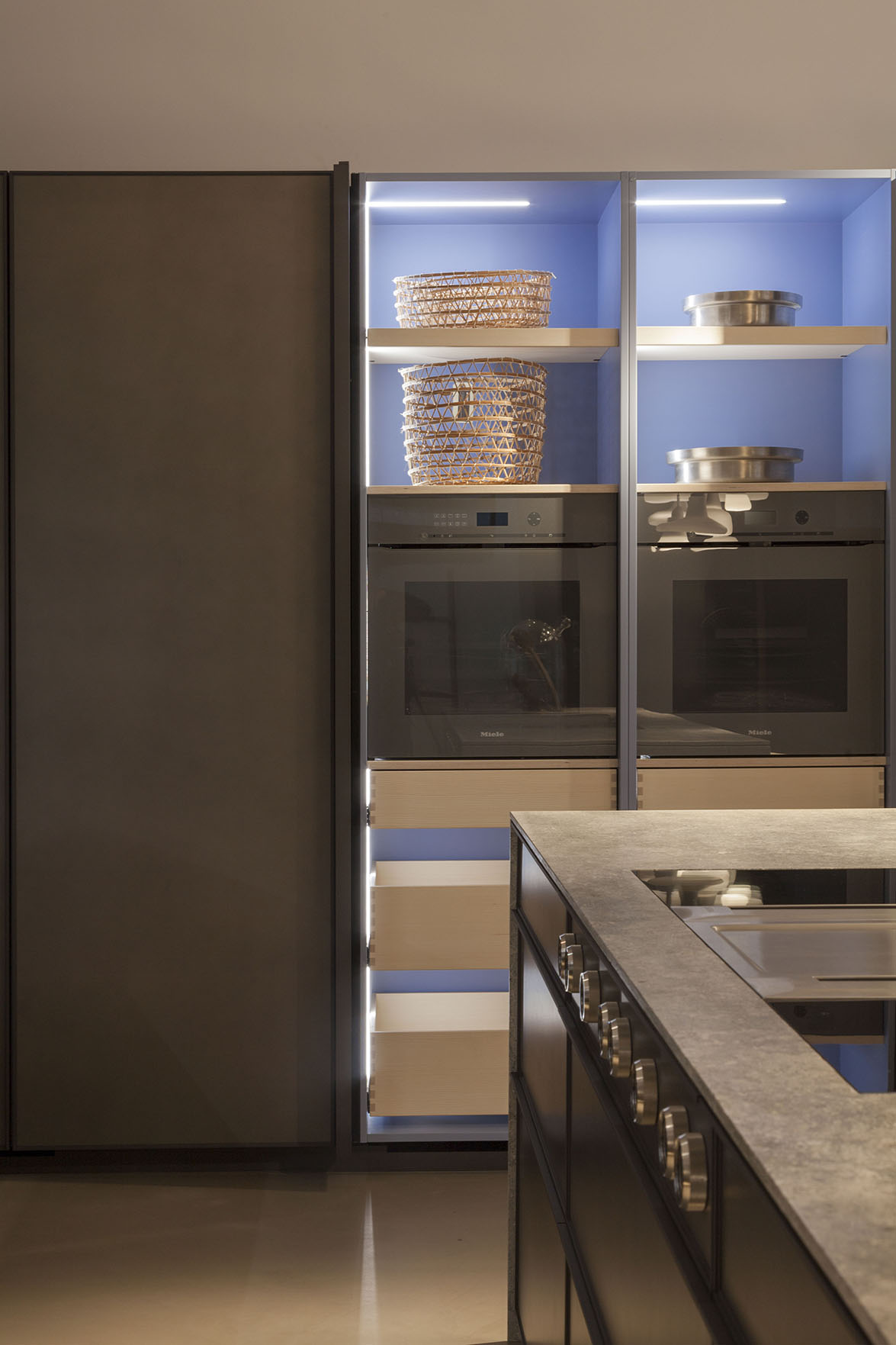 Source: Key Cucine
Photos by Patricia Parinejad
Read more news related Key Cucine published at Infurma
Read more news related Benedini Associati published at Infurma
Read more news related Agape12 published at Infurma
Visit the Key Cucine website