Cantharellus by B.lux is an original lamp shaped around soft organic forms, designed for use in the home, office and commercial spaces. It is a reinterpretation of the classic bell-shaped lamps of yesteryear, but with a renovated design that evokes a certain colouristic pop art feel.
The Italian lighting designer Marco Bisenzi is the creative force behind Cantharellus. The body of the lamp, made from polyurethane, is available in three gloss finishes: white, black and yellow. The fabric cables are also an important part of the lamp design and come in grey, green and blue. Indeed, colour plays a fundamental role in the design of this lamp.
Cantharellus combines design and technology, and its attractive image is enhanced by its use of a sustainable light source, LED bulbs. Cantharellus is fitted with 17 CREE 3W bulbs, which are arranged in such a way as to provide great visual comfort and completely avoid any glare.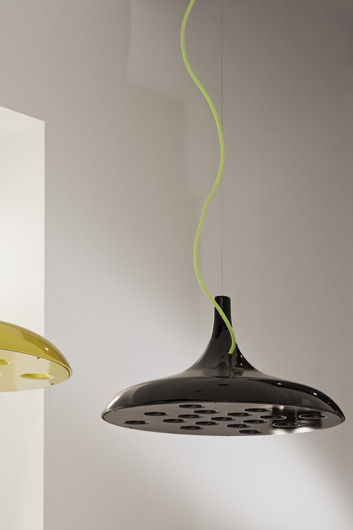 Cantharellus belongs to the DECO collection manufactured by B.lux, which in recent years has been committed to launching lamps that integrate LED technology into their design. Cantharelus is one of the new lamps presented by B.lux at the Euroluce 2013 lighting show in Milan.
Source: B.lux
Read more news related B.Lux published at Infurma
Visit the B.Lux website