The Arola BLACK&WHITE is a product of excellence by Ramon Soler, who has launched some exclusive peices for clients looking for a unique design in their bathrooms.
The BLACK & WHITE thermostatic bath-shower mixer of the Thermoarola range has a waterfall effect with the diverter being fitted in the flow handle. This allows us to incorporate a state of teh art design in our bathroom in a black or white matt finish, giving us an optimum finish which stands out amongst the rest.

Technically the tapware is very advanced because the themostatic system permits the exact water tempature setting, allowing us to save water and energy, avoiding brusque temperature changes and posible burns, having ease of use for all ages. These features allow us to reach perfection with relation to the environment as web as personal wellness.
This collection was designed by Antoni Arola and is up to date with all the market needs: it has comfort, beauty and sutainability, creating tapware in order to save natural resources.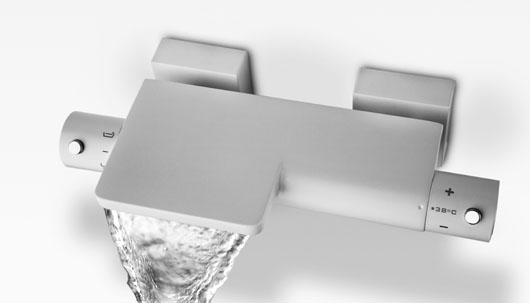 Ramon Soler strives to look at black and white colours as two tones which have maximum contrast. These pantones give our bathrooms definite character, being the final twist to complete the detail which we wish to strive for in our spaces.
A minimalist and elegant bath, a bathroom with white clouds and natural greens...a bathroom that we want but with one single characteristic: the Termoarola BLACK & WHITE cascade in which the water flow is an natural as life itself.
Source: Ramon Soler
Visit the Ramon Soler website