During the autumn months, the infoshows in Europe take place; an extraordinary communication platform that allows the main camping equipment manufacturers to be closer to the distributors, achieving a stimulating atmosphere of collaboration.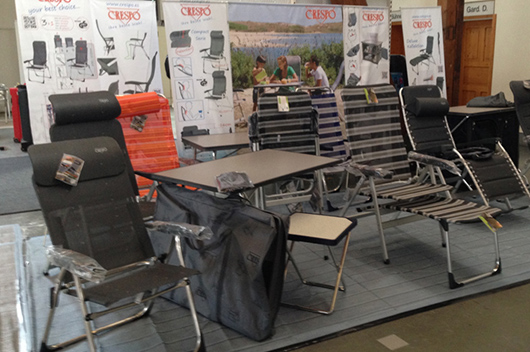 title="Más..." />
During this event, the Spanish company Crespo travelled to Neumarkt, in Germany. Its customer and friend Fritz Berger, one of the main distributors of camping equipment in this country, offered all the participants a conviviality day to visit the beautiful city of Nuremberg.
Crespo showed the most popular series of its 2014 catalogue such the Deluxe collection and the ultra fast cupboards, as well as the novelties for next season that includes the expansion of the Compact armchair family: total comfort and a minimum folding space for the AL/213 armchair. The primary feature is its super flat folding in only 5cm . It was designed especially for campers, although it is essential for anyone who wants to take optimum advantage of space when travelling, enjoying all the comfort of a normal armchair with 7 positions.
Crespo perceived, with great satisfaction, the enthusiasm of the visitors in the form of questions, doubts and comments to the point of given away all its catalogues. Undoubtedly, for Crespo "it was an exceptional fair filled with optimism, for which we congratulate its host: Fritz Berger".
Source: Crespo
Read more news related Crespo published at Infurma
Visit the Crespo sheet at Infurma
Visit the Crespo website