'A sculptor's home' by homu arquitectos: a house where porcelain plays the leading role
This large-format material is used for the kitchen island, it shapes the bath and serves to separate spaces
The Valencian architectural studio, homu arquitectos, is responsible for the project 'Vivienda de un escultor' ('A sculptor's home') in which porcelain acquires an unusual leading role by creating a space with straight lines, neutral colours and a feeling of stone that has received the Life is for Living Awards granted by the company Living Ceramics.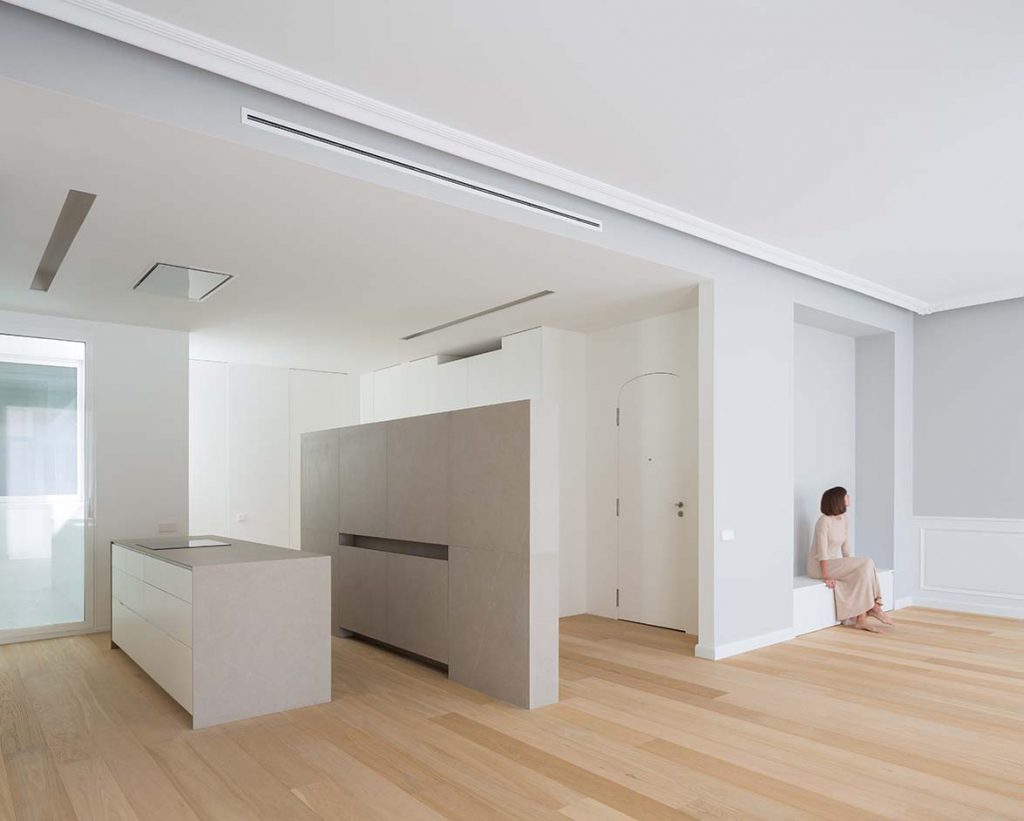 In this project, porcelain occupies large areas in the hall, kitchen and bathroom. The residence is located in the Ensanche neighbourhood of Valencia (World Design Capital 2022) and is totally aligned to the interests of the client, a sculptor by profession, retaining original elements, such as the mouldings on the wall, which contrast with the simplicity and sobriety of the porcelain chosen.
"We used this material because we sought simplicity, with neutral colours and minimal veining. The large-sized pieces can be cut to measure as required in each case. This provides great versatility, and makes it possible to control costs, so it can be used on very diverse projects, including those with a limited budget," explains the architect of homu arquitectos, Belén Plá.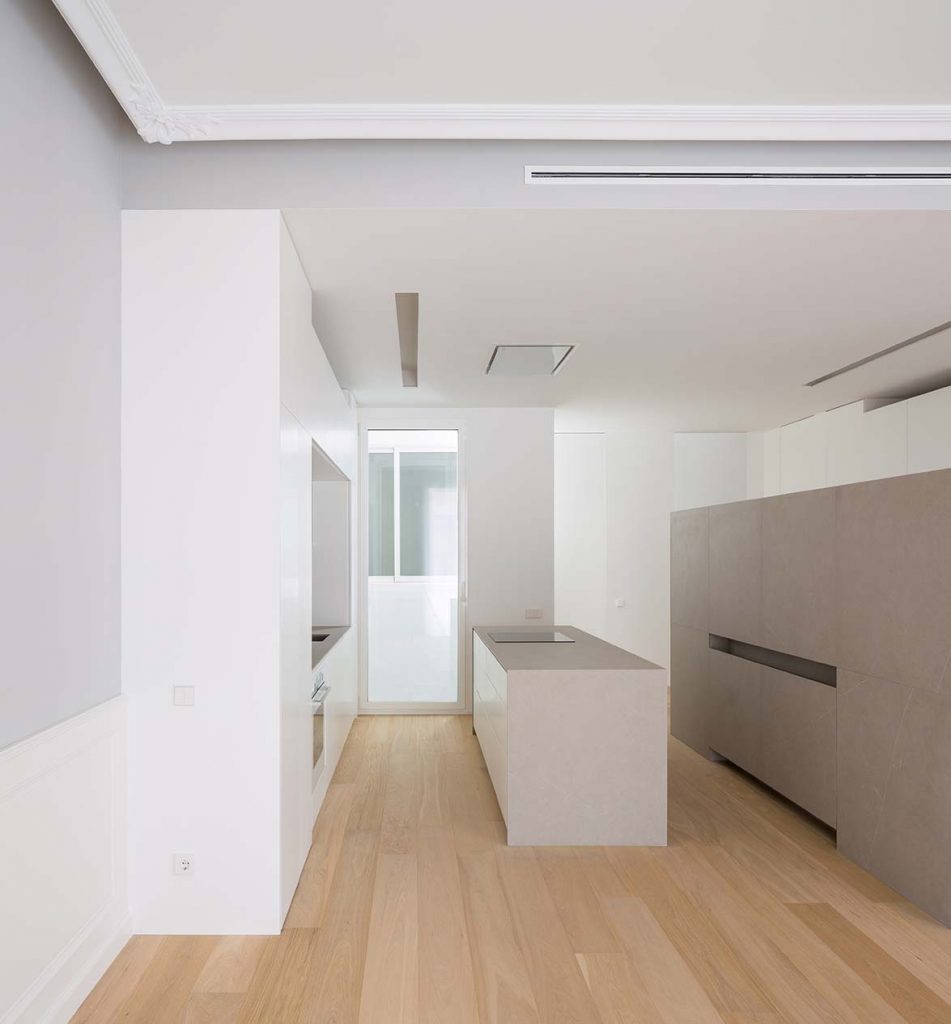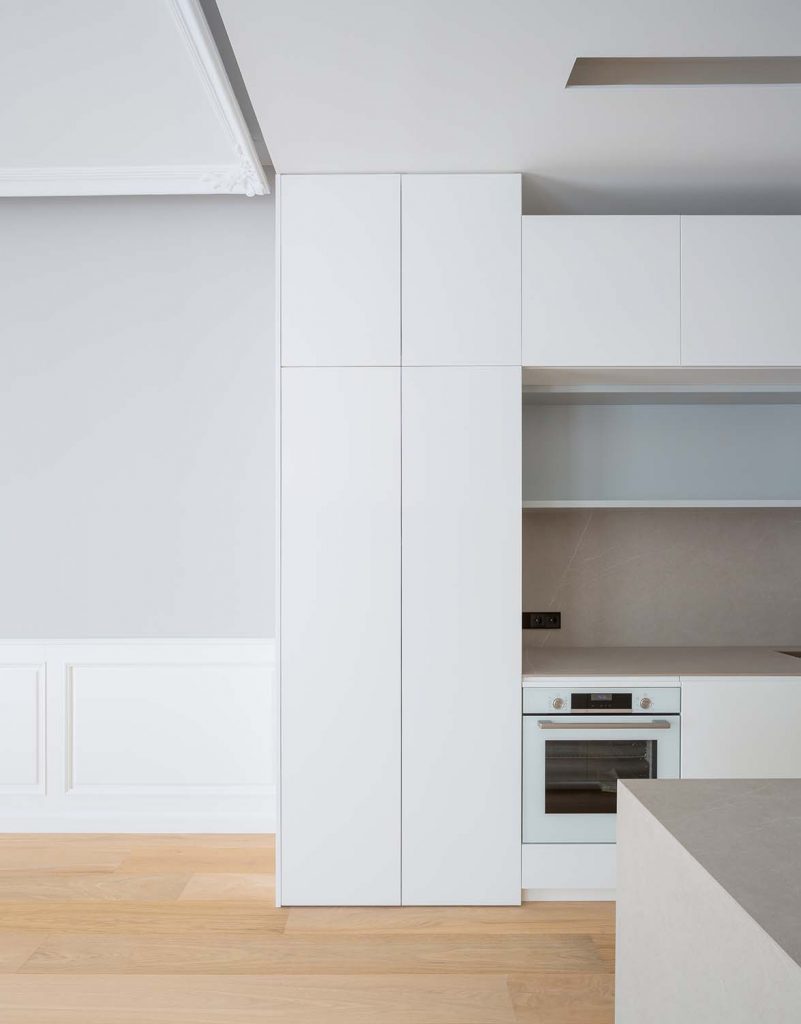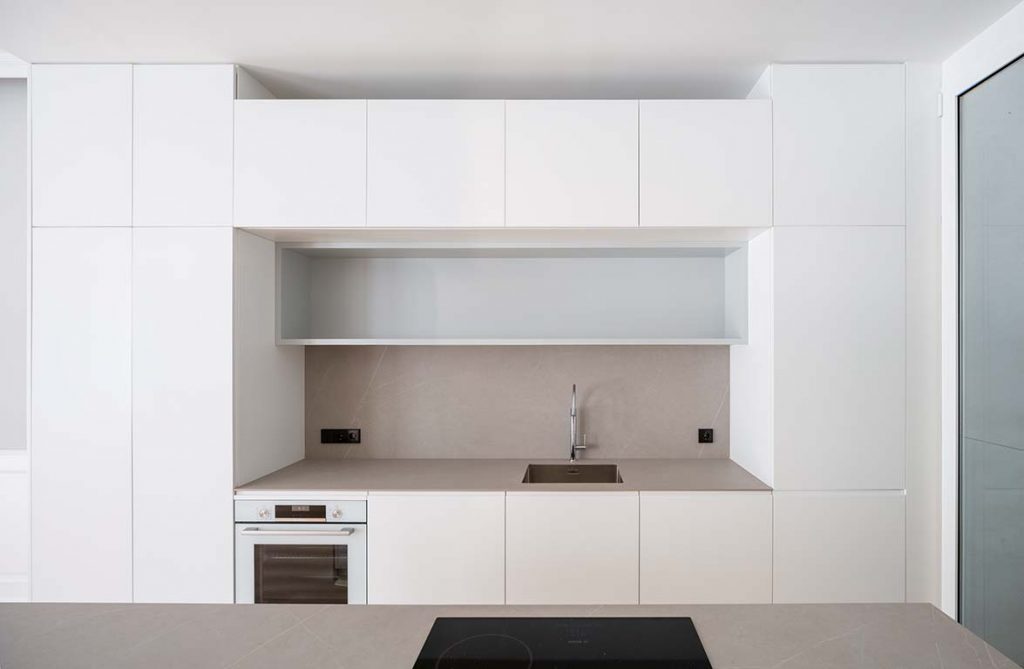 A large piece of porcelain serves to separate the rest of the house from the kitchen, a room in which this material has also been used to create the large central island. The other fundamental element of this house is the bathroom. Here, porcelain is foremost throughout, with the bath being the most prominent element, since it is made entirely from this material.
"The main challenge when designing the house was to generate a programme that would satisfy the needs of a sculptor who was very concerned by the cleanliness of the materials and the details when designing the spaces," says Plá, who also emphasises the "versatility" achieved thanks to the use of this material.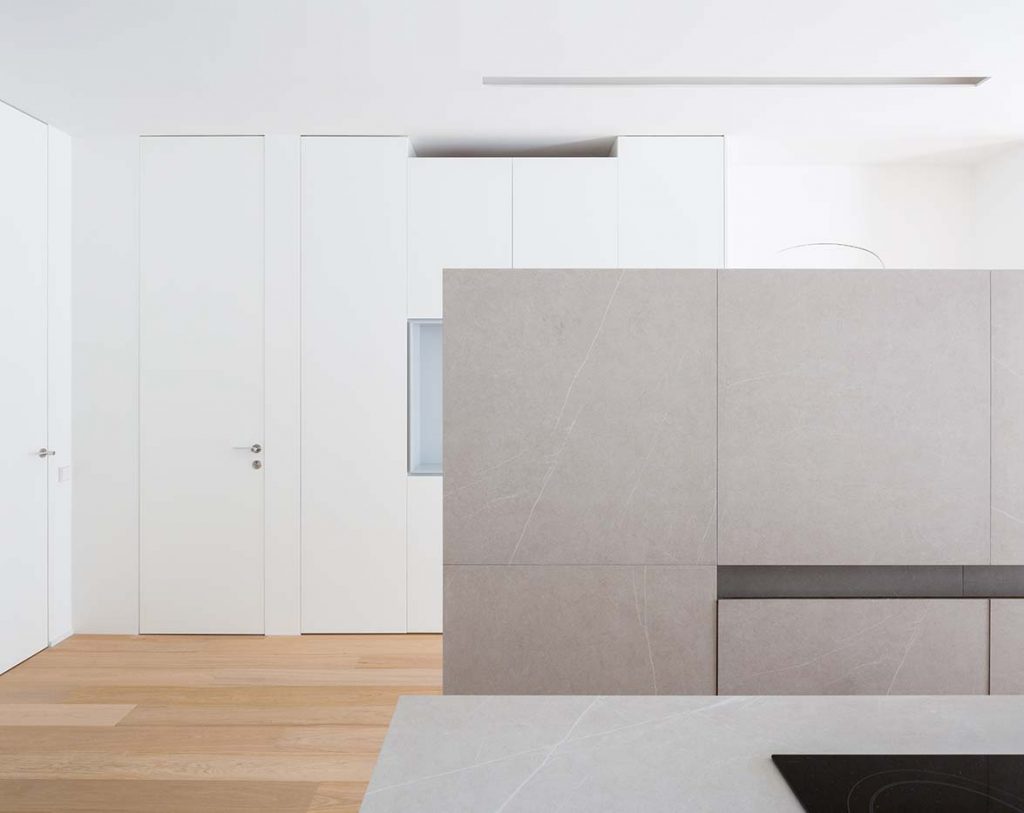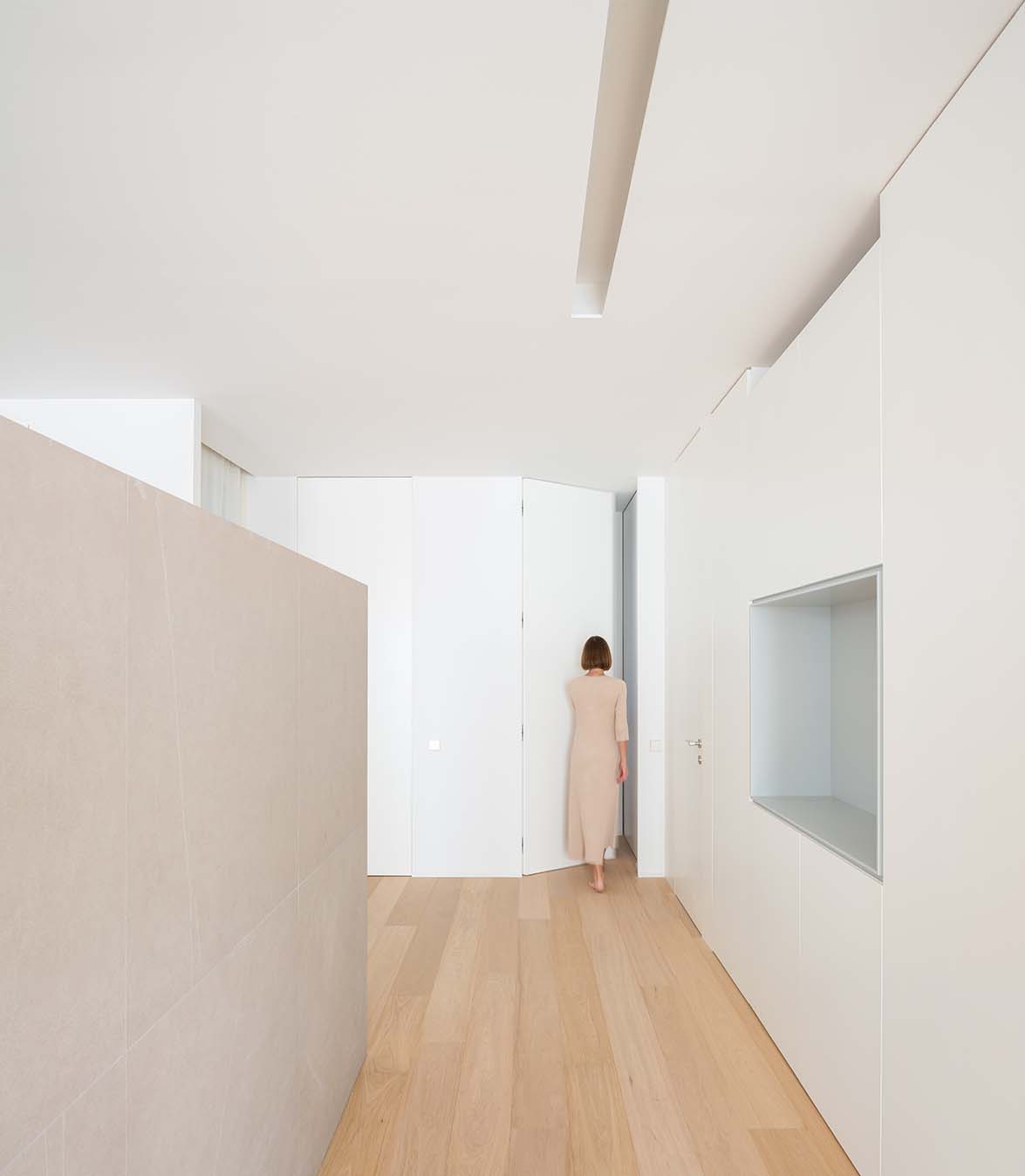 In this project, the choice of the Allure Light Grey series, by Living Ceramics, was no coincidence: it allowed the spaces to be given more personality by contrasting this colder material with the natural wood of the floor and the more classic elements such as the mouldings. Furthermore, its timeless quality perfectly suits the modern character of the property.
The versatility of porcelain makes it possible to optimise costs and to design such sculptural pieces as the monolithic wall that separates the hall from the kitchen, or the wall between the bathroom and the master bedroom that simulates sculpted natural stone.
In addition to its versatility, porcelain provides interesting characteristics such as its resistance to blows and its flexibility, together with resistance to heat and cold, chemical products and stains of all kinds. It is also notable for being compact and non-slip.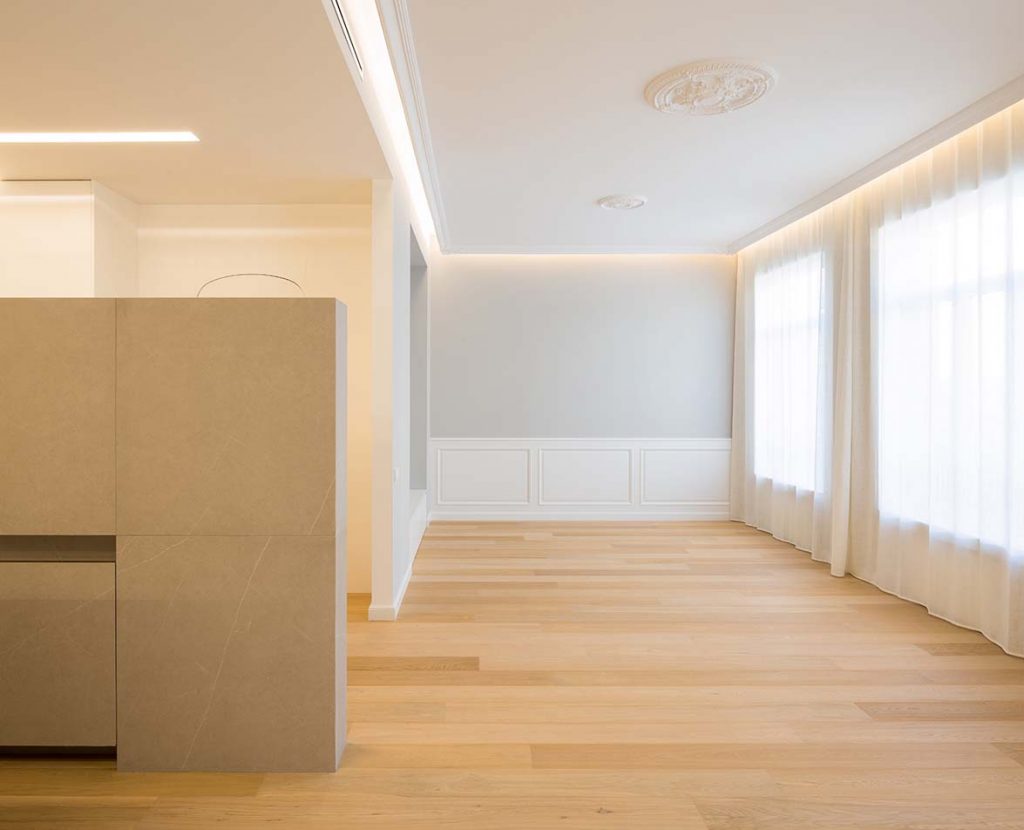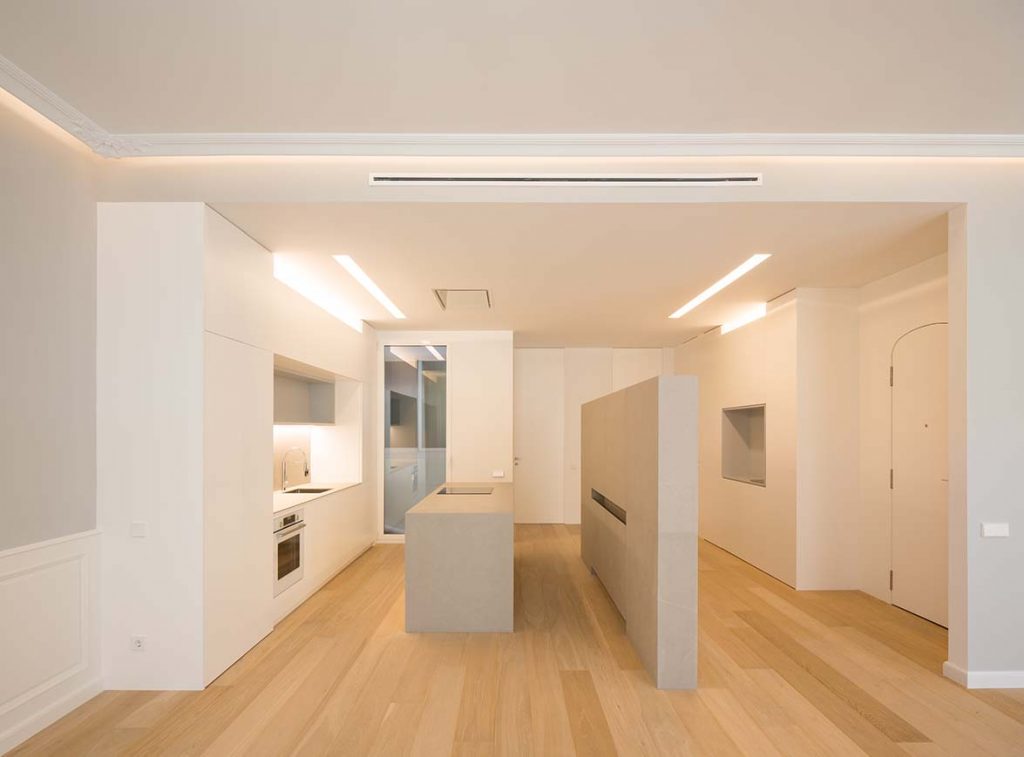 Source: Homu Arquitectos
Photography Daniel Rueda
Visit the homu arquitectos website