The many years of expert experience of the 1,500-plus exhibitors from no less than 57 nations represents the keystone of Passage, the most global sourcing platform on the international fair and exhibition landscape. On an area of around 50,000 square metres in five exhibition halls, visitors can see an extensive range of products for ordering in large quantities.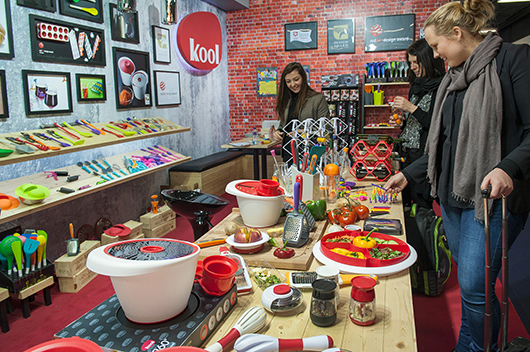 "In the heart of Ambiente, Passage has developed into a well-established factor for the international volume business. We are particularly pleased with the consistency with which exhibitors contribute to a highly diversified spectrum year in, year out", says Nicolette Naumann, Vice President Ambiente/Tendence.
. Clearly laid out and structured by product groups, the spectrum, which stretches from industrial to hand-crafted articles, ensures buyers can work with maximum efficiency.
Opinions
"The volume business has its own rules. For us, Passage is the best way to present our products to an international audience. Naturally, this is also due to the fact that this sourcing platform is part of the world's biggest consumer-goods fair, which attracts a huge number of international buyers. Nevertheless, the importance of Passage also results from the highly differentiated product segments, which not only make orientation easier but also inspires visitors to discover new product groups", says RFL Plastics Export Manager Jillur Rahman Mozumder.
Vanida Jirakaweekul, CEO of Lief Living, has also been a Passage exhibitor for many years: "Passage is a special opportunity to present our product designs to buyers, and then to work with them to adapt the products to the requirements of their specific markets. Additionally, Ambiente is a vital trend barometer for us." Thus, customising is also a successful facet of Passage.
Describing Passage, Armenia Yerevan, CEO of Homeland Development Initiative, says, "With their enthusiasm or scepticism, visitors show us immediately whether we have struck the right balance between product types, design and colour. Where else do we have access to many thousands of personal reactions? Passage is our flagship event on many planes."
Development
Sustainable value creation is also gaining greatly in significance for the bulk business. "At Ambiente, our Passage exhibitors from Cambodia and Kirgizstan make numerous valuable contacts to European Fairtrade wholesalers", says Alfons Eiligmann, CEO of consultants IDC Unternehmensberatung. A large proportion of the 179 companies listed in the Ethical Style Guide are Passage exhibitors. The guide is an orientation aid for visitors and indicates the exhibition stands of manufacturers distinguished by social responsibility and sustainable production.
Navigation
The ranges of products for ordering in large quantities from countries such as Ethiopia, Brunei, China, India, Korea, Morocco and Peru are linked by short routes on all floors of Hall 10. In the 'Passage Gifts' segment in Hall 10.0, volume buyers will find a variety of articles suitable for giving as gifts, e.g., games, arts & crafts, stationery and fashion accessories, such as bags, scarves, shawls and jewellery. At 'Passage Home' in Hall 10.1 and 'Passage Home & Garden Select' in Hall 10.2, they can discover home accessories, small pieces of furniture, textiles, luminaires, decoration ideas and outdoor and garden accessories. Products for the table, kitchen and household are shown by exhibitors at 'Passage Table & Decoration' in Hall 10.2, 'Passage Table & Kitchen Select' in Hall 10.3 and 'Passage Dining & Housewares' in Hall 10.4.
Ambiente, the leading international trade fair
Ambiente is the world's leading international trade fair for products for the table, kitchen and household, gift articles, jewellery, wellness and fashion requisites, as well as decorative products, interior design concepts and furnishing accessories. Ambiente is 'The Show' for the entire sector and, thanks to its unique horizontal and vertical range of products, unrivalled worldwide. For five days in early 2015, more than 4,800 exhibitors showed their new products and innovations for the coming season to 135,000 trade visitors from over 150 countries. The world's leading consumer-goods fair is also distinguished by a wide variety of events, promotional programmes for young designers and companies, trend presentations and awards ceremonies.
Source: Ambiente
Read more news related Ambiente published at Infurma
Visit the Ambiente website