Actiu launches "Gaia", the first smart platform for healthy and efficient high performance spaces
It was awarded Best innovative solution at the 2020 Madrid Open House Festival
Actiu launches the first platform for the smart management of healthy and efficient high performance spaces. Gaia by Actiu is a pioneering and disruptive IoT platform that incorporates sensors in to the work environment togather data on how it is used and the conditions of the environment, positively impacting user well-being, as well as the organization's results.
As well as optimising the use of space and promoting energy efficiency by integrating them into environmental control systems, which, in turn, leads to a reduction in costs. Gaia enables looking after the users workingin these spaces, ensuring their comfort at all times and there by safeguarding their health. This aspect also strengthens engagement and facilitates talent attraction.
Gaia there fore makes it possible to make spaces more profitable, boost energy savings and safeguard workerwell-being, connecting them with a safe and high-performing work environment, having been awarded the Best Innovative Solution at the City Awards as part of the international architecture and city 2020 Madrid Open House festival.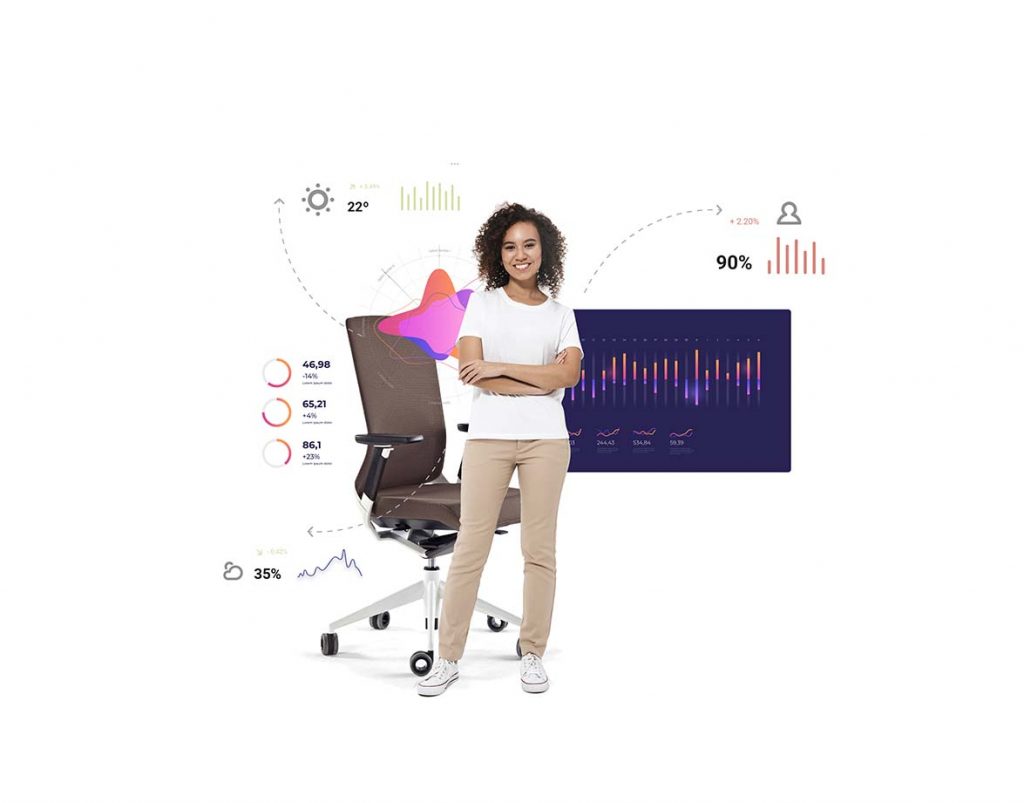 A smart analytical environment
By simply installing sensors in any piece of furniture, Gaia facilitates collecting data and transmitting it to the cloud to be processed by a series of algorithms that provide extensive know ledge on how the spaces are used, with a view to correctly managing the work environment, both in the offices themselves and in third-party spaces where remote work is carried out, as well as other industries such as the education industry, among others. Furthermore, Gaia uses its own communication infrastructure, guaranteeing anonymity as well as ensuring maximum security in data processing.
The platform improves people's safety by providing information to guarantee social distancing measures and ensuring density in open areas, as well as meeting rooms, while monitoring parameters such as space occupancy, temperature, humidity, light, sound, carbon dioxide (CO2) levels and air borne particles.
"Throughout Gaia's development process, and now more than ever, we have become aware of the need for companies to attract talent while encouraging employees to go back to the office in a more organized, sustainable and balanced manner. Monitoring the work environment to provide maximum comfort and wellbeing could there fore be an important motivational aspect" Soledat Berbegal, Actiu's Counsellor and Head of Corporate Reputation.
Intuitive dash board, user app and innovative devices
Gaia by Actiu offers a simple, visual and intuitive dashboard that includes functionalities such as data analysis, graphics management, visualization and information on layouts and the monitoring thereof. It also incorporates occupancy heatmaps, ambient comfortratios, alerts and incident notifications, content management and content analytics.
As well as the administration plat form it self and the dashboard with business analytic functions, Gaia also has a mobile app which enables users to search, reserve, evaluate available spaces and services, report incidents. As well as to receive a feed of content and manage alerts. This operability is also reflected in the design of the sensorised devices themselves, where both a esthetics and functionality are at the hear to fit.
Pioneering experience based solution
Gaia by Actiu brings together Actiu's more than 50 years' experience designing solutions to improve people's well-being in their interaction with work spaces. It is also the result of the knowledge acquired by the company in its processes of being awarded the LEED and WELLP latinum certifications, which have enabled its head-quarters in the Actiu Technology Park; becoming the world's first industrial building to obtain both of them, certifying it as a healthy and sustainable space that safe guards the well-being of employees and takes care of the surrounding environment.
This smart technology project go tunder way in 2018 when Actiu presented the first prototype at the Orgatec show. A solution that has evolved in to the current Gaia proposal that; aligned with its initial philosophy, incorporates pioneerings technology to provide users with the best working environment, as well as the required knowledge to obtain a high performance level from it. In this way, Actiu, in line with its digital transformation strategy; and just like it did with the Cool Working by Actiu methodology, continues to complement its range of products with new services to respond to current market requirements.
Overseen by Actiu's Digital Strategy and Innovation Department, the project saw collaboration from two technological partners. TSK developed the platform and designed and developed the sensors that gather the data. Furthermore, ZEUS. Vision created the Front-End functions and the iOS and Android mobile applications. Gaia is expected to continue evolving to incorporate new functions.

Source: Actiu
Read more news related Actiu published at Infurma
Visit the Actiu website
Visit the Actiu sheet at Infurma