Lexington Home Brands is set to redefine contemporary outdoor living with the savvy style of two new collections being added to its highly successful Tommy Bahama Outdoor Living brand. The new lifestyle collections, Aviano and Blue Olive, feature an array of innovative deep seating designs, dining and bistro sets, a fire pit, and distinctive occasional tables.
Aviano Dining Table & Chair
"Contemporary styling is at the forefront of high-end design today," said Phil Haney, President and CEO of Lexington Home Brands. "It is redefining the look of luxury living with bold lines and an exuberant sense of style. At the same time, affluent consumers are looking for outdoor living spaces that mirror the styling and sophistication of their interior décor. Aviano and Blue Olive represent two extraordinary design statements that blend chic cutting edge style with the sway of Tommy Bahama - the most recognized and aspirational consumer brand in the category."
Aviano is a fresh interpretation of mid-century modern, whose evocative styling and sculptural lines are remarkable in their ability to impart a sense of motion and energy to the designs. Blue Olive sets an elegant tone for contemporary outdoor living with its intricate channeled herringbone weave, sleek horizontal profile, and custom Weatherstone™ tops that replicate the look and texture of natural slate.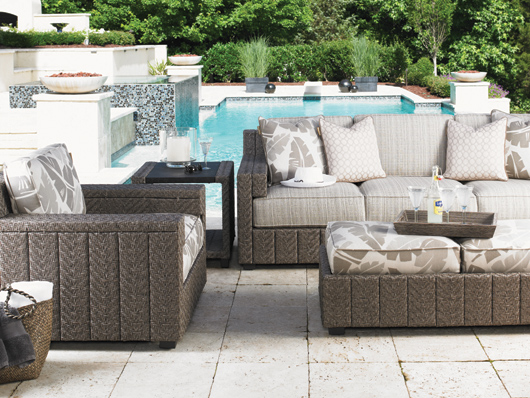 Blue Olive Sofa, Storage Ottoman, End Table
"We have experienced exponential growth in our outdoor business since launching Tommy Bahama Outdoor Living in September of last year," continued Haney. "The brand is impeccably aligned with the product category, and the lifestyle resonates with style-conscious consumers on two levels - practical and emotional. On the practical side, consumers recognize the value of comfort and quality in outdoor designs, and the brand delivers unwavering assurance. On the emotional side, home has become a canvas of self-expression, and consumers love the casual elegant look of Tommy Bahama. The addition of Aviano and Blue Olive simply extends the brand's reach to embrace those looking for a soft contemporary edge. We believe the market timing to be absolutely perfect."
Aviano and Blue Olive made their debut at Summer 2013 Las Vegas Market, July 29 - August 2, in the newly expanded Lexington Home Brands showroom located at B-500 in the World Market Center.
Source: Lexington Home Brands
Read more news related Lexignton Home Brands published at Infurma
Visit the Tommy Bahama website