Every conventional shower typically wastes 9 liters of clean water and the energy equivalence of watching TV for 4 hours while waiting for hot water. Heaboo, a Portuguese engineering and design studio have created Hoterway - a thermal battery providing hot water instantly to the consumer. This small change in an everyday routine quickly compounds into thousands of liters saved in water and massive savings in energy, as well as a huge comfort improvement for the consumer as they no longer wait for hot water.

Current alternative processes for heating water include recirculating loops of hot water through building's pipes, or hot water heaters close to bathrooms. Both methods are inefficient, difficult to install, or high maintenance. Unlike any product available on the market, Hoterway's patented technology provides instant hot water at no extra energy or water costs, is design friendly, and built directly into the existing water delivery infrastructure of a building during initial building or reconstruction phases.

This thermal battery is made from the combination of a specially developed heat exchanger and phase change material. This material stores latent energy during a shower by absorbing heat from the hot water stream. This energy is stored until the next shower is taken, allowing the consumer to have instant hot water at no extra water or energy cost. With a lifespan of over 30 years, zero maintenance and easy installation, households could be saving hundreds of euros per year and developers can be adding a premium for water efficiency technology.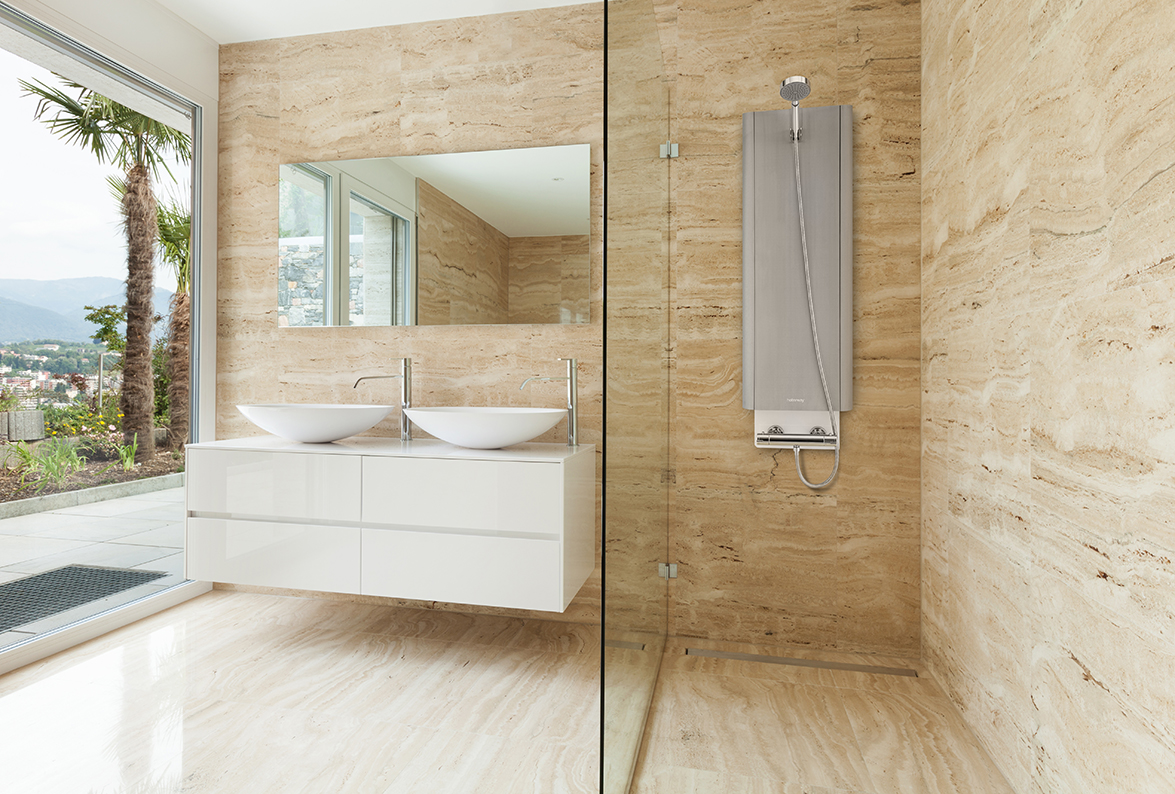 Rui Teixeira, Founder and Managing Director of Heaboo says; "Never before has there been a product which allows a consumer to have hot water instantly at no extra cost. Consumers do not realize how much water and energy they are wasting while waiting for hot water every day. We are helping to reduce the Carbon Footprint of individuals in an easy and scalable way with the Hoterway technology."

Other design-centric companies tackling the water sustainability question include San Francisco based Nebia, the revolutionary 'mist' shower head, and Noken, eco-friendly product producers to save water throughout the bathroom. With new technologies showing up regularly, Heaboo are leading into this nascent space using thermal technology.

The Heaboo team proved market desire for the product through a successful Kickstarter campaign, and will be rolling out the first pre-orders in Q2, 2017. With a user base successfully established in Portugal, they are looking outwards to other European markets, starting with France and Spain.
Heaboo will be attending BATIMAT in Paris, in November, to showcase Hoterway
Source: Heaboo
Visit the Heaboo website