What do we look for when we are planning a new office? Comfort, accessibility, order, cleanliness, a space where we feel comfortable and are able to work long hours during the day without future consequences such as backaches, injuries, bad positions, etc.
At Actiu, a company specialized in the design and manufacture of furniture for workspaces, they have reflected on this idea for many years. Their objective: people. Actiu knows that it is fundamental to work comfortably and for this reason they keep on innovating and thinking about the future office. The customs have changed. Now we are looking for open spaces, communicative offices and collaborative...but also small individual areas of Co-working where everyone has their own space, even though they remain in constant contact with the rest of their colleagues.
From the Actiu R & D department for many years they have been studying a modular office model, adaptable to each space, to each need and where connectivity is completely accessible and hidden. Spine is a model that responds to this research: the solution that enables infinite possibilities of configuration optimises space in the best possible way and integrates technology into office furniture.
And how? Four elements configure this structure: desks, low filing cabinets, high filing cabinets and dividers. The backbones are the lower filing cabinets. From these modules, you can compose different solutions from which emerge desks, high modular filing cabinets, dividers....everything you need to configure a clean, ordered, light, flexible space and without items in view, everything is hidden so at no time the user´s workspace is invaded.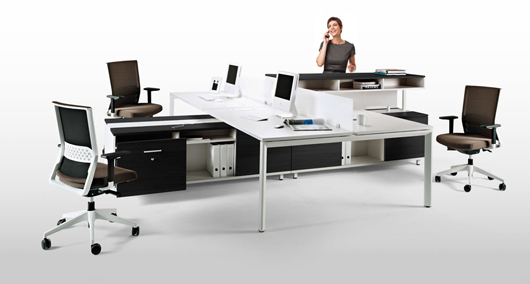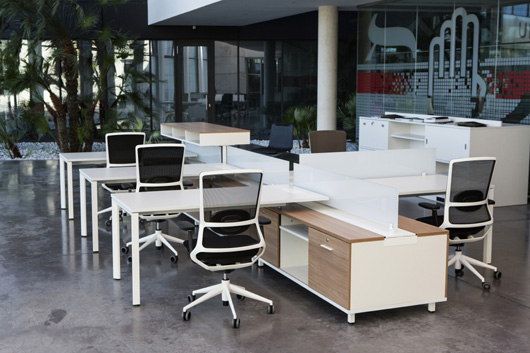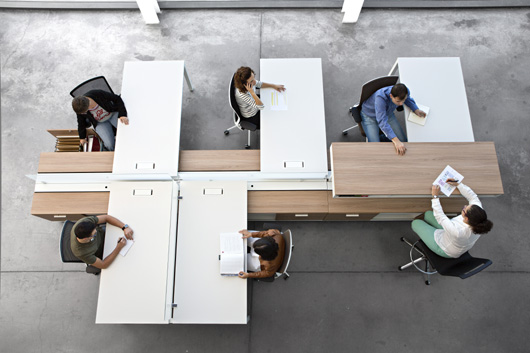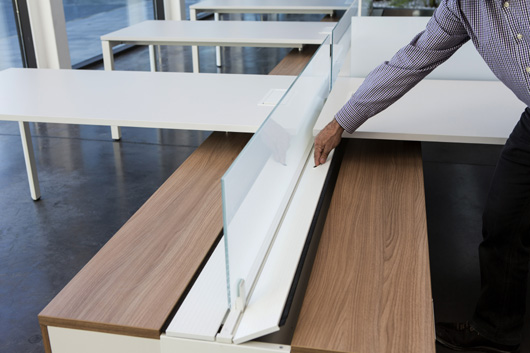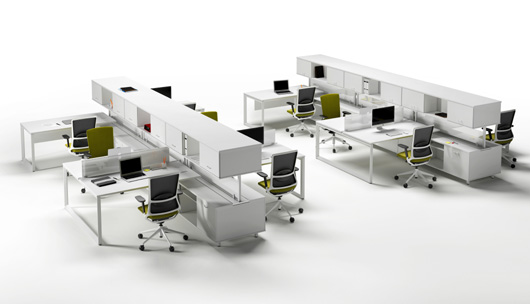 Thus, employing far less squared metres to place the work surface and storage, you get the same or better performance in space distribution. A whole central structure 100% configurable to taste and the needs of the user, enables you to create all types of spaces: combinations of individual work, but also collaborative or for teams, where different dividers or high filing cabinets enable everybody to maintain privacy.
Spine presents a wide variety of filing cabinets: with sliding doors, drawers, open libraries, mixed solutions...and they can all be accessed by one or two sides. Later, the users can add overhead storage - which offer an alternative to working standing up, work tables with sliding table tops, fixed, together with cabinets, independents...the range of possibilities is very wide and everyone should configure a space imagining their future office. The double bottom of the filing cabinet, central structure of Spine, enables you to hide the wiring at any time, but also enables you to have access to them.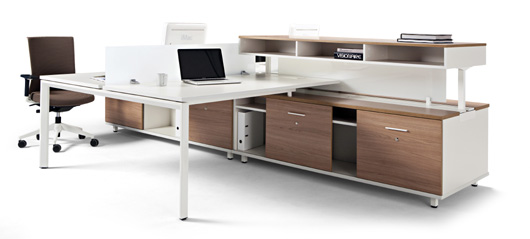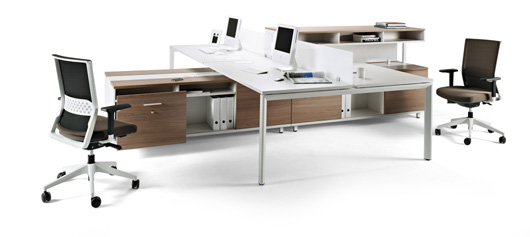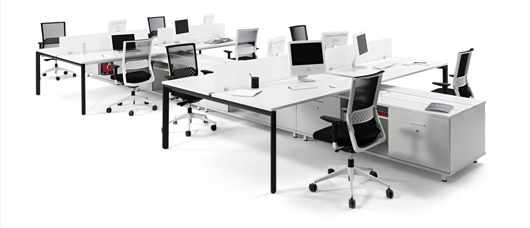 In short, it is a sober and elegant solution, completely adaptable to the needs of the user and which synthesizes, reducing and integrating the elements.
Source: Actiu
Read more news related Actiu published at Infurma
Visit the Actiu website