The JUNE product of Nikari special project "2012 DESIGNS FOR NATURE" was actually already. This chandelier has been designed by an awarded Finnish designer (and cabinet maker) Mikko Paakkanen.
Mikko Paakkanen tell us about June:
"2012 DESIGNS FOR NATURE project made me think about the importance of our forests and the global climate change problematics. Not everyone has the opportunity to turn on the light when it gets dark. I wanted to create a solution with materials and technology representing minimal usage of natural resources. The product should also be easy to maintain and timeless. JUNE chandelier is a new version of one of the earliest forms of lighting".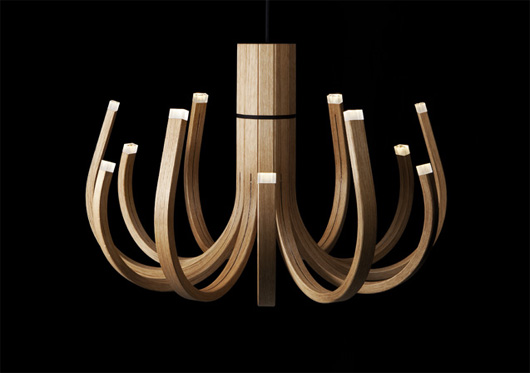 JUNE chandelier is made of oak, and the surface treatment is natural wood oil mixture. It includes led technology solutions by SAAS Instruments (www.saas.fi). The diameter is 850mm and the height 550mm.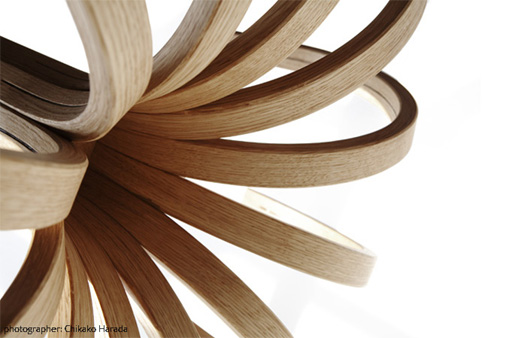 The Project 2012 Designs for Nature has been carried out by Nikari in co-operation with the Finnish WWF, and is based in the manufacture of 12 products during the 12 months of the year by 12 recognized designers over the world, who use local forests' wood and part od the sales price is donated to protecting rainforests and forests globally.
Read "Martí Guixé designs for Nikari the MARCH wall bench in the Project 2012 Designs for Nature"
Read "Alfredo Häberli designs "April" for Nikari in its project 2012 Designs For Nature"
Read "Nikari presents "May" chair, designed by Simom Heikkilä"
Photographer: Chikako Harada
Visit the Nikari website
Visit the Mikko Paakkanen website