B&V, spanish company specializing in upholstery, has chosen Feria Hábitat, held in Valencia from February 9-13, to present its new sofas and armchairs. With the collaboration of edeestudio designers and Alegre Design, B&V will present in Valencia its new collections: IKON, ZIP, EGO, SIGNATURE, VETRO, DOCKS and DOLMEN.
title="Más..." />
New pieces which aim to open up to international markets and show the know-how of these master craftsmen based in Moixent, Valencia. B&V is a Spanish firm with more than twenty years' experience which compose their own designs in an upholstery atelier and combines tradition, handicraft, passion, experience and dedication. Each and every one of their designs are unique pieces conceived by expert designers and handmade by master craftsmen, a combination which provide each piece of furniture with the required characteristics to guarantee their durability, comfort, quality and functionality.
IKON by Alegre Design
IKON is the flagship model of the new B&V collection, a sofa which combines the laborious "capitoné" finish with an aerial bath structure with natural plywood finishes over steel legs. A geometrical volume design which stands out of its originality, presence, elegance and quality.

ZIP by edeestudio
ZIP, with a lightweight design, is a perfect armchair for receptions and waiting rooms. Its rounded arms and a zipper binding hidden underneath them guarantee a maximum comfort. With an engraved wooden base, ZIP has been designed and produced in different units: an armchair, a sofa and a divan, which allows the user to arrange it in different positions.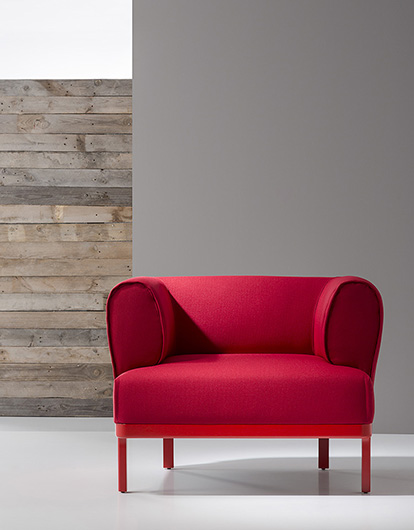 EGO by Alegre Design
Research into the use of new technologies and the search of new positions has inspired Alegre Design the design of this armchair. The user has the possibility of holding a tablet, changing position, resting on one arm or lying down: these are new possibilities for contract spaces such as hotels and receptions.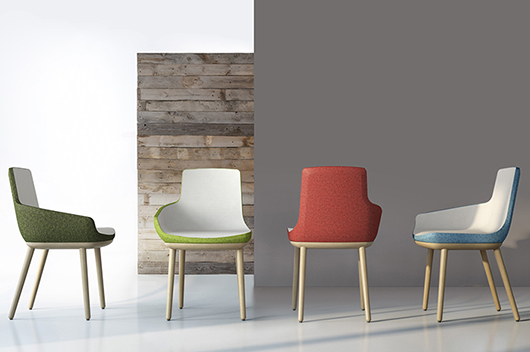 SIGNATURE by Alegre Design
SIGNATURE aims to bring the comfort of the household to public or contract spaces. Its laminated wooden frame has been designed with the best manufacturing processes and with first quality materials which guarantee its durability, quality and functionality. A timeless design which is perfect for receptions, hotel rooms and waiting rooms, since its asymmetrical back instills rhythm to any traditional architectural surrounding.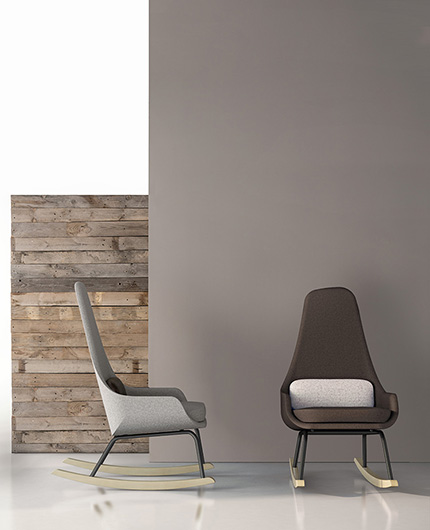 VETRO by edeestudio
VETRO is a modular system composed of a seat and sofa for collective surroundings and soft seating spaces. Provided with great comfort, its metal base and its great foam volumes perfectly complement any waiting areas. In addition, thanks to a heightening complement, a sense of privacy can be achieved for those spaces that require it.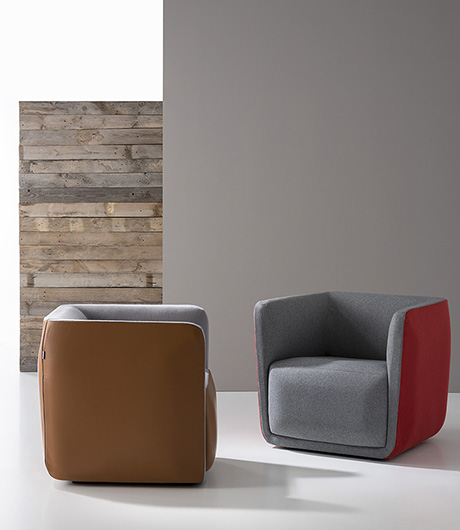 DOCKS by Alegre Design
DOCKS is an upholstered sofa with modular units which thanks to a technical design allows to produce an infinite number of adjustable arrangements in each surrounding with only a minimum of manufactured pieces. It enjoys a wide range of possibilities which perfectly adapt to the architecture of its surrounding.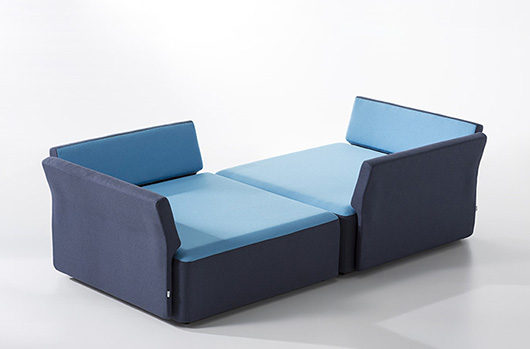 DOLMEN by edeestudio
DOLMEN is a modular system of seats, hassocks, back seats and arms which allow us to toy with its place in the room. This allows the user to arrange it in different positions according to the kind of space it is placed in. DOlMEN is a sofa with straight lines and large volumes, perfect for the household as well as contract spaces which aim to get a contemporary surrounding.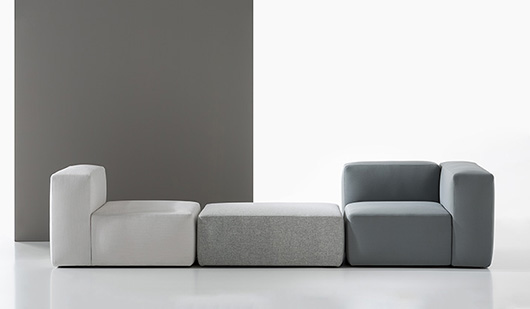 These new pieces can be found in two different areas of the Fair:
In one hand, The Flash area, where it will be exposed IKON, ZIP and EGO, on place which includes the best international design firms and furniture trends. A perfect showcase, located in the N2-P6-10 where we will be sharing space with other leading firms such as Sovet Italia, Fast Spa, Branca Lisboa, and Gasrnas, among others.
On the other hand, some of the new B&V pieces, namely SIGNATURE, DOCKS, VETRO and DOLMEN will furnish the exhibition space of the projects carried out by Alinea, an initiative launched by Feria Valencia and supported by Valencian public institutions which aims to promote new ideas and business ventures. This initiative, launched last year, brings its first edition to a close with the exhibition of the projects resulting from a year of training and counselling by experts from this field. B&V is the guest firm to provide the furniture for this 160m2 space located next to the NUDE area.
Source: B&V Tapizados
Read more news related B&V Tapizados published at Infurma
Visit the B&V Tapizados website