Coming fresh from Tendence are the latest living and giving trends: 1,211 exhibitors from 51 countries spent their time in Frankfurt from 30 August to 2 September in setting the trend standards and presenting the 35,000 trade visitors with their favourites for the forthcoming cold season of the year, as well as for spring 2015. With pastel colour shades and cuddly home accessories, autumn will usher in the cosy feeling that goes with this time of year. It will be a white Christmas and folkloristic elements provide colourful accents.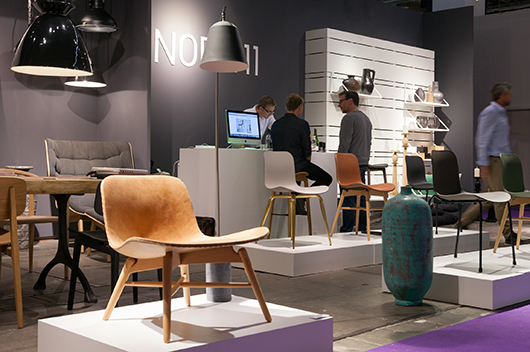 title="Más..." />
Trends in the Living segments
Interior trends for 2014/2015: individual and qualitatively convincing
Without change, there is no trade. The influence of the internet on the bricks-and-mortar-trade marks the changes in this sector. The power of the social networks is also having an impact on the product worlds with which we surround ourselves at home. Heading the list is everything that can be individually personalised and is qualitatively convincing. That personal touch, understated glamour, cultivated nonchalance and high standards of quality are the key messages of this fair. In autumn and winter 2014 it will be possible to combine everything. Cool objectivity and purism meet warm opulence.
Playful nonchalance and personal statements are in great demand
Tables, sofas, dressers: furniture as such remains simple and uncluttered in form but is never on its own. Without decoration, nothing goes. Cushions, plaids, vases, candles and plants add that romantic touch to an understated coolness and a feel-good factor inspired in many places by elements of folklore. The ever-increasing brilliance of digital printing processes used for a wide variety of materials teamed up with the beginning ability to print in 3D is opening up a market for small series and one-offs, which is still in its infancy, but is confidently parading its growth potential. Slogans such as 'print up your life', 'human-made' or 'happy cocooning' appropriately characterise the movement in this branch of business.
Material patchwork inspires relaxed living
Nature pure is the number one source of inspiration. Shells are clad in resin, tangles of roots serve as a base for a lamp, even keyboards are saying goodbye to plastic. Various woods, whose very uniqueness lives from the flaws in the material, are the hallmarks of the interior. Teamed up with metal, porcelain and glass, wood provides a cosy atmosphere. Natural stones and concrete also continue to be very much in evidence and are conquering new terrain, for example as lampshades. Things hard seek an alliance with things soft, fur cossets glass, leather caresses metal. With textiles, natural fibres leave no room for synthetic fabrics. Patterns strike a balance between strict geometric forms and a floral playfulness.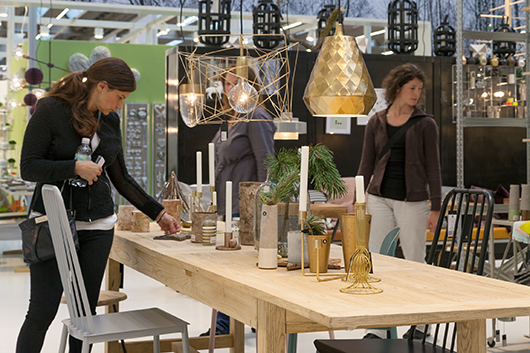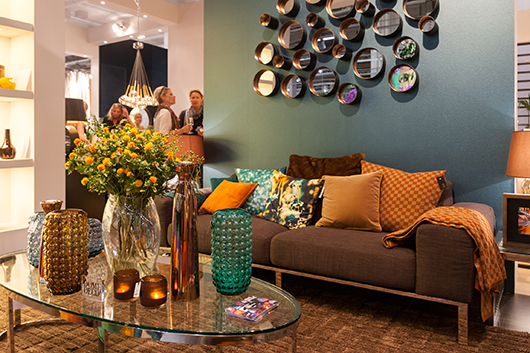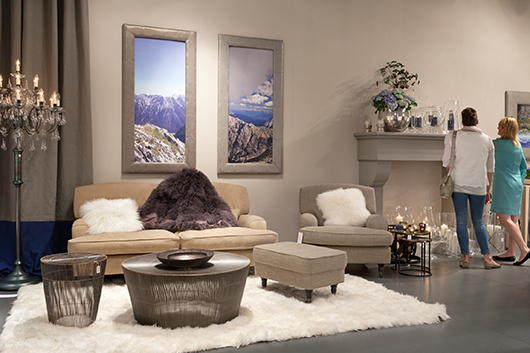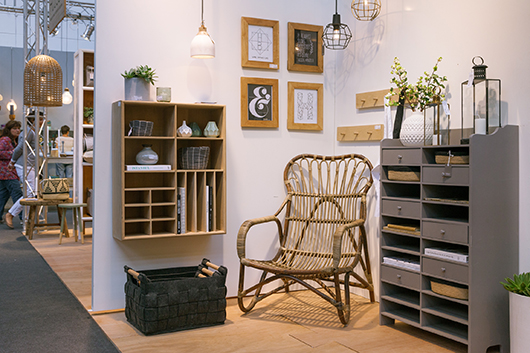 Decorative and home accessories: the new atmosphere of cosiness
Skins give warmth, provide a feeling of cosiness and a touch of luxury as well; and they don't even have to be genuine. It is the way they look and feel that matters. Their properties and their effect are what make skins into such a wonderful material and perfect for the cold season. Whether in brown, patterned or dyed, a skin adds to the beauty of an armchair or sofa. Also chunky-knit wool and natural linen provide an atmosphere of well-being. For fittings and furnishings, as well as decorative accessories, metals that give off an aura of warmth are in the ascendency, such as copper or brass. Symbolising this trend are also adaptations of the good old wing chair or sofas with side extensions that seem to be effectively embracing the occupant. Not only one's own four walls, but in future also furnishing accessories and furniture communicate through their natural materials and design an atmosphere that makes you feel protected and secure.
A white Christmas
No matter what the weather forecasts say, Christmas 2014 will be white, mainly in combination with silver and all manner of glitz, gloss and glamour. Even the owl, which has accompanied us for several seasons, will be returning in this context as a snowy owl with lustre effects. The Christmas tree will also be bedecked with glittering oversized snowballs or ice crystals. As decorative elements, there will be fir cones or acorns, deer, foxes or squirrels to accompany the winter season of the year, and the tradition-conscious will certainly get their money's worth: all manner of angels, hearts and stars will decorating the Christmas tree in 2014.
A wide range of pastels meet soft natural tones
In terms of colours, anything goes, as long as it is an understated pastel tone - in summer, it was the colours pink, light blue and mint that made their appearance as fresh shades of sorbet; now in the cold season of the year they are bowing to the laws of winter and are presenting themselves as a 'smoky pastels'.
The basic colours for interior furnishings and decoration are natural shades, black, white and grey, with red being the dominant colour when it comes to providing strong accents. Gold and silver are still in vogue and as a colour and a material, copper is still trendy, and is joined by brass as the new precious metal. It is predicted that blue will enjoy a renaissance for the coming season.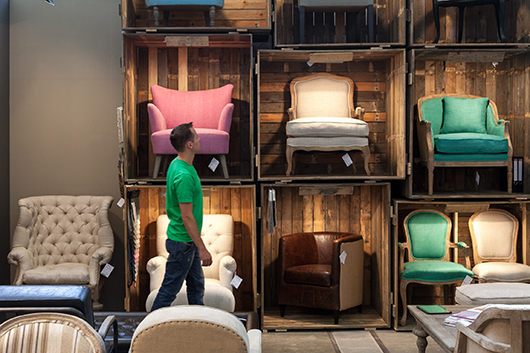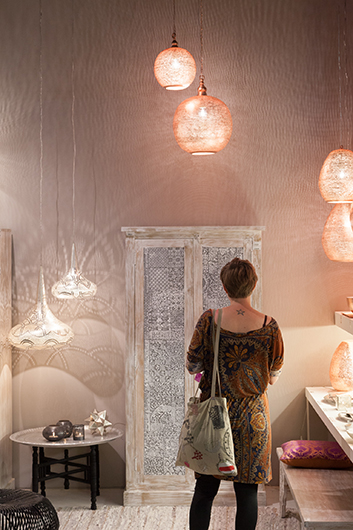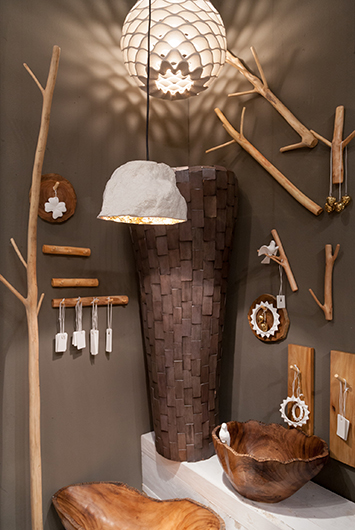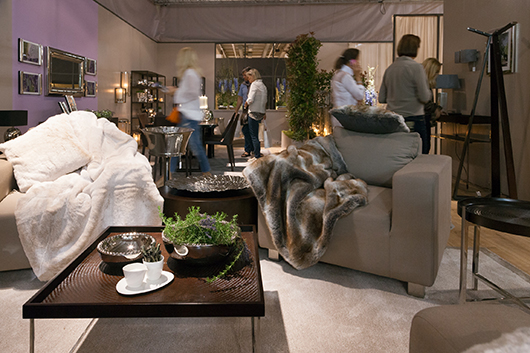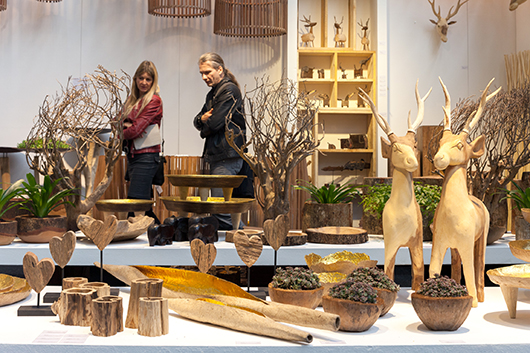 Trends in the Giving segment
Whatever is fun: trendy gadgets for the home
Products that are fun, encourage one's playful instincts and if possible are also innovative at the same time are very much in demand and always make excellent presents. Amateur chefs especially will be delighted with small gifts that are both original and functional, such as unusual biscuit cutters, decorative pizza cutters or practical egg-yolk separators. There are amusing and at the same time functional products for technology freaks that help deal with cable tangles, mobile phone or tablet. Potential trend candidates are also cameras you can build yourself for do-it-yourself enthusiasts and instant cameras as a modern version of the good old Polaroid.
Cats, foxes, songbirds: animal motifs are as much a part of the scene as ever
Animal motifs will also enjoy great popularity in the coming season: They decorate bags, cushions, gift wrapping paper and tableware, or serve as pretty little chain pendants. This season's absolute favourite is the cat, which can be found not only in stylised form on hot-water bottles, but also as cats' eyes looking out from shopping bags, cats' heads that function as a small purse and a cat motif that even works as a bird house. Animals of the forest such as the fox, wild boar or owl can still be found as motifs on tins and earrings, are resplendent on drinking bottles and bags - in retro look, as illustrations or photos.
Trendy things for kids that even make starting school sweeter
Even a day at school is much more fun if you are equipped with lovely little items such as a wooden ruler shaped like a dachshund, a wooden guitar, a chalkboard in the form of a mobile phone or imaginatively shaped erasers. These can now be found, incidentally, in the weirdest forms imaginable: as a toilet brush, skull, peanut, or as a robot, laptop or lipstick. A special favourite among children at the moment are the rainbow looms. These are small, colourful rubber bands that even younger children can weave into bracelets, necklaces and rings in next to no time, thus giving free rein to their creativity. Also in keeping with the trend are toys with that nostalgia look, for example, wooden jigsaws, pencil cases, drinking bottles and metal cans that, when picturing old children's book themes, can even make many an adult's heart leap at the sight. Especially with products to do with children, wood is the trendy material, and not only for toys. Accessories for the children's room frequently put their trust in this raw material that poses no health hazards.
Greetings from the world of folklore
As a motif, the matryoshka doll has been a great favourite for a long time and this will remain so. We encounter these cute little dolls in winter and spring in the form of earrings, decorating writing blocks, exercise books and children's articles. Also very popular are articles in bright, cheerful colours from Mexico, for example, cribs made of plaster and all sorts of things that have to do with Santa Muerte, the cult figure with magical and religious attributes. The female skeleton is represented in various colours and is believed to be a source of love, happiness and protection. Otherwise, skeletons and skulls are generally a popular motif on gift wrapping paper, or serve as key chains, look resplendent on ears or fingers, and can even be found as cushion embroidery.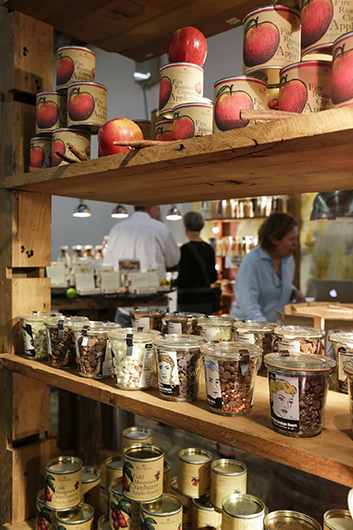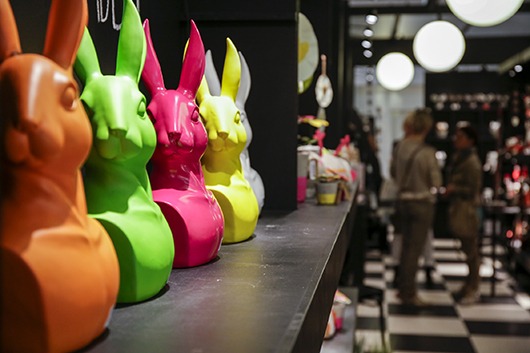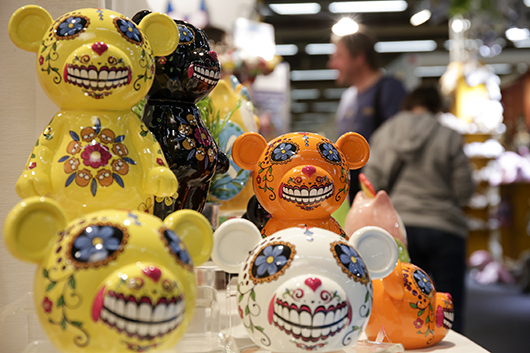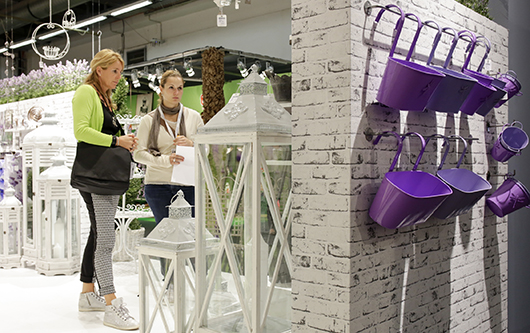 Bags: oversized and in shades of metallic
Currently the rule is: the bigger, the better. Today's shopping bags are not only eye-catchers but they also offer a great deal of space and a wide variety of uses. And if by any chance they fail to grab your immediate attention on account of their size, the shopping bags score with original prints and exciting colours such as copper, gold and silver. In terms of style 'vintage' is 'in' as well as typography or animal motifs: on these bags at least, it is the dachshund, leopard and cat that are calling the shots. The particular charm is that a wide variety of these motifs are printed on simple linen bags. There are also exciting prints on laptop bags and purses: a new technology has recently made it possible to print out very finely worked motifs on wafer-thin synthetic fabrics. Not only are the laptop cases extra-thin and extra strong, but they also look absolutely unusual and hip. Whereas bags made of plastic and cotton attract attention on account of their size and motifs, leather bags capture people's attention on account of their simplicity. The tendency towards restraint in matters of form is also revealed in other bags, where the emphasis is on the surface, and small details such as fringes, tufts, or inserts with a colour contrast cleverly provide the accents. Most of the leather bags also tend towards understatement in terms of colour - with shades of brown or grey, copper or gold.
Fashion accessories let the winter come!
In winter, the season's colours are appropriately subdued, also as far as fashion accessories are concerned: along with shades of grey, brown and beige, bags, scarves or belts can also be found in flesh tones, red and blue. In spring, on the other hand, things will strike a cheerful note again: next year, white, pink, light blue and mint will set the tone. Softly flowing cottons and cashmere will provide the trend for scarves and cloths with a tendency towards understated geometrical and floral patterns; stripes or animal prints will also be very much in vogues. There will also be big motifs from time to time: feathers, stars, for example, or symbols like the skull or the sign of peace.
Jewellery: XXL stones, feathers and geometrical patterns
Currently, everything can be just a little bit bigger. Whether it is oversized bags, rings, watches or pendants, XXL is simply 'in'. On long chains especially, large glass or gem stones or pendants with geometrical patterns are a genuine eye-catcher. Some of the motifs are reminiscent of Indian or Mexican jewellery. In the coming season pink gold remains a sine qua non. Up-and-coming are small pendants and charms in the form of symbols that are superbly well suited for relating stories: thus, a gold-plated heart combined with the number one is a continual reminder to its wearer that she definitely occupies first place in the affections of her loved one. Something that is striking and impressive is jewellery made using three-dimensional technology. The method makes it possible to produce very finely worked artefacts from precious metals or even plastic in the form of rings or necklaces.
Watches: bigger, lighter and preferably in pale pink
In matters of size, ladies' watches are closing up on man-sized watches. In matters of colour, pink gold quite clearly is, and will stay, the favourite. Also combinations such as pink gold and steel can be seen. As materials, coloured aluminium or wood are pleasant to wear. A favourite with the men are chronographs and mechanisms, whether fake or genuine, with textile nylon watch straps in a maritime look, monochrome or in a military look.
Culinary trends: unusual combination of regional products
With gourmet products, individuality is as much in demand as the highest levels of processing and quality. Fine liqueurs, delicious schnapps - the main point is that it should not be a mass-produced article. Using new creations in taste, the trend is currently very much towards products that come from local sources such as wild plums, wild cherries or quinces. Mustard, rounded off with a hint of mango or forest fruits also provides new experiences in taste such as olive and fig pesto and asparagus pesto. Unusual biscuits and fine quality chocolates in interesting flavours make excellent presents. The trend towards vegan food has of course not stopped at gourmet presents.
It is now possible to enjoy vegan chocolate as well. This tastes just as good, but for those with both a sweet tooth and lactose intolerance it is the healthier alternative.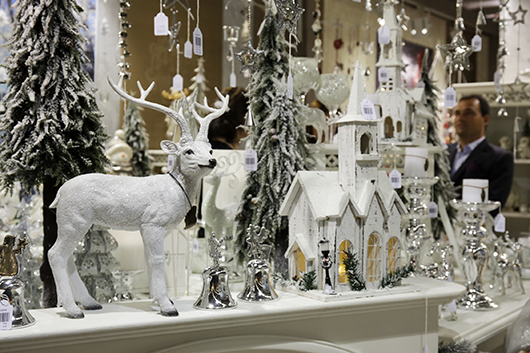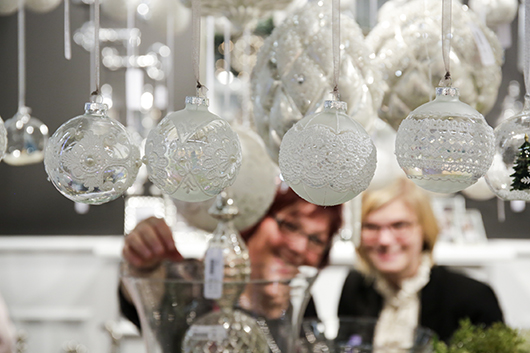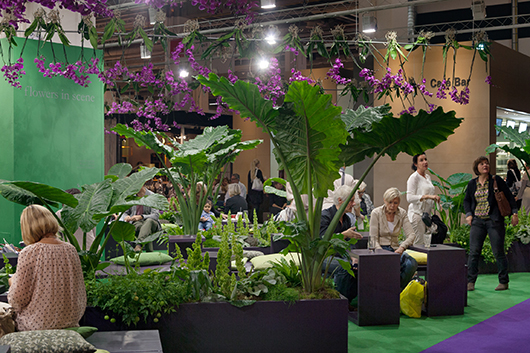 Information & images by courtesy of Messe Frankfurt Exhbition GmbH
Visit the Tendence website
Read more news related Tendence published at Infurma