The recently opened McDonald's Kinderhilfe House for parents gives families of seriously ill children a temporary home. The Ronald McDonald House in St Augustin (Germany) has been designed by GRAFT architects, the dynamic structure calls for lighting which is perfectly harmonized with the room configuration and its various sloped ceilings. Luminaire series from Occhio were chosen for this purpose; with their maximum flexibility, they offer the perfect solution for every spatial requirement.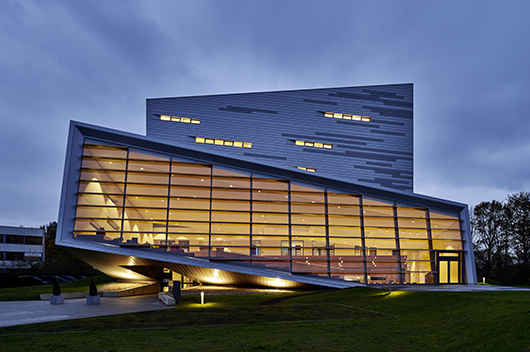 title="Más..." />
The McDonald's Kinderhilfe charity has been committed to the health and well-being of seriously ill children in Germany since 1987. The foundation operates 20 Ronald McDonald houses nationwide and offers temporary housing close to children's hospitals for families of seriously ill children. The recently opened Ronald McDonald House in Sankt Augustin features 25 apartments that provide multiple families with a sense of security and tranquility while their children receive in-patient treatment at the hospital next door. This means that children can stay close to those they need the most - their parents and siblings - during a difficult period.
The futuristic structure was designed by the architectural collective GRAFT. The seemingly curved building inspires with its pleasing lightness and playful presence, virtually embedding itself in the surroundings and achieving balance in the setting. The orientation of the building's different sides thereby plays a key role. All 25 rooms, for instance, look out into the surrounding fields of Sankt Augustin in the distance. Every room features window seating that captures these natural and sunset views.
The heart of the house is the open kitchen area on the main floor with a long center table that welcome visitors to gather and dine. This is also the starting point of an extended "ramp" where other common use areas are situated: a place for fun and games for children as well as an area with desk space for parents.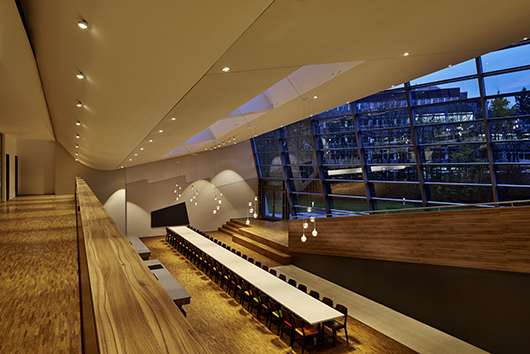 Curved around three axes, the building demands lighting which perfectly harmonizes with the dynamic room configuration. The basic ambient lighting is provided by the Più spotlight series in recessed and surface-mounted versions, which offer maximum movability for tracking the different ceiling slopes and offset their inclines beautifully. In order to ensure a calming familial and private atmosphere for the center of the house, LED lighting with a warm color temperature and ideal color rendering (CRI 95) were precisely coordinated with the different zones. The low-hanging suspended Divo sospeso luminaires further add to the homelike atmosphere. All of the rooms feature lighting by Occhio.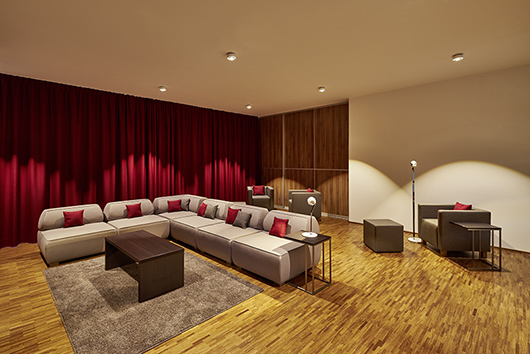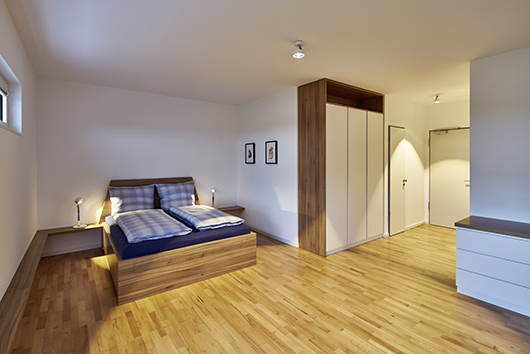 Year realized: 2014
Client: McDonald's Kinderhilfe Stiftung, Munich
Architecture: GRAFT Gesellschaft von Architekten, Berlin
Realization/Construction: Ed. Züblin AG
Lighting design: GRAFT Gesellschaft von Architekten, Berlin + Occhio projects / Helen Neumann
Architectural consulting: Occhio projects / Markus Olesch
Photography: Robert Sprang, Munich
Luminaires:
107 × Più alto
77 × Più alto 3d up
6 x Più alto 3d track
40 x Più piano
35 x Divo sospeso
27 x Sento verticale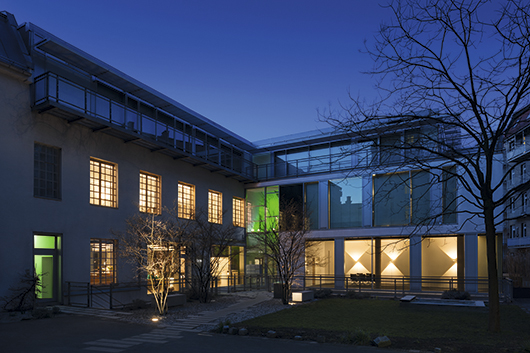 Source: Occhio
Read more news related Occhio published at Infurma
Visit the Occhio website