Palazzetti is getting ready for the summer with a new family of products to furnish your outdoor cooking area. Here, they introduce us the new system Saint Vincent - Modularity, resistance and minimalist design.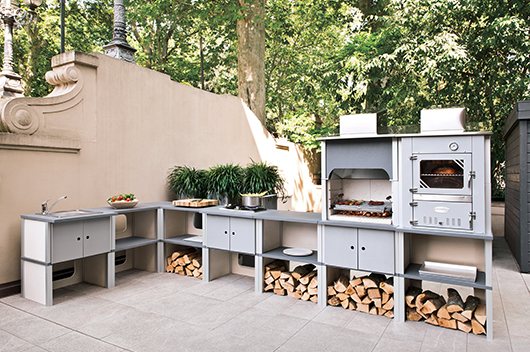 Their flexible modular systems offer functionality and planning freedom, easy installation, top quality and efficiency so that you can create a cooking area that is perfectly rigged out to suit your habits and tastes. Flexibility is the keyword for each element: wood-fired ovens, barbecues, gas hotplates, sinks, open units or with fronts and even corner modules can all be freely combined. The choice of combinations is multiplied to create a really bespoke outdoor kitchen even when space is at a premium.
Saint Vincent is the first system light enough to be taken home and just clicked into place!
Planning freedom adds to versatility and flexibility for an almost unreal installation experience: the Saint Vincent modules do not required masonry work. Thanks to their extremely light weight and to the push-fit system, they can be assembled and dismantled without the aid of professional fitters. The materials chosen to ensure superior weather resistance and easy maintenance for outdoor use are stainless steel for the oven and sink and cement for the load-bearing structure.
You can choose from various modules to build your own open-air kitchen:
Grill module with a strengthened, refractory firebox, a stainless steel hood, a 60×40 cm stainless steel bio grill, a set of painted steel doors.
An oven module with a stainless steel wood-fired oven. A domed, stainless steel cooking chamber, a ceramic glass door, a thermometer, 2 cooking levels: 1 refractory slab for pizzas/bread and 1 chromed rack. Separate combustion chamber with combustion air register. 10-cm rock wool insulation. Cool-touch handles. Set of doors in painted steel.
Worktop module provided with a set of painted steel doors.
Sink module with a stainless steel sink, a tap and a set of painted steel doors.
Gas hob module with a lid, 2 stainless steel burners and a set of painted steel doors.
A square module that can be used as a pouf or as a corner module
The quality guarantee that has always distinguished every Palazzetti product is summed up by the features of the Saint Vincent system: modularity, resistance, efficiency and minimalist design.
Source: Palazzetti
Visit the Palazzetti website