Steelcase Inc., a global leader in the office environments industry, announced that the Steelcase family of brands won five Best of NeoCon Awards. These awards include one Gold, two Silver, one Innovation Award and One Editor's Choice Award.
Products recognized with a Best of NeoCon award include selections from Coalesse for its Free Stand table, Designtex for its Techniques collection, and Steelcase Education Solutions for Verb™.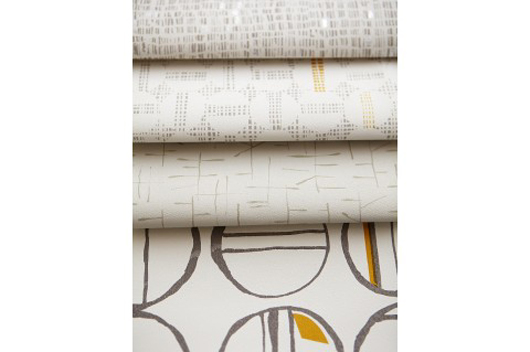 Techniques Collection
"For more than 100 years, Steelcase has focused on researching the way people work, wherever work happens. Our teams of engineers, designers and researchers are dedicated to building innovative products like these that anticipate the needs of workers, and it's an honor to be recognized for that commitment," said Steelcase Inc. President and Chief Executive Officer James P. Hackett.
Coalesse, a division of Steelcase, won three awards, including a Silver award, Innovation award and Editor's Choice award for Free Stand, a foldable and portable table that offers a simple yet elegant solution for people to work comfortably anywhere. It provides the right space and appropriate ergonomic support for mobile devices to use anywhere, turning social spaces into work spaces. Available in black or white, Free Stand is lightweight so it can be on the go and folds down to quickly slip underneath a lounge or into a closet for storage. Free Stand will be available for order in early 2013. The Gold award went to the Techniques Collection from Designtex, a new wallcovering collaboration with celebrated surface designer Carla Weisberg. Bringing individuality and life to any setting, this collection works well in contract, healthcare, hospitality and residential environments, and is a part of the Designtex 1 + 1 brand, which maintains the philosophy of doing well by doing good through promoting collaborations with outside sources, and in turn supporting local artistic communities. The Techniques collection includes five wallcoverings, in a color palette of sophisticated neutrals with fashion forward bright hues and accents of metallics. Verb, a first-of-its-kind table-based collection of classroom furniture from Steelcase Education Solutions, won a Silver award. Verb creates an integrated, table-based learning space with personal-sized, one-of-a-kind whiteboards throughout the classroom for instantaneous collaboration. The three other components of Verb include an instructor station, student tables, and a board display.
Visit the AF Steelcase website