After Miami and Los Angeles, Fendi Casa extends its presence in the United States with the opening of the first Luxury Living showroom in New York City, situated in a very prestigious location in the heart of Manhattan, at 153 Madison Avenue. In addition to Fendi Casa, other Luxury Living brands, such as Bentley Home and Heritage - Alberto Vignatelli, Luxury Living Group's private collection, will be presented in the location.
The entire showroom, that covers an area of 10,000-square-foot, is a celebration of stylish and unique lifestyle. All designed by the company's team of architects, rooms are characterized by rich lacquered wood and bronze shades, that recall the refined urbanity of New York, an ideal frame for the newly proposed furnishings.
In this unique setting, Fendi Casa occupies the center of the scene. The Contemporary furnishings collection, with pieces such as Soho, Metropolitan, Agadir and Serengeti sofas, along with the collection's best sellers such as the Diamond bed, Bernini dining table and Prestige sofa, and Fendi Casa Ambiente Cucina, all find their space in the new location.
The Fendi Casa collections, presented in the showroom, are perfectly in line with the Fendi DNA, constantly in balance between innovation and craftsmanship, synonymous of a luxurious and contemporary lifestyle.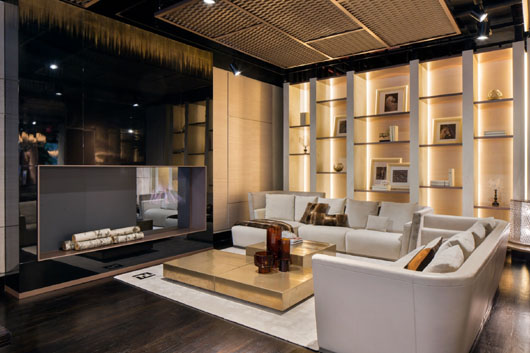 The Fendi Casa sofas perfectly illustrate this duality. The profiles are original and modern, but the quality of implementation is faithful to the roots of the Roman fashion house established in 1925, when the skins were tanned and cut by hand with a unique expertise that has been preserved until present days. The accurate attention paid to every single element is to be found in the lines and in the high quality of the materials.
The showroom also hosts Heritage - Alberto Vignatelli, a collection born from an evolution of the previous Luxury Living Interiors collection. It is a prestigious line of furniture and accessories that wants to be a clear homage to craftsmanship, tradition and elegance; thought-out and pursued with passion by Alberto Vignatelli, founder and president of the Luxury Living Group, promoter of the contemporary art de vivre.
The aesthetics of the rooms reflects the style of Fendi, with exquisite and luxurious design, as in the case of the characteristic metal boiserie suspended from the ceiling in one of the rooms, expressly designed for the New York space. The series of friezes, inspired by luxurious villas are enhanced through specially lit walls and the presence of large windows.
The showroom displays will change once a month to reflect the latest news and continue to fascinate, and inspire customers, and visitors who approach the Luxury Living Group experience.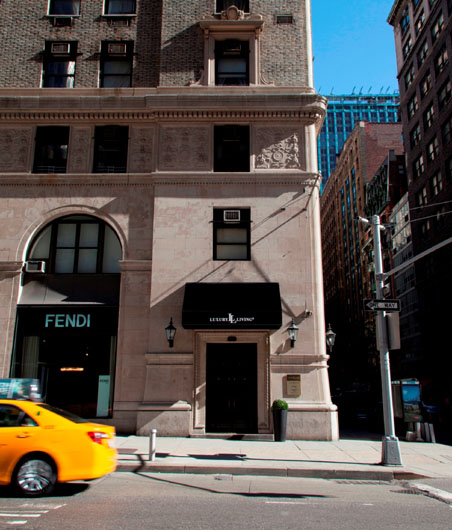 Source: Luxury Living
Read more news related Luxury Living published at Infurma
Read more news related Fendi Casa published at Infurma
Visit the Luxury Living website