From 31 August until 2 September spoga+gafa is opening its doors in Cologne. In addition to an extensive innovations show in the "garden living","garden creation","garden care","garden basic" and "garden unique" sectors, trade visitors can once again this year look forward to creative ideas from young designers in the "unique youngstar" competition exhibition. Application period begun - deadline is 15 April.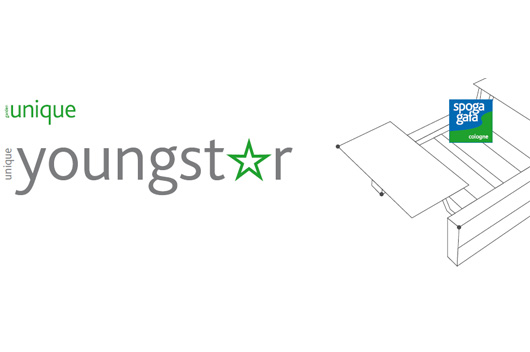 After successfully turning the young designers contest into a prototype competition, spoga+gafa are again in 2014 on the lookout for interesting projects on the subject of "outdoor living". Until 15 April young designers and design students who have completed their studies within the past three years can submit their ideas of what they think "outdoor living" is. And taking part is well worth it, because a prominent placement in the high-end garden furniture sector at the spoga+gafa awaits the 15 nominees, as well as a prize of 6,000 euros for the winners.
Click here for the Terms and Conditions and the Registration Form.
Koelnmesse will select up to 15 nominees from all the submissions after the application deadline has passed. Evaluation criteria include the overall concept, the originality of the design, the conceptual and visionary quality, the functionality, and quality of presentation. The prototypes will be presented in the competition exhibition in the "garden unique" product sector. As part of the "unique hour", three jury prizes will be awarded, as well as a public prize which will be determined by online voting.
Last year, a total of 62 projects from 24 different countries were involved in the competitions. Not least thanks to the great success of these, spoga+gafa will be continuing with "unique young star" in 2014. In doing this Koelnmesse is demonstrating that it remains committed to supporting young designers and offering them the chance of a presentation opportunity in exclusive surroundings. At the same time "unique youngstar" promotes personal interaction and communication between the different target groups. In addition to the upscale furniture retail trade, it also allows architects, interior decorators and property owners from the real estate sector to gather information on the innovations of the premium suppliers and the creative ideas of the designers in a unique ambiance.
spoga+gafa 2014 is open to trade visitors on 31 August and 1 September from 09.00 a.m. until 06.00 p.m and on 2 September from 09.00 a.m. until 05.00 p.m.
Source: spoga+gafa
Read more news related Spoga+gafa published at Infurma
Visit the spoga+gafa website