Take a seat, Viccarbe presents the chair as a designer object which through its use redefines both the way we create spaces and the way we socialise. A concept by Viccarbe that combines innovation, colour and functionality through a collection of chairs designed to create witty solutions within contemporary spaces.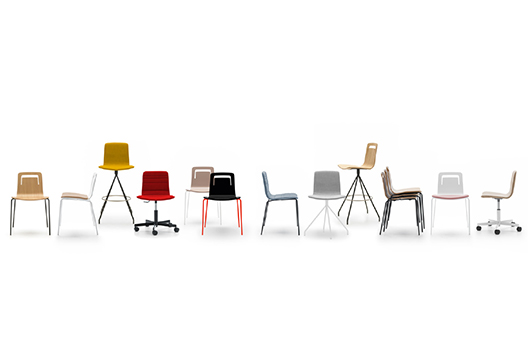 title="Más..." />
KLIP by Víctor Carrasco
Taking its inspiration from the office paper clip the KLIP chair designed by Víctor Carrasco is an ingenious piece of furniture made from oak, the slit within its back support works as a handle for easy movement as well as a hook for hanging bags or other objects.
After being awarded the contract for almost 10 thousand chairs for the Tokyo Science University, Carrasco has now turned his attention to updating the concept behind the classic Jacobsen plywood chair.
"... we are looking for a way to incorporate a subtle slit within its carcass as with "clip", which will allow it to serve not only as a handle but also a hook for our bags," explains Víctor Carrasco.
Its clean lines and simple design make it the perfect chair to integrate seamlessly within the home, institutions or office spaces.
The KLIP chair is composed of a curved veneered panel in natural oak, available in polished, lacquered or upholstered versions. Its base is made from calibrated steel (four legs and swivel base) available in black, white or fluorescent orange colours combined with lacquered aluminium in black or white for the swivel version. The collection also includes a high stool version with revolving base.
"Its wide variety of bases and different upholsteries make it perfectly adaptable for almost any setting," adds the Valencian designer.
The visual appeal of the KLIP chair exceeds its functionality making it the focus of any interior design project.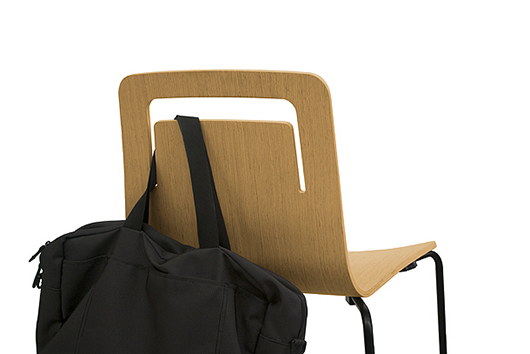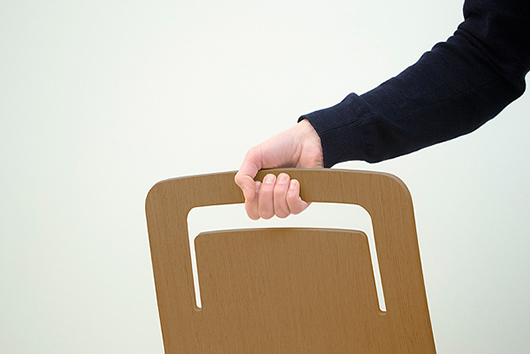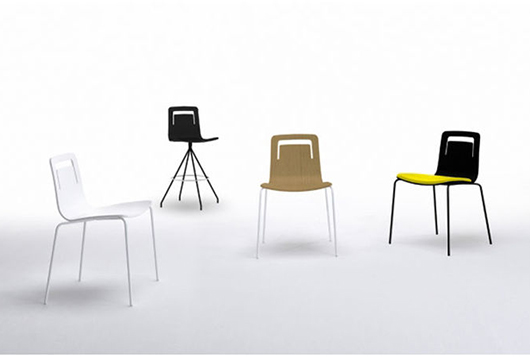 MAARTEN by Víctor Carrasco
As a tribute to the Belgian designer M. Van Severen, designer Víctor Carrasco created MAARTEN, a furniture collection that recalls the elegance of classic design from the 1970s.
Inspired by the elegance of Van Severen's work with simple basic steel structures which were combined with seats of great visual comfort Carrasco came up with this product as a tribute to the brilliant contemporary designer.
"I've always been a big fan of Maarten Van Severen, who I would have loved to work with. His sudden death deprived me of that opportunity but led me to work on the chair that I would have liked to do with him."
The swivel chair from the MAARTEN collection is a highlight in its own right. Its attractive and colourful design made from upholstered wood in a variety of finishes and pyramid shaped steel structure in lacquered black, white, fluorescent orange or transparent finish lends it a distinguished aspect within diverse settings.
"Its wide ribbed seating lends it a homely quality which belies its robust and solid base," points out Carrasco.
Perfect as an accessory for the home, business, shared seating areas or the office the MAARTEN chair offers a pleasant experience both in use and to look at.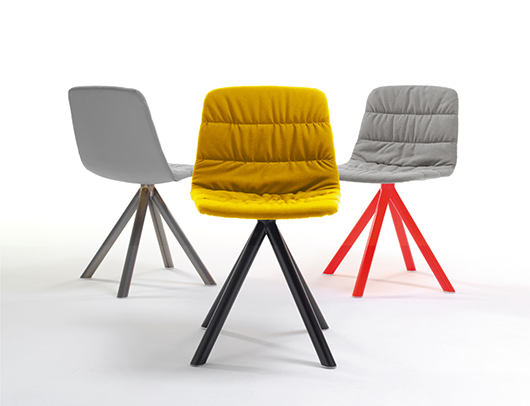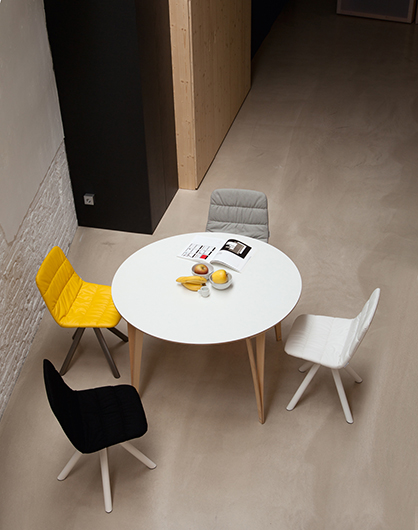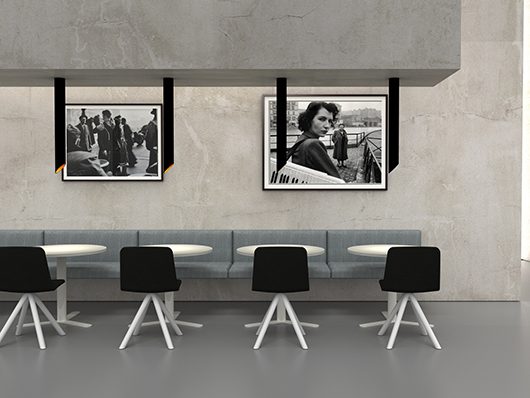 Source: Viccarbe
Read more news related Viccarbe published at Infurma
Visit the Viccarbe website