Ana la Santa was founded after hearing some suggestions made by two customers: Tomas Tarruella and Perico Cortes. They suggested to create a space where several meal options and ways of eating could coexist together in the same place. Sandra Tarruella Interioristas studio was commissioned to translate this objective in aesthetics and appearance of the space.
Hence, the idea of creating four different spaces comes from their suggestion. The four areas are organized around a large central bar which acts as the central core of the restaurant.
By the help of two different levels we were able to split the space, but without creating any visual barriers. The informal space is located near the entry side, and the more elegant one is placed towards the back of the restaurant.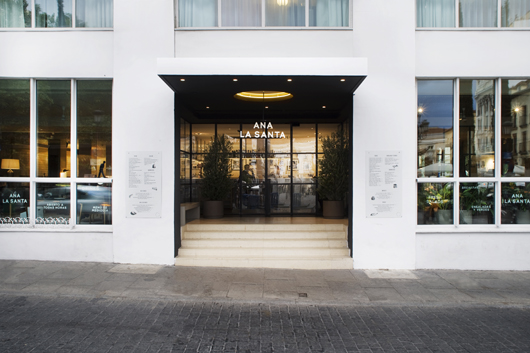 On the first level there is the greenhouse-garden. It has a hydraulic tile flooring, a ceiling made of wicker, and many plants. This area communicates with the rest of the premises through a transparent paneled joinery, but it also opens - visually - towards the square, therefore allowing the visitor to enjoy life while sitting comfortably on the green area.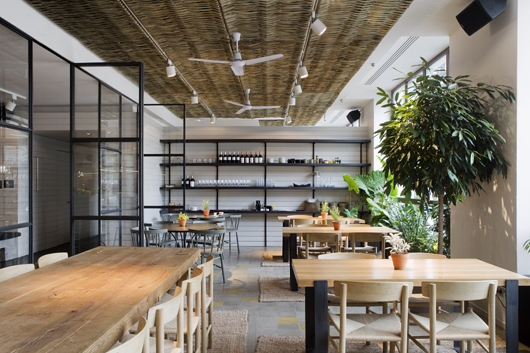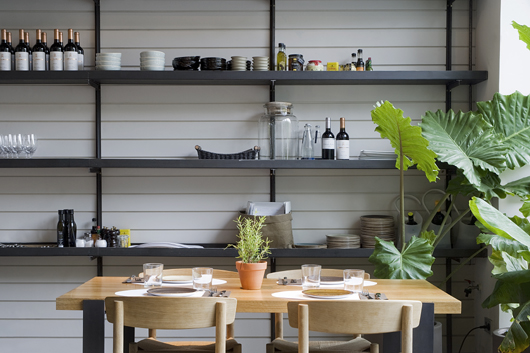 The lounge area is found on the opposite side of the garden. Its warm materials, the fireplace and a bookcase full of books, takes you back to a homey feeling - to your living room - where you can enjoy a book, have a drink, or surf on the Internet, while being comfortably sited on the couch.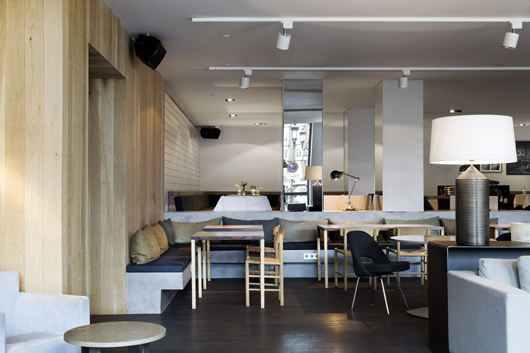 The large bar, placed between two levels, allows plenty of possibilities when it comes to sitting and enjoying a meal: a casual stool in the tapas area and a comfortable chair in the restaurant area. They all focus towards the central island, where dishes and cocktails are being prepared.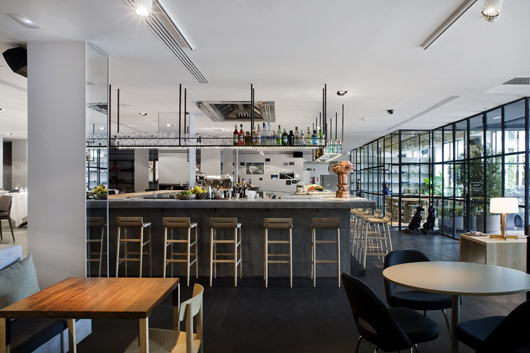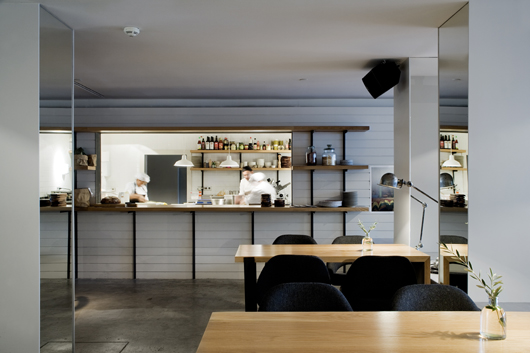 At the same time, this large bar helps us join these two worlds: the sympathy of having a tapa on the long bench with colorful cushions, and wooden tables and table mats with the comfort of classic restaurants, where an intentional color hue austerity (black and white) and tables with tablecloths and glass and upholstered chairs create a relaxed ambience, where the customer may enjoy a black and white photographic collection of Madrid and the menu.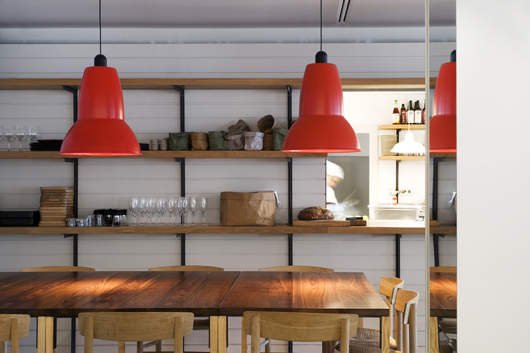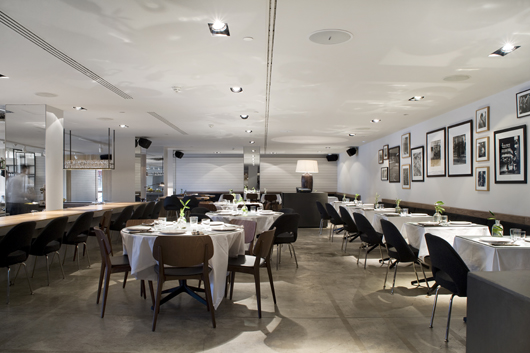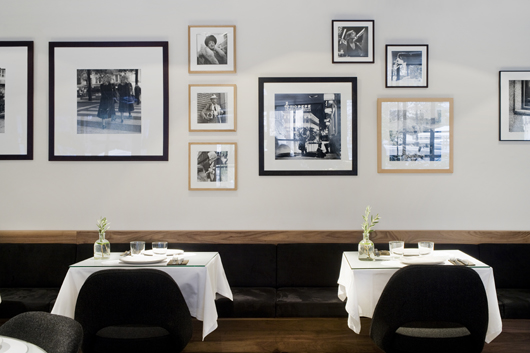 ANA LA SANTA RESTAURANT TECHNICAL INFORMATION
Team: Sandra Tarruella and Ricard Trenchs
Project Leader: Cecilia Moretti
Collaborators: Núria Calderón, Carla Manresa
Client: En Compañía de Lobos www.encompaniadelobos.com
Photos: Meritxell Arjalaguer
LOCATION: Plaza Santa Ana 14, Madrid, España
Source: Sandra Tarruella Interioristas
Visit the Sandra Tarruella Interioristas website
Visit the Ana la Santa website
Read more news related Sandra Tarruella published at Infurma