AL_A has launched tincan, a six month restaurant project in Soho (tincan, 7 Upper James Street, London, W1F 9DH) serving the best tinned seafood in the world, supported by DuPont™ Corian®.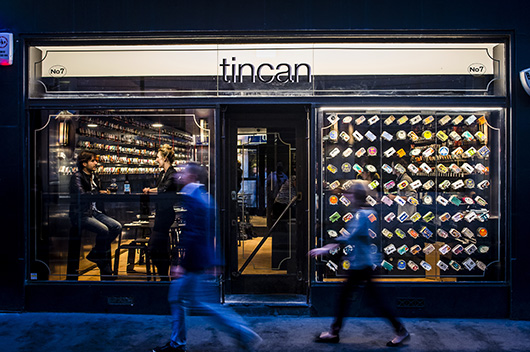 title="Más..." />
While designing a new cultural centre in Lisbon, the AL_A team discovered a former fishing tackle shop, which was transformed into a tiny, vibrant restaurant serving only tinned seafood. What started as lunch quickly became an idea, and subsequently a new project.
Tincan elevates the tin to an object of desire in an environment designed by AL_A, which offers 30 different tins, all of the highest quality seafood, to eat in the restaurant or to buy in the shop. The idea is very compelling: no kitchen, the finest tinned seafood delicacies, super healthy, and great graphics with the tin as the hero.
DuPont™ Corian® features strongly as the primary surface in the space. It has been expertly fabricated to create interior wall cladding which is fitted with pegs to display a variety of can designs from around the world. DuPont™ Corian® also forms the sleek bar top in the restaurant which has been invisibly integrated with wireless charging technology for smartphones from Powermat, compliant with the standards of the Powers Matters Alliance.
The colour of DuPont™ Corian® chosen for tincan is new Deep Nocturne, an ultra jet black that creates a striking contrast to the packaging on display. This is one of several new dark hues made with DeepColour™ Technology*, a patent pending manufacturing process developed by DuPont which enables the creation of dark solid surfaces offering deeper, more intense and durable colour, improved wear performance, and easier fabrication and fitting.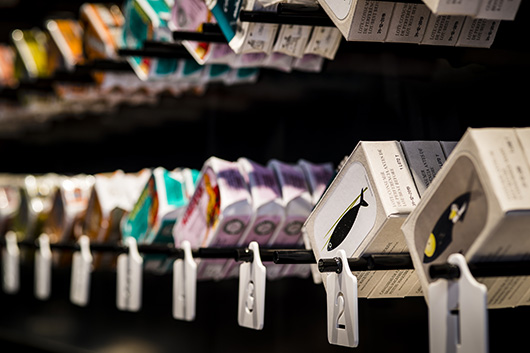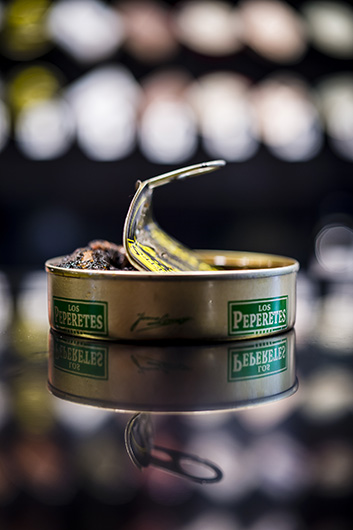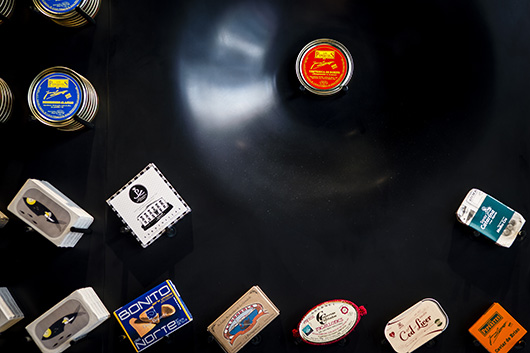 AL_A Director Max Arrocet comments: "We have used Corian® in the new black as a dramatic backdrop to highlight the iconography of the tins."
"DuPont is delighted to support this unique and exciting project in the heart of London and to collaborate once more with an architectural practice of the stature of AL_A. It's inspiring to see the ways in which creative minds can translate a design vision using all the many benefits of DuPont™ Corian® and it is especially satisfying to see how well our pioneering DeepColour® Technology has been received by the leading lights of the design community," says Maurizio Solaro, marketing manager of DuPont™ Corian® for Europe Middle East and Africa.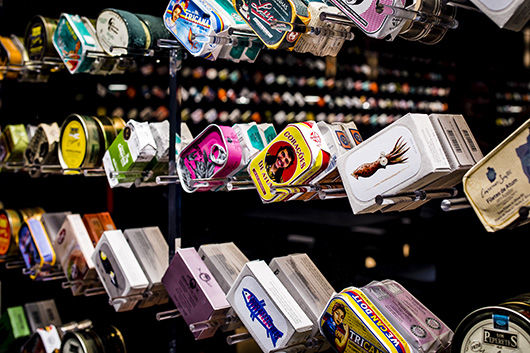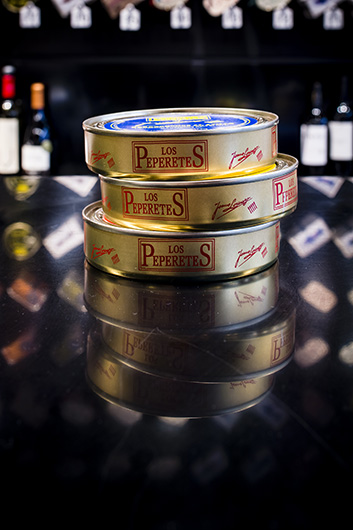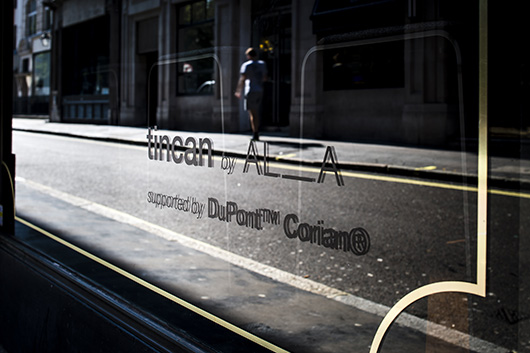 About AL_A
AL_A is an international award-winning architecture and design practice with a passion for experimentation across sectors. Its intuitive and strategic approach has led to a diverse range of concepts for cultural, retail and commercial schemes around the world including Central Embassy luxury shopping mall and hotel in Bangkok, EDP cultural centre in Lisbon (to complete in 2015) and the highly anticipated expansion of the Victoria & Albert Museum in London (to complete in 2017).
About DuPont™ Corian®
First created as a high performance material for kitchen and bathroom worktops, DuPont™ Corian® is now - thanks to its unique combination of functionality, versatility and beauty - a leading global brand among surfacing materials for interior design and architecture. Over the years, DuPont has transformed DuPont™ Corian® solid surface into an exceptional design tool for every application you can imagine. Kitchens, bathrooms, lighting, furnishing, facades, seating, radiators, home automation, touch control surfaces: today, DuPont™ Corian® can be found almost everywhere in commercial, residential and public space environments.
Source: DuPont™ Corian®
Read more news related DuPont™ Corian® published at Infurma
Visit the DuPont™ Corian® website