As always, the European camp appointment par excellence: Spoga + Gafa fair took place just as the summer ended, which is internationally renowned for being an important driving force of the sector. Crespo, who entrusted this fair potential from its beginnings, presented in its 28th year of participation its 2015 collection to the most important companies of the sector.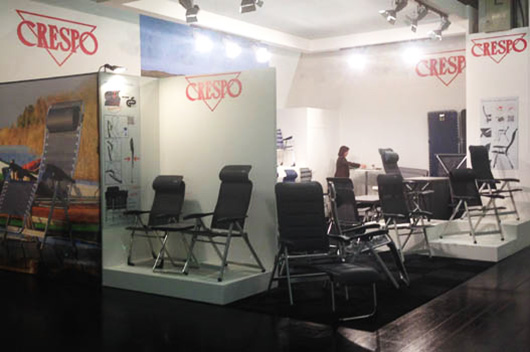 title="Más..." />
With a floor space of 241.000 m2, this year nearly 36800 visitors from more than 100 countries, and 2012 exhibitors from 56 countries attended the fair, showing a growth of 10.7% and with promising prospects facing next year.
The main novelty of Crespo has been the set AL/213-CT contains 2 AL-213-C armchairs, 1 table model AL/246 with aluminium profile, storage net and transport bag.
The primary feature of the AL/213 armchair, which has been specially designed for campers, is its super flat folding of 5cm. To achieve this, some curves have been eliminated and the tube shape has been modified to make it oval, allowing a better adjustment. Added to that, an adjusting height backrest gets a great comfort armchair with a minimum volume. Crespo has stressed the interest raised up by this new concept of armchair, because it enables one to take optimum advantage of the space when travelling, enjoying all the comfort of a normal armchair.
Source: Crespo
Read more news related Crespo published at Infurma
Visit the Crespo sheet at Infurma
Visit the Crespo website