Benedetta Tagliabue in the architectural project and Patricia Urquiola in the interior design of Kālida Sant Pau, an innovative space to improve the quality of life of people with cancer
Architect Benedetta Tagliabue worked pro bono with the design for the first Kālida Centre, while Patricia Urquiola carried out the interior design project. In addition, many national and international companies have collaborated donating their products to contribute to the furnishing of the spaces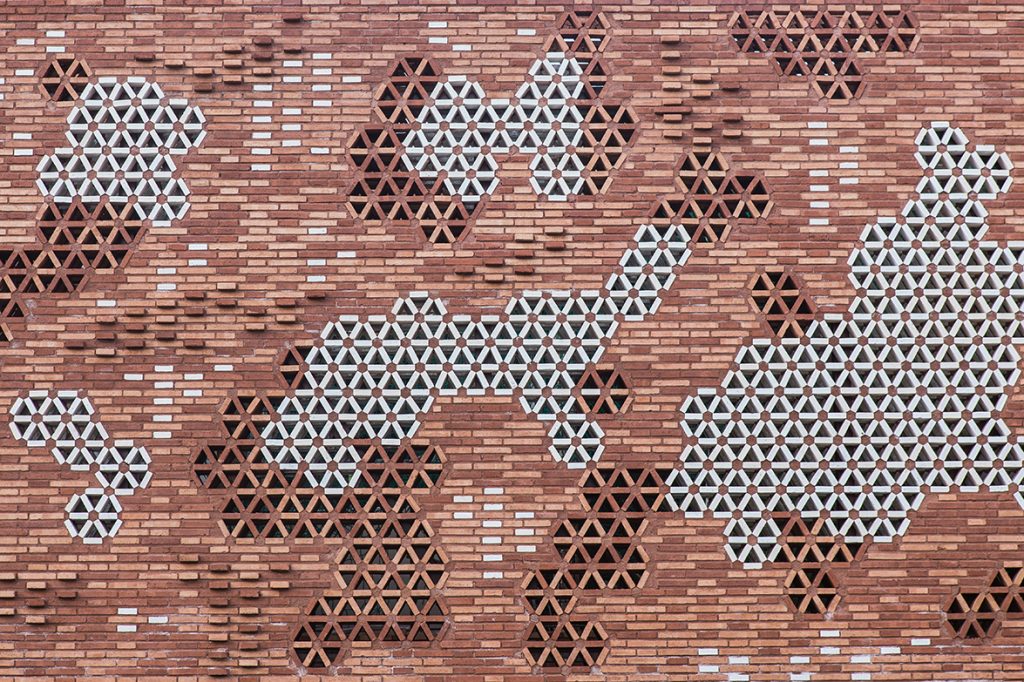 Located just a few metres from the Oncology Service of the Hospital de la Santa Creu i Sant Pau [Santa Creu i Sant Pau Hospital], Kālida Sant Pau has opened its doors as a place where people with cancer can find support, information and feel able to share their feelings and concerns in an environment of total understanding.
Staffed by professionals specialised in oncology support - psychologists, nurses, social workers and therapists - Kālida Sant Pau offers emotional, practical and social support. It is free and available to anyone with cancer and is located close to where they receive treatment. This unique programme is based on the experience of the Maggie's organisation, whose global network Kālida belongs to.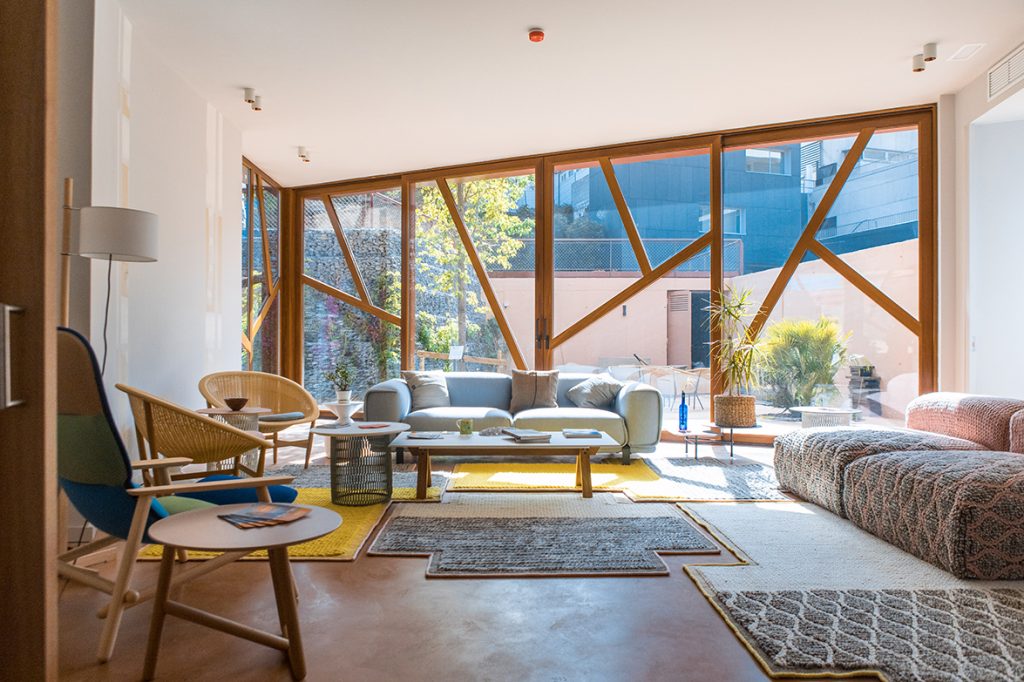 Like all of the Scottish organisation's sites, which are always designed by renowned architects, it was essential that this project had a specially-designed building. The design for the first Kālida Centre is by architect Benedetta Tagliabue of the Miralles Tagliabue EMBT studio, who worked pro bono to create a welcoming and friendly building that is unprecedented among hospital facilities. The interior design, in turn, is the work of interior designer and architect Patricia Urquiola who, together with her team at Studio Urquiola, has enabled the project receive donations from leading furniture, lighting and tile manufacturers.
The opening of this centre is the culmination of a pioneering project in Spain, which began more than a decade ago and has been driven by the Fundació Nous Cims* [Nous Cims Foundation] and the Fundació Privada Hospital de la Santa Creu i Sant Pau* [Santa Creu i Sant Pau Hospital Private Foundation], supported by Fundació de Gestió Sanitària de l'Hospital de la Santa Creu i Sant Pau* [Santa Creu i Sant Pau Hospital Health Management Foundation]. The international organisation Maggie's*, whose work and services were its inspiration, has also supported and collaborated with the initiative.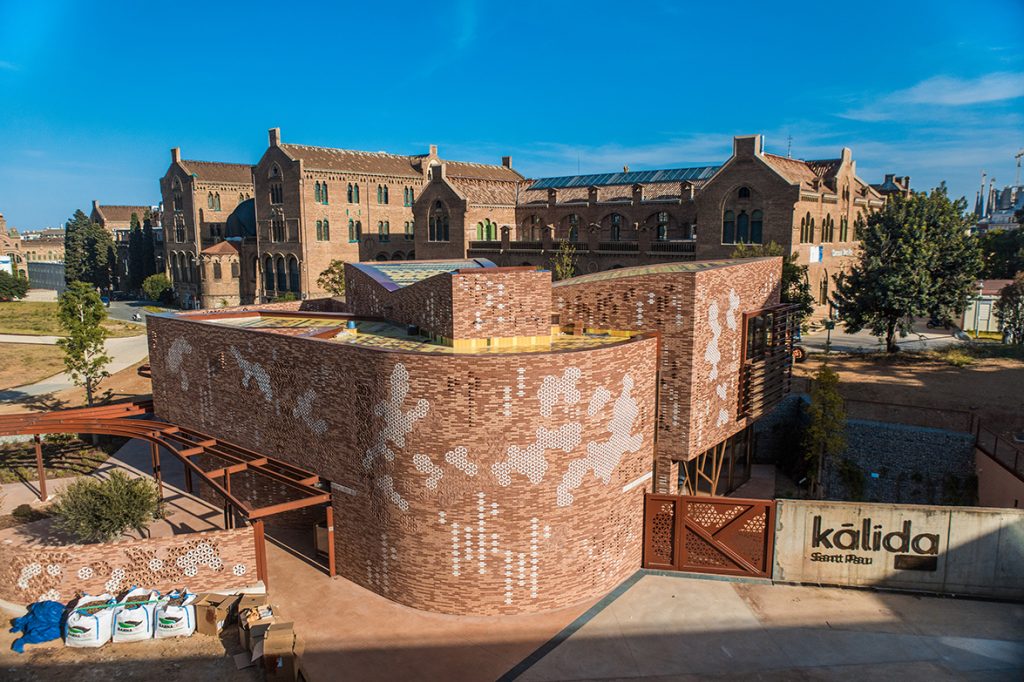 "Drop in", we're ready to share the experience of living with cancer
One of the key pillars of the centre is the programme "Drop in Kālida", which encourages people to pop in -no appointment or referral required - so that the professional team, can assess their needs and advise them on the most appropriate activities and/or services at each point.
People with cancer and their family members or caregivers may experience reactions that include fear, anxiety, anger, guilt or depression. To support them in managing their emotional needs at the different phases of the disease, Kālida provides courses in stress reduction, mindfulness, art therapy as well as individual and/or group sessions, all of which are provided by specialist psycho-oncology professionals. Group work is another pillar of the Kālida model as scientific research has shown that participating in advocacy groups can improve mood and quality of life.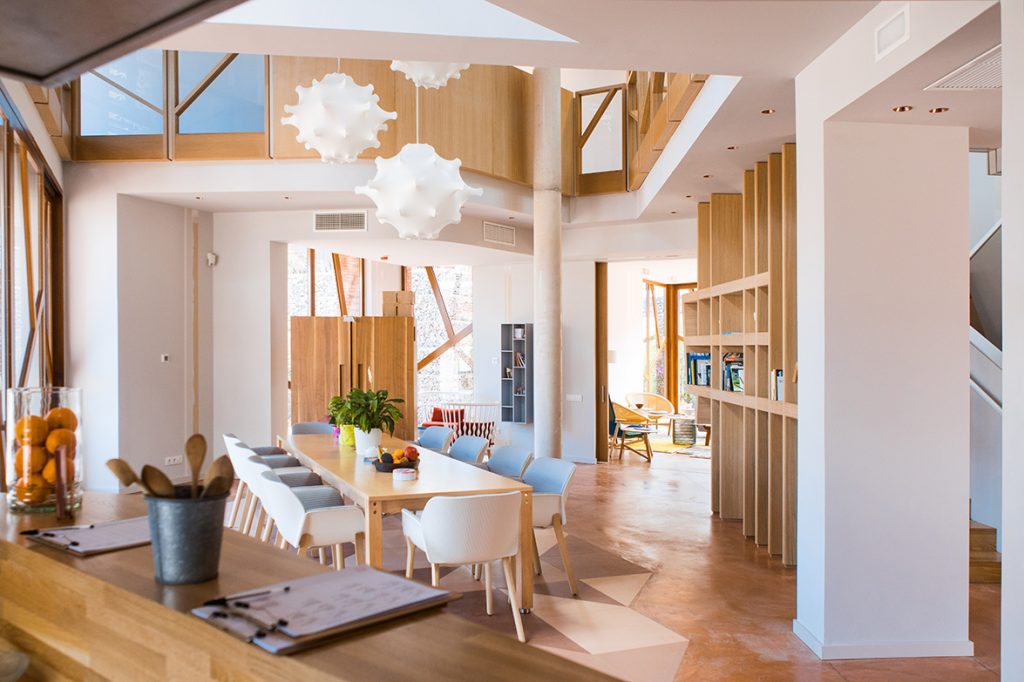 Practical Support helps people to navigate the complex world of medical terms, to understand their meanings and how they affect people and to provide them with additional information with which to understand diagnoses and consequences of treatments. In addition, our professionals provide visitors with techniques and advice for everyday life, such as benefits of eating well, managing hair loss, skincare during and after treatment, and more.
With the Social Support, they receive advice, guidance, information and, if necessary, referral so they can access benefits and social services, both public and private. As a result of diagnosis and subsequent treatment, it is very common to require long periods off work or to stop work entirely, resulting in a significant reduction in income. Kālida believes it is essential to support people in the social dimension to help them adapt to their new situation.
Benedetta Tagliabue, caring architecture in a friendly space
Comfort, intimacy, light and protection in a relaxed and homely atmosphere are the main qualities of this building, created by architect Benedetta Tagliabue. A space designed to transform distressing and frightening situations through processes that build confidence and a sense of security.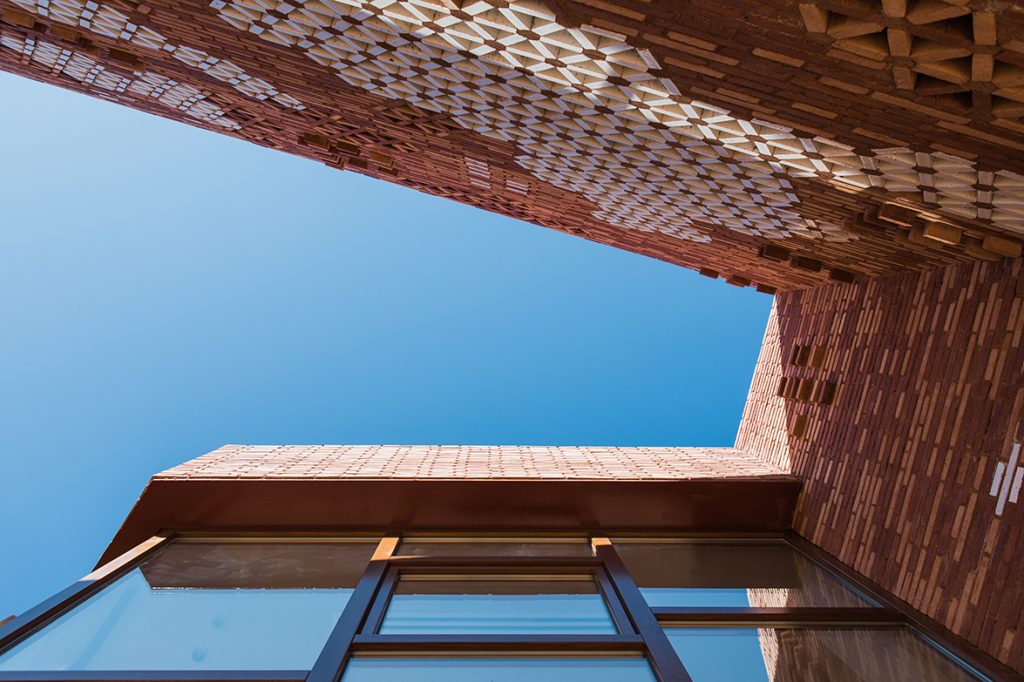 The architect, who experienced the process of support for herself when her husband, fellow architect Enric Miralles, was diagnosed with a brain tumour, understands the curative value of good architecture only too well. "Despite everything, I remember the time of Enric's cancer as a beautiful process", says Benedetta. When the disease progressed, "the only thing that made Enric happy was knowing that his architecture could help improve the lives of others", she explains.
Evidence shows that an inspiring environment can reduce stress and anxiety. "Kālida Sant Pau is a space where people can uncover strengths that they didn't realise they had in order to maximise their own ability to tackle the situation", the architect said.
Conceived as a Garden Pavilion that blurs the boundaries between indoors and outdoors, the 400 m2 building is distributed over two levels of 200 m2 each, with a 650 m2 garden whose main access connects to the Hospital Oncology Unit via a paved area. There are open and flexible spaces surrounded by greenery that makes the hospital environment "disappear" while giving patients the opportunity to use the garden exterior areas without feeling seen from the high buildings surrounding the plot.
On the lower level, the kitchen is the real heart of the space. Facing south, towards the Modernist hospital buildings, wooden shutters create a filter that safeguards privacy and the sliding glass doors open the building to nature.
The facade is a ceramic brick wall that lets light filter in, controls the view, provides ventilation and maintains privacy. Its colour, texture and composition, combined with ceramic pieces of diverse geometric shapes and hues, have used the ornamental richness of the surrounding Modernist building as their reference.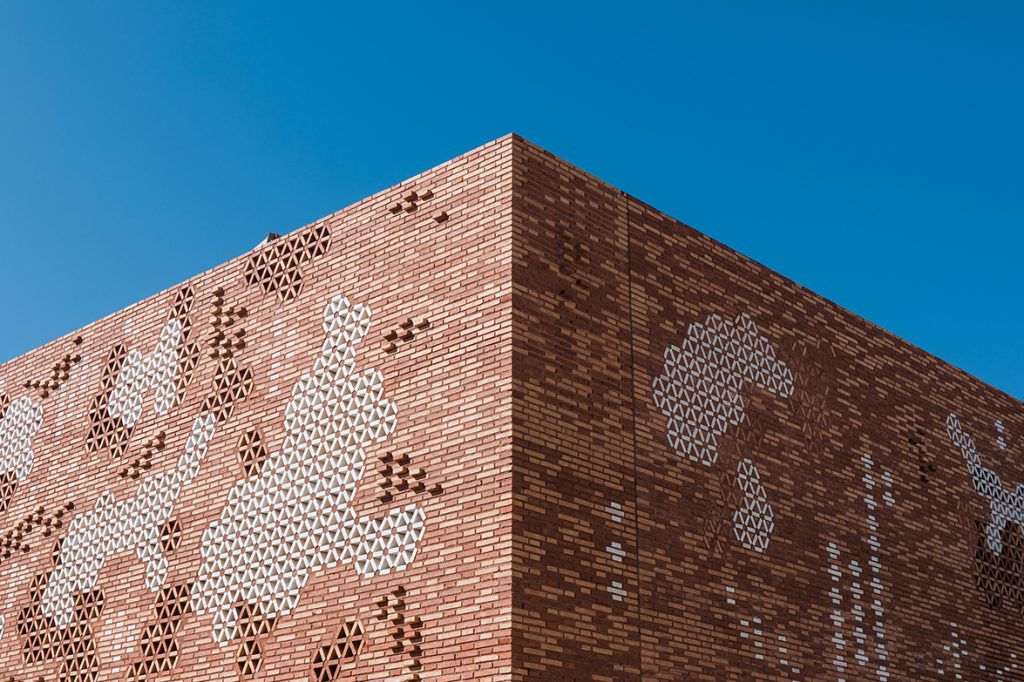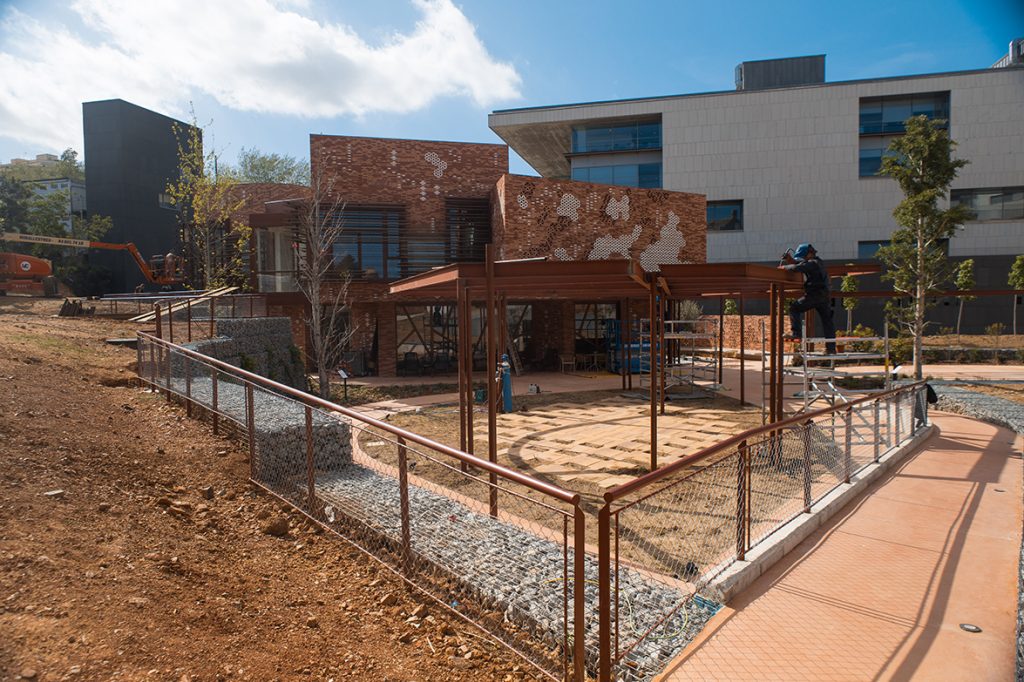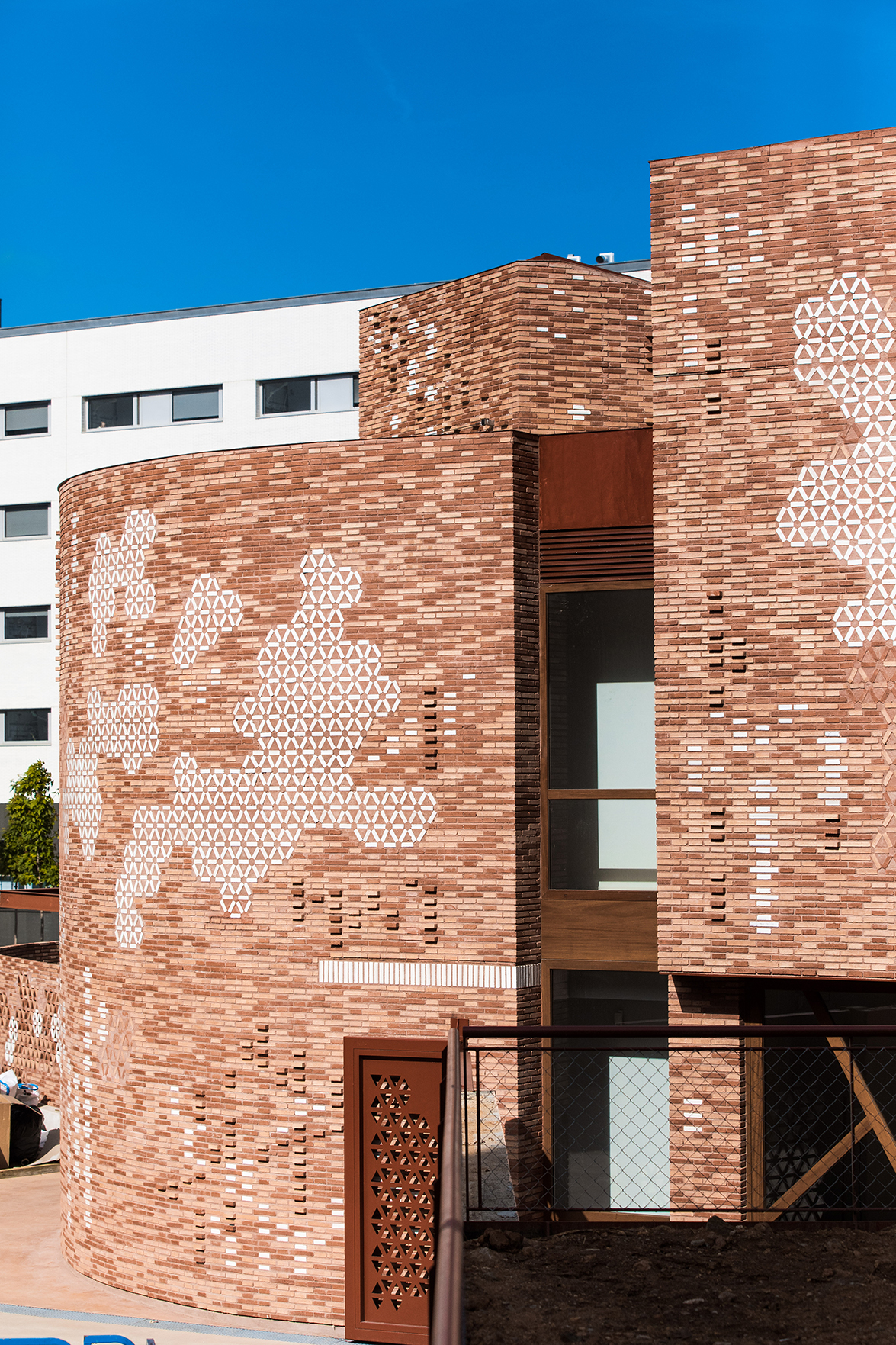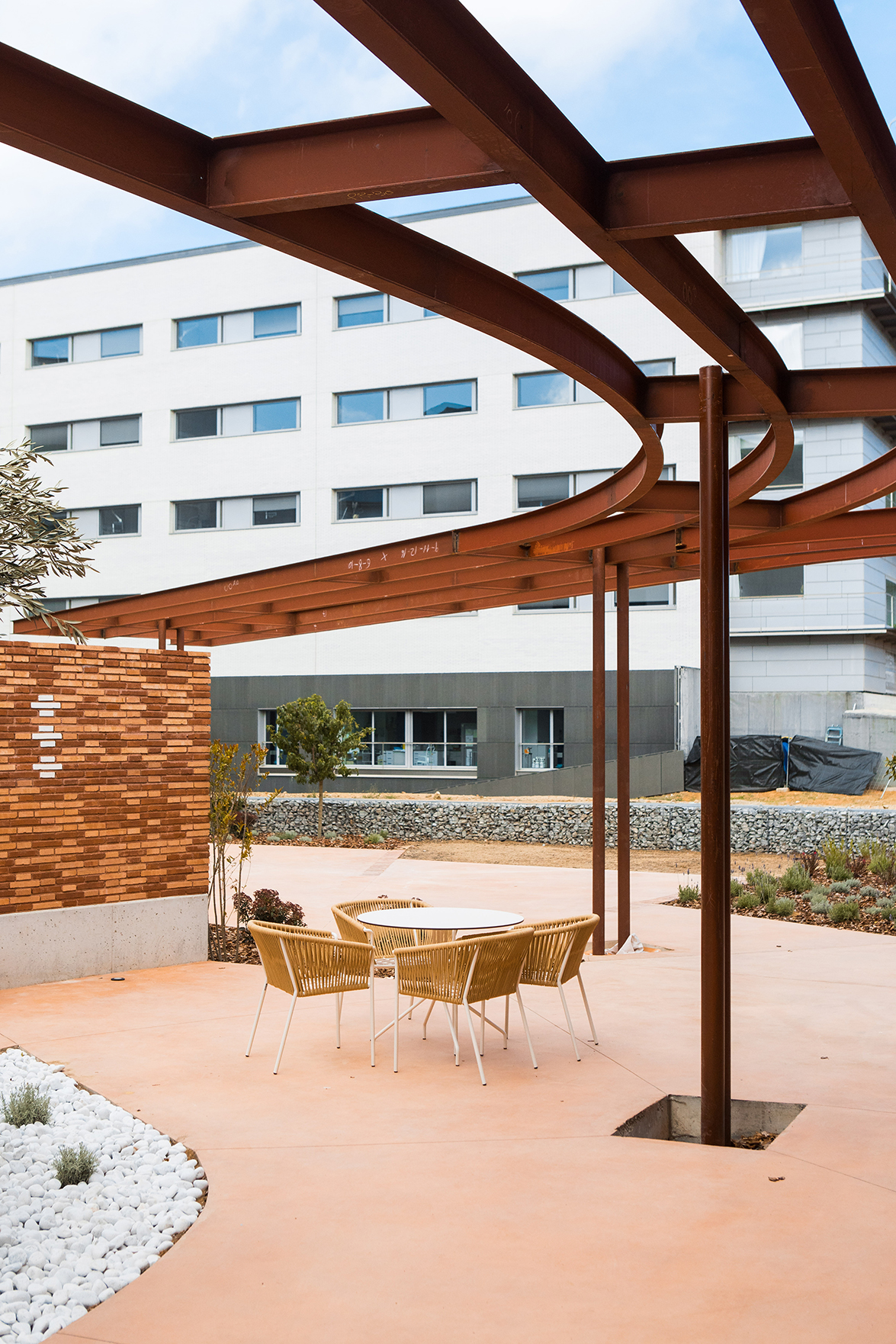 Patricia Urquiola, creating spaces where people feel good
Based in Milan and an international reference in the design world, Patricia Urquiola has joined the project in the last year, designing the interior of the building, giving it a cosy and dynamic atmosphere. "It has been an honour for me to be invited by Kālida to work together with Benedetta Tagliabue on this project. As a designer and architect, my mission is to create spaces in which people feel comfortable and live better lives, an objective that coincides with the philosophy of Kālida" explains Patricia.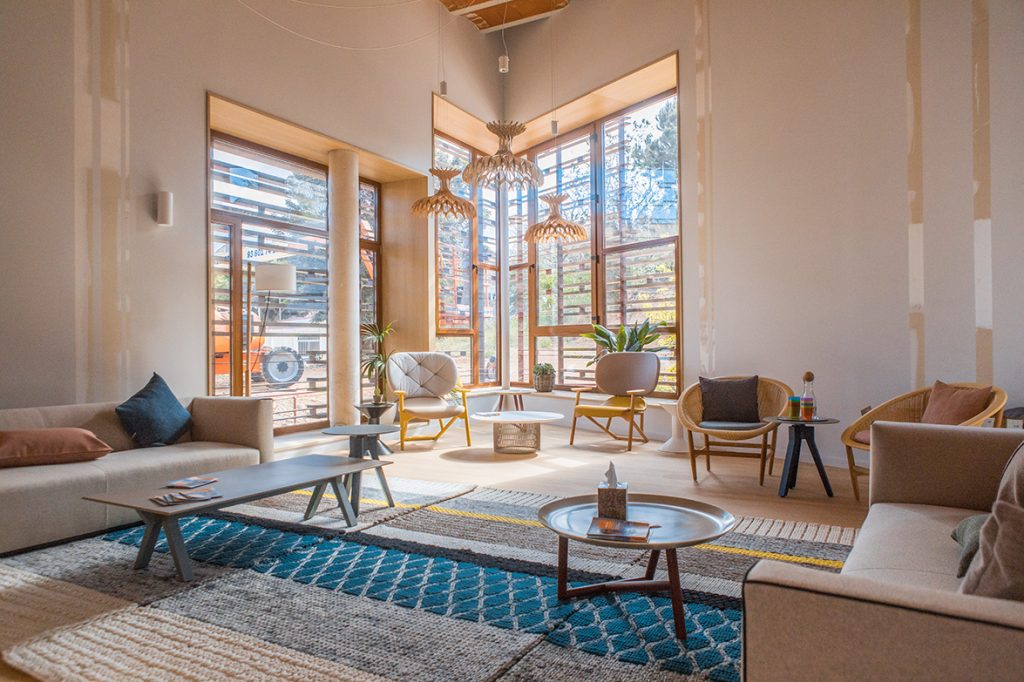 The design is a flexible and adaptable space in which people with cancer can participate in diverse activities. In this sense, establishing a dialogue with the architecture of Benedetta Tagliabue has been fundamental. "We have worked on the hexagonality of the plant, which already suggested a subdivision of spaces for different tasks. From there, we have visualized functional environments and open configurations that originate a heterogeneous but operational environment, where different levels of intimacy can occur", says the interior designer.
On the interior choices she comments, "The atmosphere is warm and friendly, as it is in a domestic space. Therefore, we have selected soft colours and materials for the main decks, such as wood and ceramics, which give a homelike atmosphere to the general environment. Through the furniture selection we tried to introduce a more chromatic language, to transmit a dynamic and positive feeling".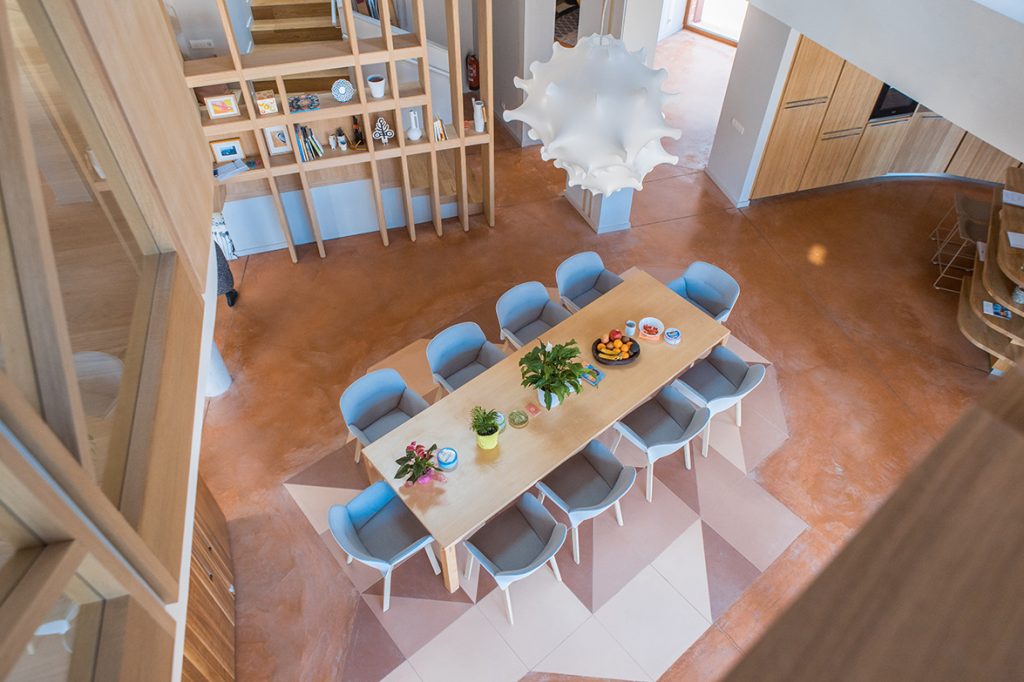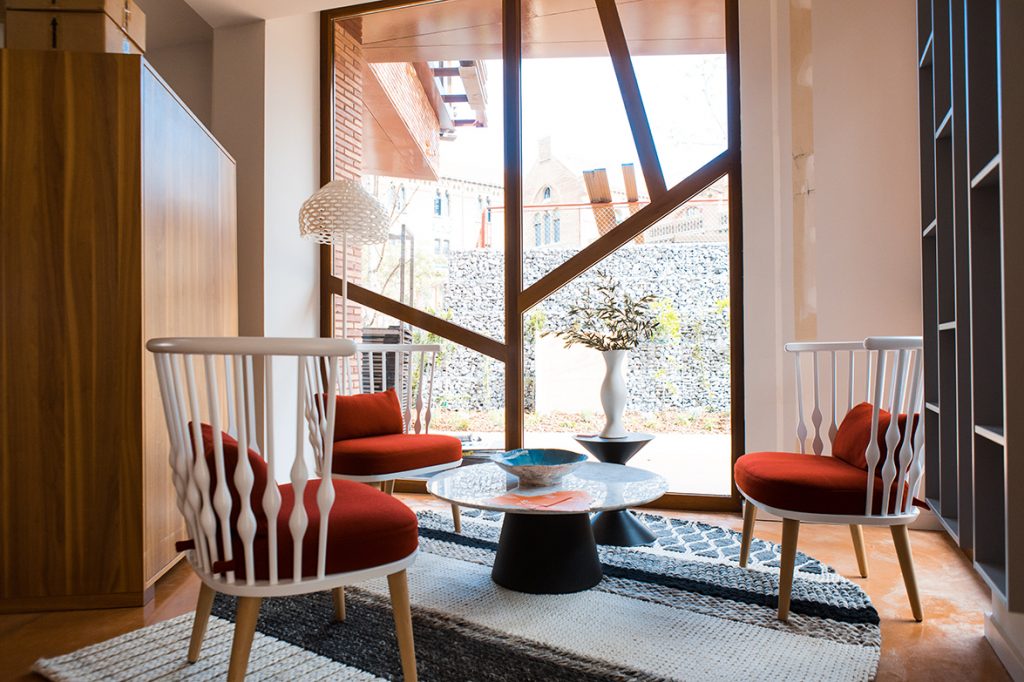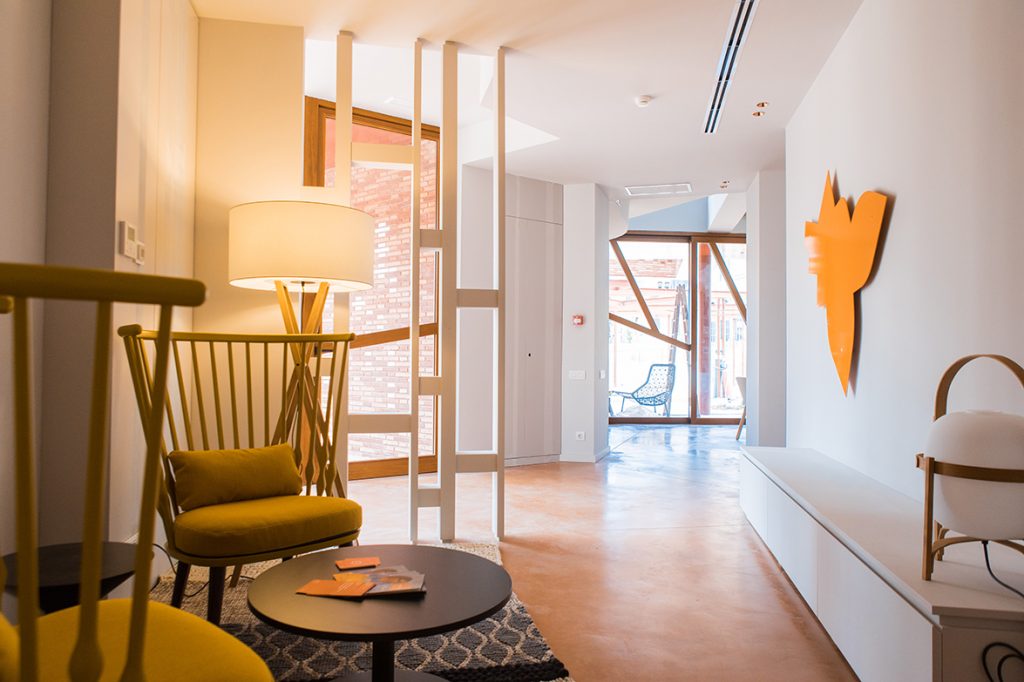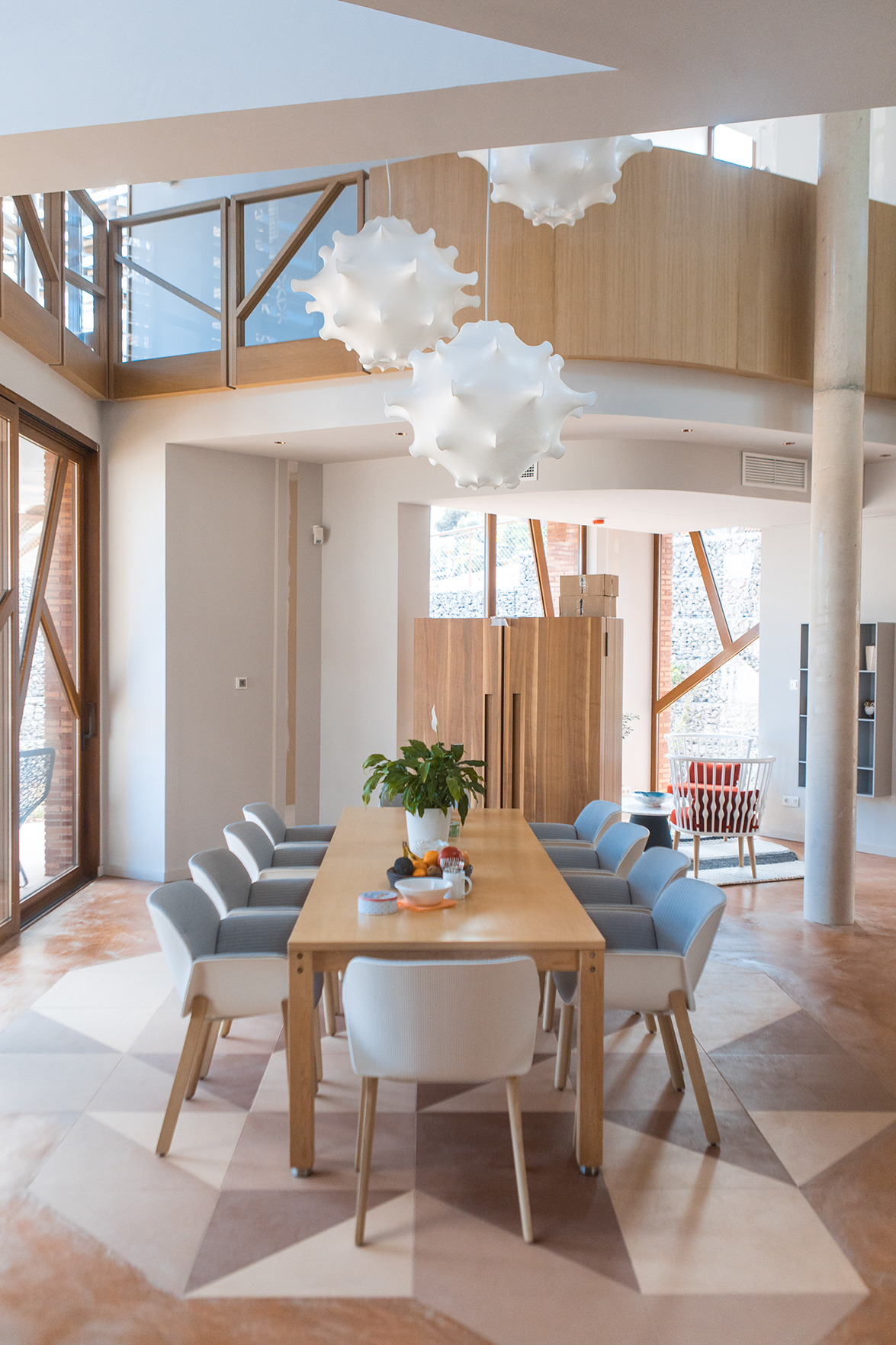 Partner companies in Sant Pau
Patricia Urquiola also helped to involve many world-renowned brands to the project - specialists in flooring, tiles, lighting, furniture, etc - who have donated their products as a contribution to the interior design.
Thus, the prestigious Italian firm Listone Giordano, world leader in parquet flooring and synonymous of excellence, has joined Kālida Sant Pau with the donation of Biscuit, an oak wood flooring that will be used on the first floor. In the same way, the extraordinary ceramic tiles of Mutina, will form the "carpet" on which the table of the dining room will sit, as well as the main wall of the staircase.
Andreu World contributed substantially to the seating furniture throughout the space: different sofas have been placed to provide comfort to people during group activities as well as sets of lounge chairs and tables for individual counselling sessions and workshops. In addition, they have donated chairs that surround the dining table, the heart of the center. Viccarbe has provided the tables of the office of the center, chairs and other complementary elements.
Moroso has donated a sofa for the group activities room on the first floor and different tables and chairs that will be very useful for the professional staff to establish intimate conversations in the different areas of the space. Gan has supported the project with a set of more informal sofas, for one of the group rooms that has been also been complemented with carpets to create a cosy and pleasant space
The generosity of Kettal extended to both the interior and exterior spaces, with armchairs, chairs and tables, allowing people to relax both within the center and in the garden. Other firms such as Cappellini (chairs) or Arlex (shelves) have joined the project and together have contributed to achieving a dynamic and positive space to emotionally welcome those who need it.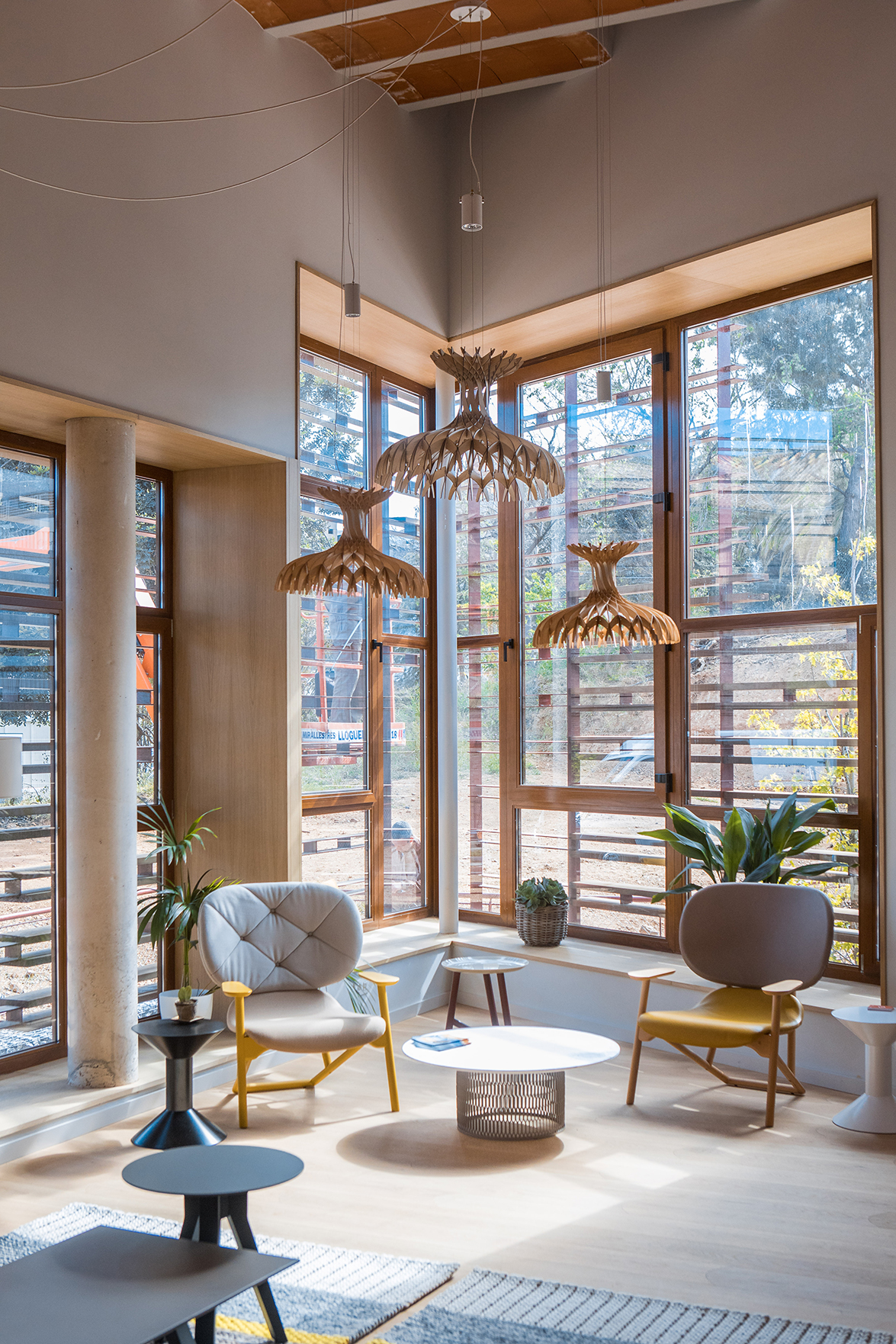 Other supports include the extraordinary contribution of Flos whose wall lamps, lamps and other luminaires are the main base of the centre's lighting. Marset and Santa&Cole also provided lamps that act as decorative elements adding personality to the centre. Roca has joined by donating toilets, bathroom accessories and tiles, while Teixidors and Kvadrat have contributed with textile pieces to make cushions and tablecloths, adding to the long list of firms that have given their products towards a collective and a special project.
In addition to the brands that have been involved through Patricia Urquiola, other important companies such as Bover Barcelona Lights have collaborated in lighting. The kitchen, the centre's meeting point, has been configured in part using modules and appliances donated by Bulthaup, which helped to ensure the efficiency of the project, also providing the large dining table and furniture unit in which to store the cutlery, donated by Casa Gay, at this home away from home.
Outside, the wood donated by American Hardwood Harwood Export Council (AHEC), whose American wood thermally treated tulipwood stands out, having been integrated into a part of the gazebo and the façade's canopy, helping to maintain privacy. Exterior furniture is primarily the contribution of Point, whose comfortable and enjoyable tables, chairs and easy chairs enable the garden to be enjoyed as an extension of the interior architecture.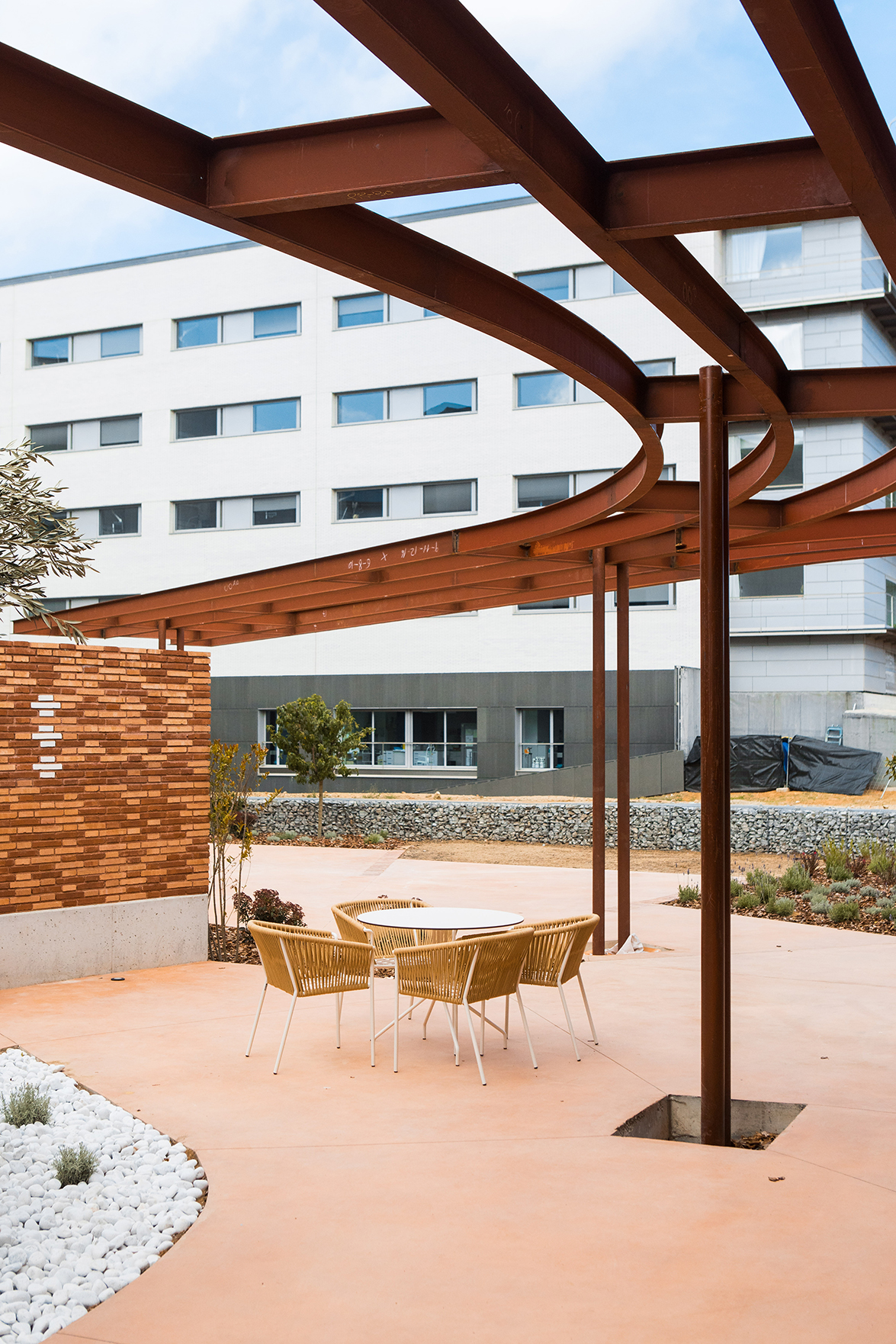 Special mention goes to companies such as Airlan, ascensores Jordá, Riba Massanell carpentry, Daikin and Grundfos, and Gres Aragón tiles and ceramics, whose large discounts have made high-quality materials available at an affordable price for a project of this type. Thanks are due in particular to Cementos Molins, which substantially lowered the cost of concrete required in the building work and also financed part of the kitchen.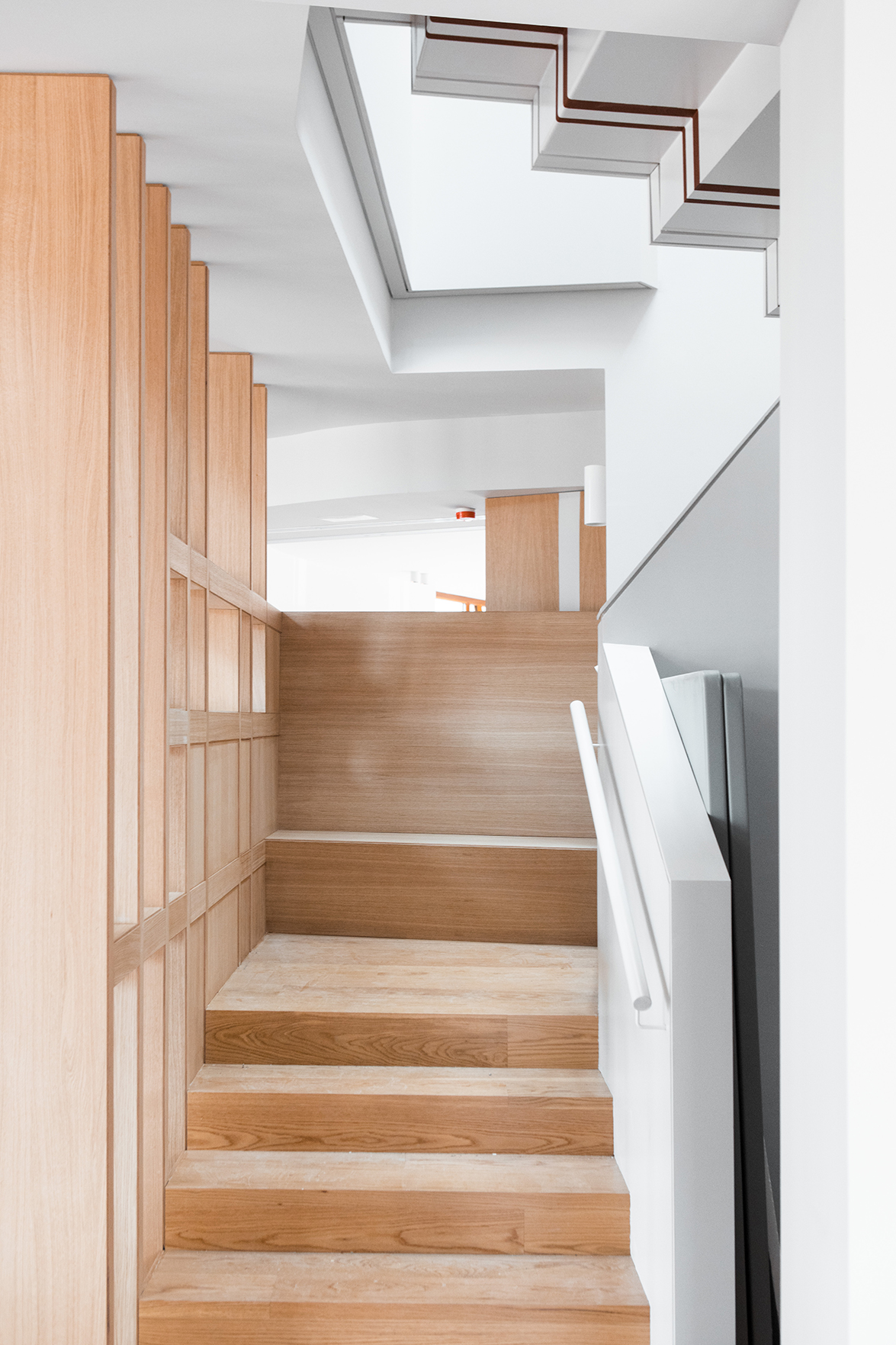 Friends of Kālida: how to help
Kālida would not be possible without the selfless support and energy of individuals, foundations, companies, institutions and medical and architecture professionals, who worked tirelessly to create the first centre in Barcelona. However, the project has only just begun and continues to need support.
Anyone wishing to join the initiative can do so via the website www.fundaciokalida.org, by sending an email to hola@fundaciokalida.org or by getting in touch on Facebook (@fundaciokalida) Twitter (@fundaciokalida), Instargram (@fundaciokalida), Linkedin (@fundaciokalida) or its Youtube channel.
Source: Fundación Kālida
Photos by Lluc Miralles EMBT