Cariparma Crédit Agricole launches a new revolutionary agency concept. The new concept of banking space, "My House Bank", deeply innovates the relationship between the clients and the bank. DINN! has showed all its innovative potential in terms of service design, interior design and environmental branding.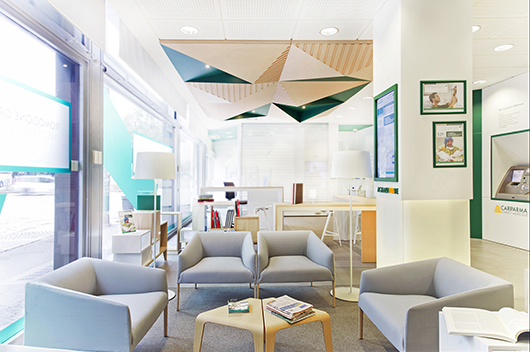 title="Más..." />
"The uniqueness of "My House Bank" lays the services offered to the clients, a strong design impact and cost saving logics - says Massimo Fabbro, Chairman and Founder di DINN!. - We have demonstrated how it is possible to innovate without investing in expensive furniture or amazing technologies: you can innovate thinking about a simple vision and real values for people."
The most innovative aspect of this project is the innovation of traditional banking customer service model, indeed the space is 100% available for customers, in order to allow them to choose the service they want.
The design has been created by following a new idea of Cariparma Crédit Agricole customer experience, aiming to optimize and integrate it with the area self Cariparma new project.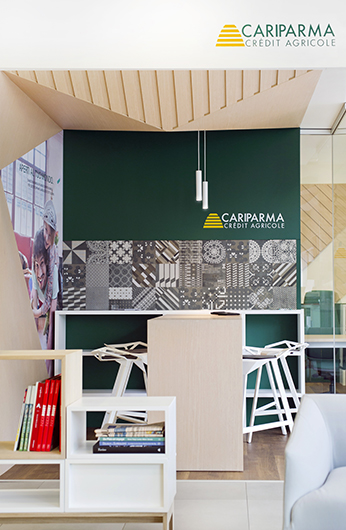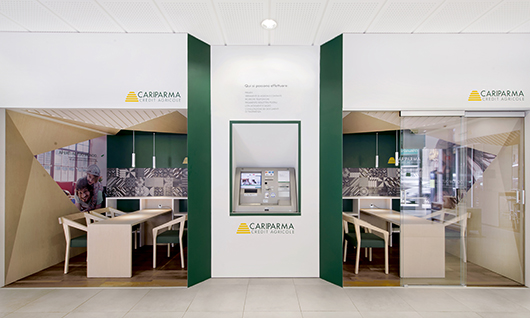 "The new design solutions, such as the lowering of the ceiling, the captivating walls and the constant use of the wood, have created a contemporary and familiar setting. - says Elena Prontera, Design Director at DINN!. - The lighting system has been designed to create different environments. For example, there is a broad light spectrum in the central areas to accommodate the coming of the customer, while in the perimetral area the light is weaker, in order to create a touch of privacy of typical domestic setting." These changes aim to build a relationship between Cariparma and its customers, by creating a familiar and relaxed atmosphere, indeed the consultants , as real hosts, take care of the customers.
Dinn! thanks Cariparma Crédit Agricole which has allowed the whole team to work for a such challenging and innovative project, overcoming the traditional way to conceive the bank. It has also guaranteed a constant support to families and enterprises keeping an high attention to the quality. Thanks to these key points, DINN! has showed its competence in this current context.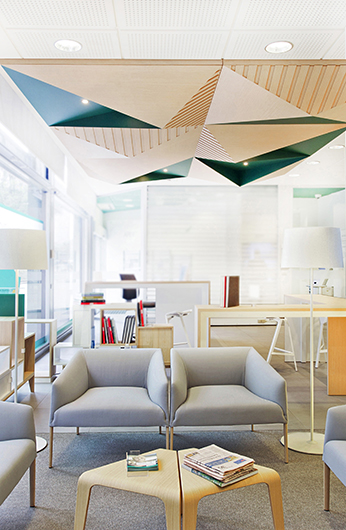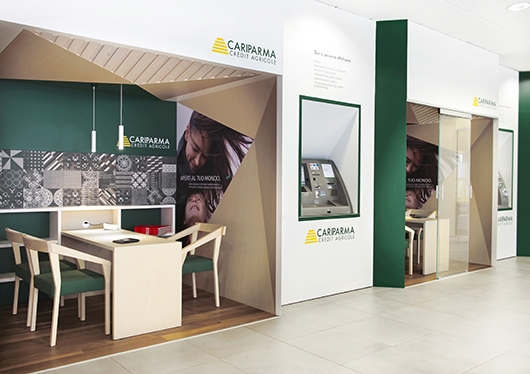 DINN! is an Italian design and innovative company, that conceives and delivers design innovation projects, helping companies to innovate their business, boosting competitiveness in the market, taking breakthrough decisions on a solid rational base and anticipating people's future needs, expectations and desires. DINN! works in Italy, Europe and Middle East through the Design Insighting Process®'s methodology to innovation that integrates strategy attitude and creative intuitionism.
INFORMATION:
Name of the project: "My House Bank" branch concept of Cariparma Crédit Agricole by DINN!"
Location of the project: Milan, Italy
Category of the project: Design
Name of design office: DINN!
Team of the project:
- Concept supervisor & Strategy director: Massimo Fabbro
- Design Director: Elena Prontera
- Senior Designer: Claudio Viscardi, Sara Rimini
- Graphic Designer: Paolo Zaami
- Project Engineer: Matteo Lugli
Photographer: Dario Garofalo www.dariogarofalo.com
Information & images by courtesy of DINN!
Visit the DINN! website