AMS (Arab Minimal Style) is a collection of exterior IP65 lamps, designed by David Abad for B.Lux. The symbiosis between the purity of their geometry and deliberately random graphic design produces a subtle interplay of volumes and light projections, which evoke traditional Arabic lamps.
The choice of corten steel and 316L stainless steel to manufacture these lamps responds to various criteria. Chiefly, to the need to adapt to their surroundings, exterior spaces, and also to the perception of durability and purity conveyed by these noble materials.
In order to adapt to all kinds of spaces, AMS is available in three different sizes: 12 x 12, 20 x 20 and 40 x 40 cm. As a light source, it uses halogen, fluorescent or LED bulbs. These kinds of bulbs, when combined with the geometric modularity of the lamps, can create very warm atmospheres.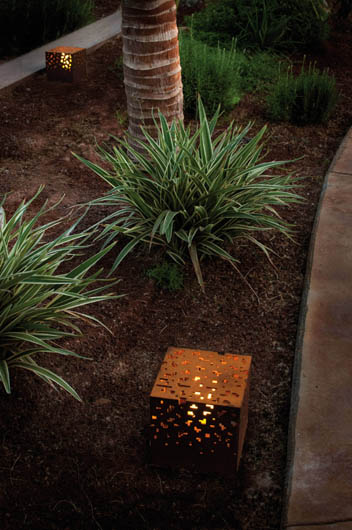 AMS belongs to the URBAN collection of B.Lux. It has been designed by David Abad, who joined B.Lux's team of collaborators in April 2012. Thanks to the agreement signed by the two parties, B.Lux has included over 50 lamps from the Catalan designer into its 2012 catalogue. The new 2012 catalogue is free to download on the brand new website www.grupoblux.com.
Source: B.Lux
Read more news related B.Lux published at Infurma
Visit the B.Lux website