An increase in both international and in qualified visitors was the strong point of the first Mondial du Bâtiment bringing the three trade shows - BATIMAT, INTERCLIMA+ELEC and IDEOBAIN - under one roof. With 338,110 trade visitors, the show consolidated its position as the construction industry's number one trade event.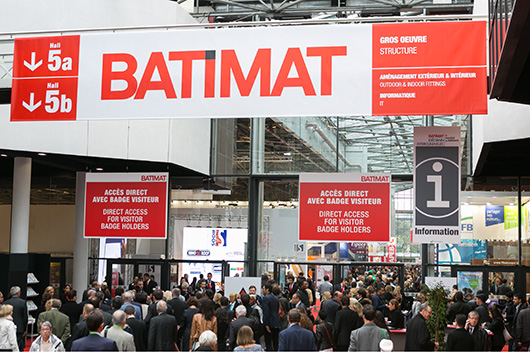 With international visitors up by 2.5% representing 21% of the total (an increase of 2 percentage points compared with 2013) and a 10% increase in the international offer with 1,254 exhibitors, representing 51% of the total (up 6 points), Mondial du Bâtiment established its position as the leading international B2B platform.
Sub-Saharan Africa, guest of honour in 2015, attracted a large number of visitors (up 39%), decision-makers and project leaders from this fast-developing region (Côté d'Ivoire, Senegal, Cameroon, Nigeria and Gabon). European visitors (from Italy, Portugal, the Netherlands, Luxembourg and Norway) also contributed to this growth with a 10% rise compared with the 2013 session. The show is still firmly rooted in the French market, with 267,107 trade visitors, 39% from the Paris region and 61% from the rest of France.
More qualified visitors and leads
Despite a slight drop in overall visitor numbers (4% down on 2013), attendance was up in some categories: 19% in operation/maintenance, 11% more installers and 7% more prime contractors and contracting authorities. The new features introduced this year (theme trails, guided tours, forums, demo workshops, business platform) resulted in more targeted meetings between exhibitors and trade visitors looking for solutions geared to their specific needs.
Mondial du Bâtiment 2015 - Key Figures
338.110 trade visitors over 5 days, 21% international
2.436 exhibitors, 51% international
All sectors of the industry represented:
Installers/Contractors 35%
Specifiers (Prime contractors/Contracting authorities) 18%
Merchants 14%
Manufacturers 15%
Trade associations/Services 18%
BATIMAT 2015: Exhibitors met large numbers of visitors who are seeing a marked upturn in their business
"This is the second time we've exhibited at BATIMAT and we're delighted with the way things have gone. We gained some excellent leads this year, 20 to 30% of them potential customers, which is really fantastic. We'll be back in 2017, that's for sure!" Roland Pfeiffer, Sales Director, Belgium & Luxembourg, Heroal.
"We're seeing a genuine revival of timber construction, which is our core business. Being at BATIMAT has made us stand out from the competition and helped promote our brand. We've met many visitors from around the world (Lebanon, UK, Austria) as well as French companies from Paris and the Nord and Rhône-Alpes regions, all passionate about timber." Christophe Bieber, Export Manager, Bieber Menuiserie.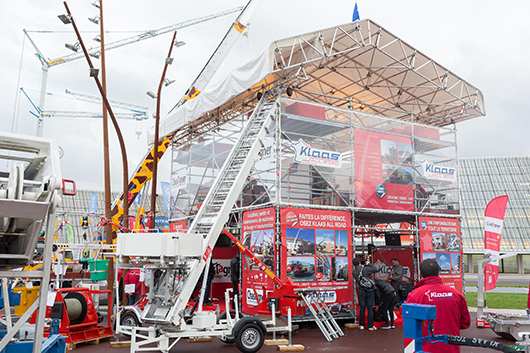 INTERCLIMA+ELEC 2015: More targeted leads. This session marked the end of Joseph Le Jollec's (De Dietrich) chairmanship of Idéobain, with Pierre Louis François (Atlantic) succeeding him
"We're very happy to be here, for the second time. This show attracts a lot of visitors and our stand was full for the entire five days. It was a hugely successful show for us." Daniel Vasquez Mauposo, Communications Assistant, Netatmo.
«We had a more important traffic on our stand than INTERCLIMA+ELEC 2013. Our Visitors mainly came from Paris area and the North of France and 20% came from abroad». Jean-José NAUDIN, Directeur Général France, Toshiba Airconditioning -TFD SNC.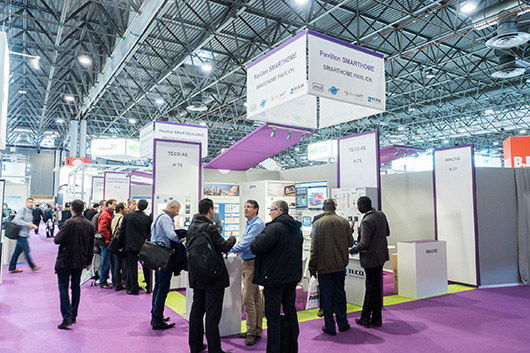 IDÉOBAIN 2015: More installers and specifiers
"We came to IDÉOBAIN to show our innovations to the entire industry - electricians, plumbers, exhibition halls, etc. This show brings quality leads, with visitors taking the time to learn about the product and attend our demos." Jean-François Outin, Sales Director Europe, Interior Glazing division, Saint-Gobain.
"We're very happy with IDÉOBAIN 2015. Most of the people we wanted to see were here. Distributors of course, but also installers, and especially specifiers who showed a genuine interest in our innovations. 2015 really was an excellent year, which bodes well for future editions". Yves Danielou, Managing Director, Allia.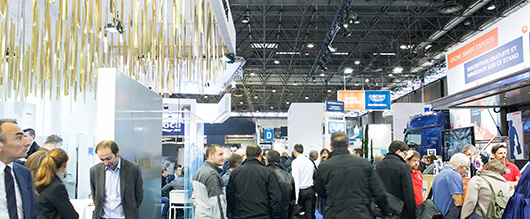 Save the date: 6-10 November 2017 Paris Nord Villepinte
Mondial du Bâtiment 2017
BATIMAT, INTERCLIMA+ELEC and IDEOBAIN
Source: Mondial du Bâtiment
Read more news related Le Mondial du Bâtiment published at Infurma
Visit the Mondial du Bâtiment website