"Heimtextil 2023 will show that the industry is moving towards a green transformation"
Interview with Bettina Bär, Heimtextil director of Home Textiles
Heimtextil, which is returning to its original dates after the pandemic, will open the trade fair year at Messe Frankfurt from 10-13 January 2023. For Bettina Bär it will be her debut in the direction of Heimtextil, Home Textiles of this international show, which sets the trends of the future, undergoing a major transformation towards eco-design, as she tells us in the following interview.
How do you assume your new position as director of Heimtextil in the home textiles segment?
I am very pleased to be taking over the management of Heimtextil together with Meike Kern. In order to respond to changes in the market and provide the best possible support to the industry at the most important international platform for home and contract textiles, personal and constructive dialog with exhibitors and industry participants is particularly important to me. At Heimtextil 2023, I will have the chance to meet the entire industry in person. That's great. At no other time of the year do I receive so much input, which I can in turn use to translate into relevant content for the coming edition.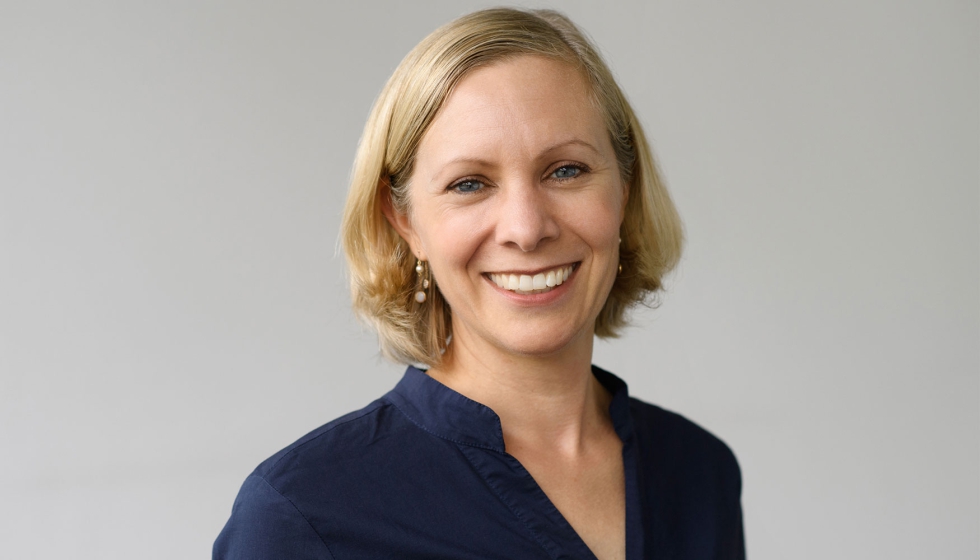 Bettina Bär, Heimtextil director of Home Textiles. Photo: Messe Frankfurt.
You want to promote a closer approach to architecture and interior design, as well as a closer relationship with the industry. What changes will have the exhibition undergo?
In one-on-one discussions with the industry, I already gain a wide range of ideas and insights: meta-topics such as sustainability and the circular economy are highly relevant for the textile industry.
Heimtextil forms a mirror of the global home and contract textile industry and so changes in the industry are always visible at Heimtextil.
We notice that many customers are struggling with the current economic situation. At the same time, this situation is helping to make sustainability an important and forward-looking issue for the industry. This is because sustainable, resource- and energy-saving processes and products can provide solutions and also more cost-effective ways. In addition, there are new legal requirements in many countries that are forcing industry to act more sustainably. And last but not least, the (end) customer now expects a range of sustainable products and alternatives. Sooner or later, the industry will have to adapt to this. I am convinced that recycled and natural materials as well as regional production will create new perspectives for many manufacturers.
We are finding that these changes in the industry are linked to a great interest in trends and a growing need for know-how, networking, personal encounters and haptic experiences. We are meeting these demands at Heimtextil 2023 with a wide range of offerings, from lecture series and guided tours to designed special areas.
You have been with Messe Frankfurt since 2012, and you are leaving behind your position as head of Neonyt, the trade fair for fashion, sustainability and innovations. What synergies exist between both events?
I see parallels above all in the commitment to more sustainability and a sense of responsibility in the global textile industry.
Messe Frankfurt invested in the topic of sustainable textiles and fashion at an early stage. To this day, Neonyt is synonymous with the fundamental transformation process in the textile and fashion industry. Now Messe Frankfurt is using the event's lighthouse potential as a pioneer and rolling out NEONYT internationally. In the B2B segment, NEONYT in Germany will be held in Düsseldorf from January 2023. Further satellites in the international context are already planned.
Heimtextil has of course long been established internationally, but it has also been deliberately using its global appeal for many years to highlight the urgency of sustainable transformation in the textile industry and to drive the issue forward.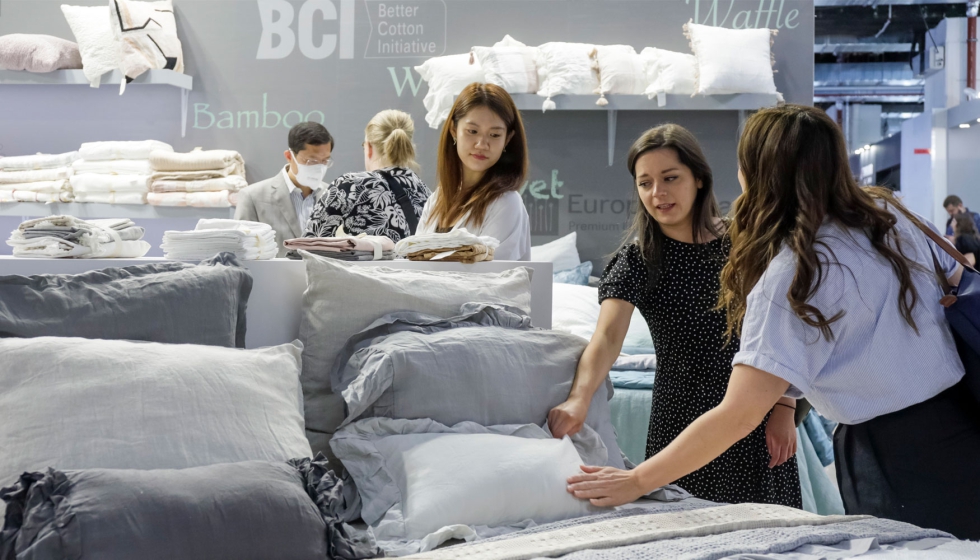 Messe Frankfurt will be the epicentre of the international textile industry from 10th to 13th January 2023. Photo: Messe Frankfurt.
You are facing a long-awaited unrestricted edition of Heimtextil, which is returning to its original dates. What new features will the event incorporate in 2023?
With more than 2,200 exhibitors already registered, we are very pleased to be able to present a very broad range of products in January 2023 - and an unbroken high level of internationality.
Heimtextil Trends 23/34, which will be staged in the Trend Space in Hall 9.0, will once again provide an inspiring look into the future. For the first time, they will once again be accompanied by the Future Materials Library, a collection of exciting material innovations for interiors from all over the world, curated by the future agency FranklinTill.
A new feature at Heimtextil 2023 is that manufacturers and weavers will for the first time find a global range of fibers and yarns for decorative and upholstery fabrics - compact and centrally located in a separate area in Hall 4.0.
There will also be new developments in the Interior.Architecture.Hospitality range: For the first time since 2020, the Interior.Architecture.Hospitality Library, a material library for functional textiles, will be part of the offering there again. The curators of the library will be expanded to include application experts or interior designers. They select among the submitted products for contract business according to five functional properties. The identification of these functional properties and their possible applications will highlight the contract business range even more clearly this year.
In addition, we will be offering Interior.Architecture.Hospitality Talks & Tours for the first time at Heimtextil 2023 in cooperation with our media partners AITDialog, worldarchitects and AHGZ Hoteldesign. In this context, participants can still join the thematically appropriate guided tour of the trade fair after a technical lecture.
As part of Sleep & More, the daily Sleep Tours with Markus Kamps on the new products in the 'Smart Bedding' product area (Hall 11.0), focusing on bedding and mattresses, are a new feature.
And there will be a new special area entitled 'Tones of Freedom' in the Sustainability section. It will show a Streatwear collection made of 220 worn and discarded jeans designed by students of the School of Design (Frankfurt School of Clothing and Fashion).
On a personal level, what expectations have you set for yourself?
I am delighted that this international sector will finally be able to meet again at Heimtextil in January 2023 and have the chance to discover new products and innovations. I am especially pleased about the opportunity for direct exchange and personal encounters. For me, it's a great opportunity to learn even more about what moves this industry during the trade fair and through personal conversations.
Sustainability, the circular economy and eco-design will mark an edition that is committed to new technological solutions that reduce environmental impact. In this sense, what measures is the industry promoting and what innovations will be presented at Heimtextil 2023?
At Heimtextil 2023, and perhaps especially but not exclusively in the context of Heimtextil Trends 23/24 and the Future Materials Library, it will become clear that the industry is already working very intensively on an ecological transformation. There are many innovative concepts, product developments, ideas and initiatives at all levels of production and the value chain, even if, unfortunately, not everything is yet fully developed or many processes have not yet been completed. Anyone coming to Heimtextil 2023 will feel how inspiring, encouraging and fascinating the exchange with industry colleagues on these topics is.
Under the slogan 'Textiles Matter', the aim is to give a boost to the recyclability of textiles for the production of new products. What is the current state of industry and design, to reduce the waste generated annually and implement a sustainable network?
To date, the textile industry obtains its raw materials from a variety of sources and uses numerous processes to manufacture an infinite variety of products. This diversity makes it one of the most problematic industries in terms of climate emergency. The textile industry has a responsibility to review these processes and change them for the better.
One of the most important actions the textile industry can take to bring about meaningful and significant change is to transition to a circular economy. In such a system, materials are reused over and over again in a cycle of use that drastically reduces the consumption of the earth's resources as they remain in a productive infinite loop.
We find that the industry is slowly but in all sectors, from design to industry, transforming and adapting to the new challenges.
Despite the socio-economic situation, the textile industry is experiencing a strong recovery, however, the effects of globalisation make it necessary to have a connected international network to guarantee its production. What is your opinion?
Absolutely. It has perhaps never been as important as now to network, exchange and meet internationally. There is a great desire for the industry to meet face-to-face and we are happy to be able to bring the international industry together again at the Frankfurt Fair and Exhibition Centre. Even beyond the international Heimtextil sector, we are committed to comprehensive international and also cross-sector networking with Texpertise, the textile business network. Texpertise brings together cross-industry global communities, actively drives knowledge exchange and opens up new business opportunities The Messe Frankfurt network links the leading international textile trade fairs. At more than 50 fairs worldwide, we show the forces driving the sector. Today, the latest themes, trends and contacts already attract more than 23,000 exhibitors and 600,000 visitors from all around the globe. Whether Frankfurt, Paris, Shanghai, Tokyo or New York – we generate impulses for the entire textile value chain. The comprehensive Messe Frankfurt Texpertise business network covers the entire textile value chain, including research, development, yarns, fabrics, apparel, fashion, contract production, home and interior textiles, technical textiles, processing and cleaning technologies.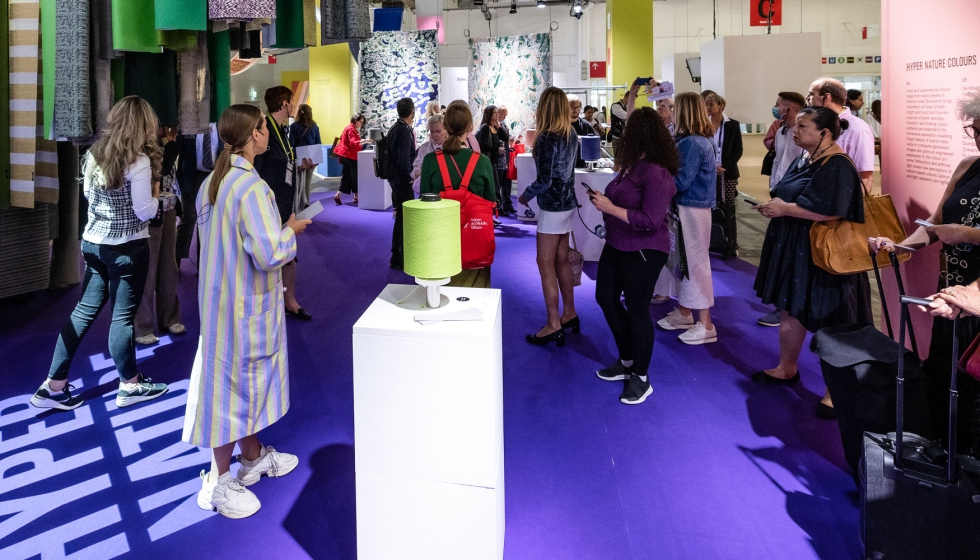 The textile industry is in the midst of a transformation process and Heimtextil 2023 will be the stage of this change towards a more sustainable and efficient industry, with designs, processes and materials that are already on trend. Photo: Messe Frankfurt.
The contract is one of the sectors that is currently experiencing the highest growth rate. What relevance will it have at Heimtextil 2023?
The contract business has had a firm place within the Heimtextil range for many years and will also play a major role at Heimtextil 2023. Under the title Interior.Architecture.Hospitality, we began a few years ago to give special emphasis to the range of contract textiles at Heimtextil and to meet the growing interest in the subject with additional offerings.
Interior.Architecture.Hospitality, the specialist program for interior designers, architects and hospitality experts, will again be held at Heimtextil 2023 on a large scale and in the usual high quality. The program includes the Interior.Architecture.Hospitality Lectures, in which renowned architects and well-known hospitality experts will present their work and discuss current industry topics such as sustainability, as well as the Interior.Architecture.Hospitality Tours, which will take participants to curated highlights and innovative textile solutions from the contract sector. The Interior.Architecture.Hospitality Directory will once again list all suppliers of contract textiles. In addition, the identification of the respective trade fair stands ensures an effective trade fair visit for the target group.
Another highlight is the Interior.Architecture.Hospitality Library already mentioned. The material library for functional textiles was launched in 2020 and can also be found online all year round at http://www.textile-library.de.
Do you think that after the pandemic, interior design, especially in the contract sector, has become more important? Have textiles ceased to be merely practical elements, to evoke emotions and sensations and build an architectural and decorative language of their own?
The great thing is that textiles combine all these things: they arouse emotions and sensations, they can develop their own architectural language, but they also offer very practical solutions, for example through their functional properties. I'm sure that functionality in particular will play an increasingly important role in the future, whether in the form of stain-resistant, antimicrobial, odor-resistant or flame-retardant textiles.
Certainly, the topic of interior design has become more important, especially in the private sector, in the context of the pandemic. But I believe that textiles are also becoming increasingly important independently of this, primarily because of their flexible usability but also because of their functional properties and their increasing contribution to sustainable interior design.
Are recovering artisanal techniques and natural and functional materials as a trend or is the way forward for the industry to reduce its environmental impact?
It's definitely both: I think it makes sense to be aware of how products are made if you want to make established processes more sustainable and optimize them. For example, creative, surprising processes and applications can be used as early as the design stage to make new use of the wealth of reusable materials already available.