Buildings account for around 40 percent of total energy consump­tion and thus have a correspondingly important role to play in the new energy paradigm. Light+Building, the world's biggest trade fair for lighting and building-services technology, will reveal the opportunities offered by intelligent and networked buildings when over 2,100 exhibitors present their latest products for lighting, electrical engineering and building automation, as well as software for the construction industry. In addition to the comprehensive spectrum of products and services, an exhibition entitled 'Buildings as Power Stations in the Smart Grid' will show how networked buildings generate, store, distribute and use energy on a decentralised basis. In particular, the exhibition, which will be located on the outdoor area between Halls 8, 9 and 11 and con­sist of working installations, will demonstrate how future-oriented energy management operates.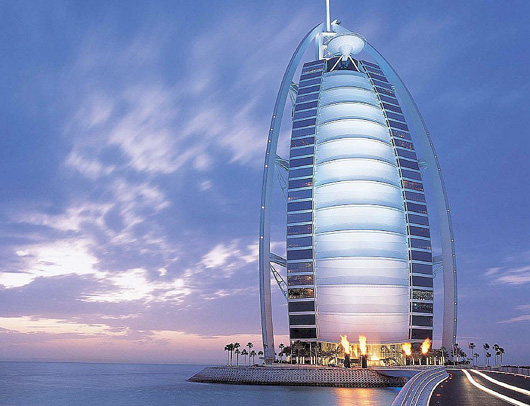 The driving force of a new energy policy is the European Union with its European Building Performance Directive (EBPD), which lays down a zero-energy standard for new buildings in 2021. In Ger­many, the Renewable Energy Law (Erneuerbare-Energien-Gesetz – EEG) and the corresponding law for heating (EEWärmeG) promotes the generation of energy on a decentralised basis. It is only possible to compensate for the closure of atomic power stations through decentralised, regenerative electricity generation. These sources of energy fluctuate and therefore need a certain storage capacity to guarantee the power supply at all times. And buildings can make a considerable contribution to this. To achieve this target, buildings must become significantly more efficient and produce a larger proportion of the energy they need instead of depending on large, central power stations. This means that buildings must be equipped with their own energy generators, storage units, management systems and protective tech­nology. Additionally, energy-using equipment and the networks must be linked so that the smart grid knows where and how much power is required, as well as how much can be generated so it can har­monise demand and supply on a regional basis with other power users and suppliers.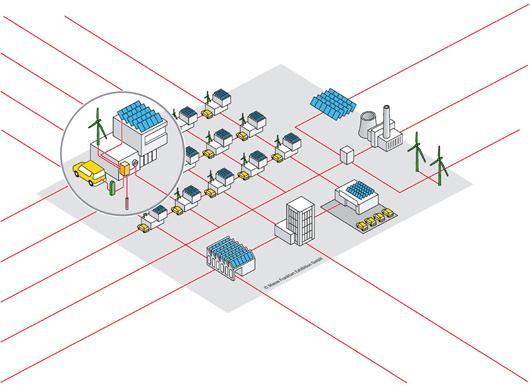 Hence, it is important not only to reduce consumption in smart buildings but also to ensure optimum power generation, storage and links to the network. How this can be done will be shown by the 'Buildings as power stations in the smart grid' exhibition organised by Messe Frankfurt with the support of the German Association of the Electrical and Electronics Industry (Zentralverband Elektro­technik- und Elektronikindustrie e.V. – ZVEI). The exhibition is aimed primarily at house owners, property developers, architects, planners, the installation trade and everyone involved in building construction and operation. Approximating as closely as possible to real life, the exhibition shows a building with photovoltaic and wind-energy systems, a roof designed for walking on and a filling station for electric cars. The installations, some of which will be shown in live operation, use products and components available on the market, e.g., photovoltaic and wind power, combined heat and power generation, fuel cells and storage technology, all kinds of storage methods, transducers, meters, switching and protective modules, installation technology including networking and integration, as well as visualisation and operating units. Software computes and controls when the various systems should function for maximum economic efficiency and where the energy produced should be used or sold.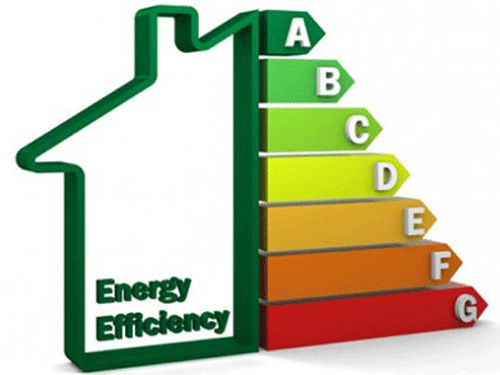 On the industry side, the partners of the exhibition are leading manufacturers of energy, building-services, storage and network technology, as well as numerous highly innovative small to medium-sized companies for special solutions, networking or automation software. The exhibition is being planned and im­plemented on behalf of Messe Frankfurt by the renowned firm of con­sulting engineers, Canzler Ingenieure Frankfurt am Main / Mülheim an der Ruhr. Canzler advises and develops concepts for transparent and economically efficient, future-oriented buildings. Within the framework of the Building Performance Congress, expert speakers will also offer insights into state-of-the-art technology, provide information about planning and the optimum design of smart buildings in the Technology Forum (Hall 8.0). The subjects to be covered include the modernisation of existing buildings and designing and planning modern functional buildings.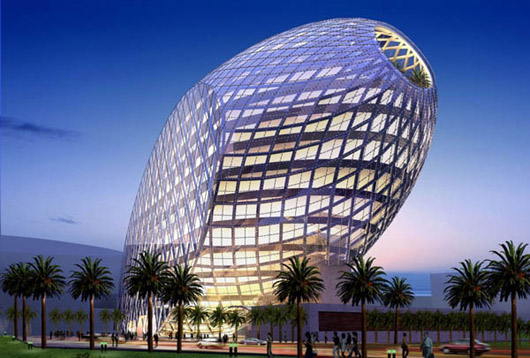 Parallel to the exhibition, the Central Association of the German Electrical and Information Technology Trades (Zentralverband der Deutschen Elektro- und Informationstechnischen Handwerke – ZVEH) and the Hesse / Rhineland-Palatinate and Saarland regional associations will present a special show entitled 'The E-House – Intelligent buildings by professionals: energy efficiency, comfort and security.' In seven rooms, the 100 square metre model house will spotlight networked building-services technology, LED lighting, concepts for technology-aided homes for the aged and the use of self-generated electricity from regenerative sources, e.g., for electric cars. This special exhibition will be accompanied by an informative programme of lectures. Further information at
Ligh+Building 2012
website