An explosion of colour and custom designs, Hisbalit eco-friendly mosaic tiles are setting the trend at Casa Decor Sustainability
Nuria Alía, Virginia Gasch, Blanca Hevia, José Lara and Devesagenjo Interiorismo offer striking avant-garde spaces surfaced in Hisbalit mosaic tile

Hisbalit, a leader in the design and manufacture of eco-friendly mosaic tiles is once again participating in Casa Decor, the most important event in interior design in Spain, until April 19th. The theme of this year's edition is sustainability.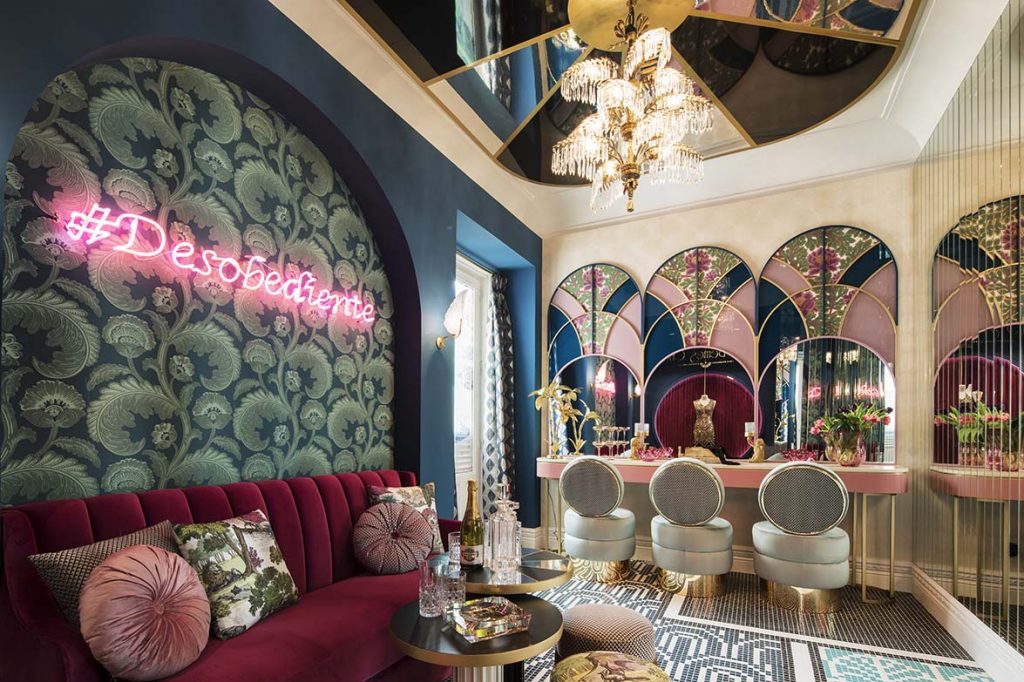 VG Living - Espacio 46
In this showcase of the latest trends in interior design, five renowned designers chose Hisbalit mosaic tiles for their spaces thanks to Hisbalit's commitment to environmental responsibility, the endless opportunities for endless opportunities for personalisation, the wide range of colours and variety of formats. Striking examples include a multicoloured carpet in mosaic tile, art deco inspired designs and animal prints, all created with Hisbalit's Art Factory personalisation service. The Doppel collection, presented by Hisbalit in last year's edition, again makes an appearance this year, as does "Vertice", a new triangular format Hisbalit will present on the 18th of March as part of Casa Decor 2020.
In this 55th edition of the exhibition, Nuria Alía, Virginia Gasch, Blanca Hevia, José Lara and Devesagenjo Interiorismo offer striking avant-garde spaces with a focus on sustainability. Each of these designers decided on Hisbalit mosaic tiles as an ideal choice for walls and floors or to explore new and innovative applications of mosaic tiles.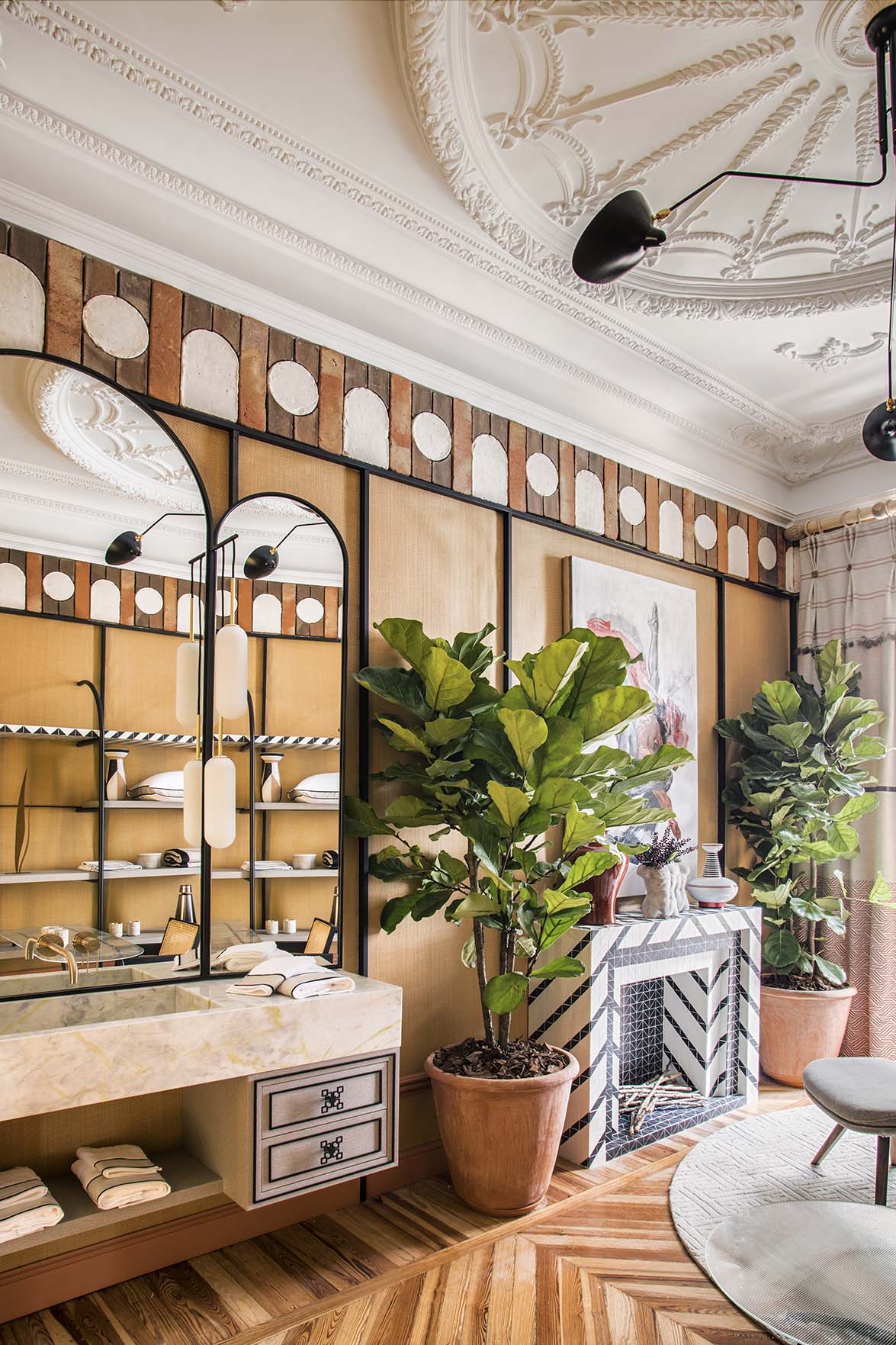 José Lara - Espacio 11
Multicolour floors
Nuria Alía applied the art of combining in her "Mixology" (space 52), a reserved space in a cocktail bar with an atmosphere brimming with glamour. Mix in materials, shake well with colours and stir in forms to create a hypnotic effect with an attractive and colourful custom designer floor in mosaic tile by the interior designer with the help of Hisbalit's Art Factory customisation service. A multi-coloured carpet of greens, blues, pinks, violets and living coral in 4×4 format with a gloss finish.
The designer also chose Hisbalit mosaic tiles to cover the four columns of her little paradise, using four references that repeat on the customised floor: Hisbalit Living Coral Limited Edition, Unicolor 166 (pink), Urban Chic 714 (blue with metallic effects) and Unicolor 251 (violet).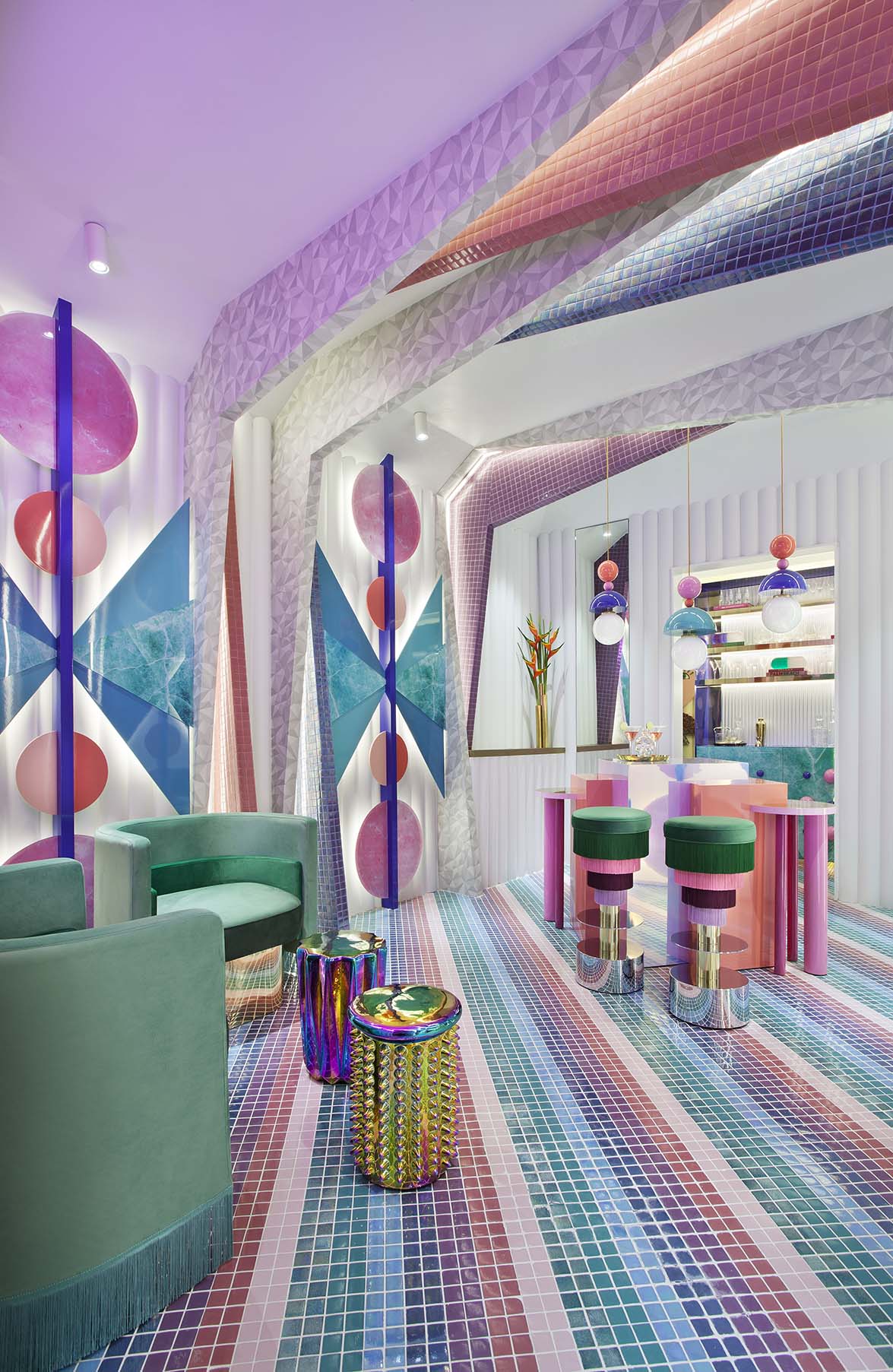 Nuria Aliá - Espacio 52
Another striking multi-coloured floor in Casa Decor 2020 is found at "The Berries Club", the space by VG Living (46). A sophisticated dressing room reinterpreting the verve of the roaring 1920's. With a main area, dressing booth and bathroom, the space pays tribute to the legendary Flapper Girls .
This is a vibrant space with three personalised designs from Hisbalit's Art Factory inspired in Art Deco. Geometric motifs in blue, green, beige and black provide the pleasant ell of walking on a carpet. This eco-friendly designer surface was used in all three areas of the space.
VG Living - Espacio 46
Animal Print
Hisbalit is also part of the Miapetra space "Lunas de Bioko" (48), designed by Blanca Hevia. The space has an environmentalist ambiance inspired in the island of Equatorial Guinea, displaying the vivid contrasts of the African continent by means of a dry anteroom, leading into a verdant garden. To achieve this effect the designer incorporated a sculpture of a palm tree at the entrance to the space, frescos on the walls with floral motifs, rattan furnishings and a customised floor created with Hisbalit's Art Factory personalisation service with zebra prints.
To create this unique effect, the designer selected the Stone 567 model in beige and the Unicolor 101 in black, in round format with a matte finish. A fusion inspired by memories of African safaris.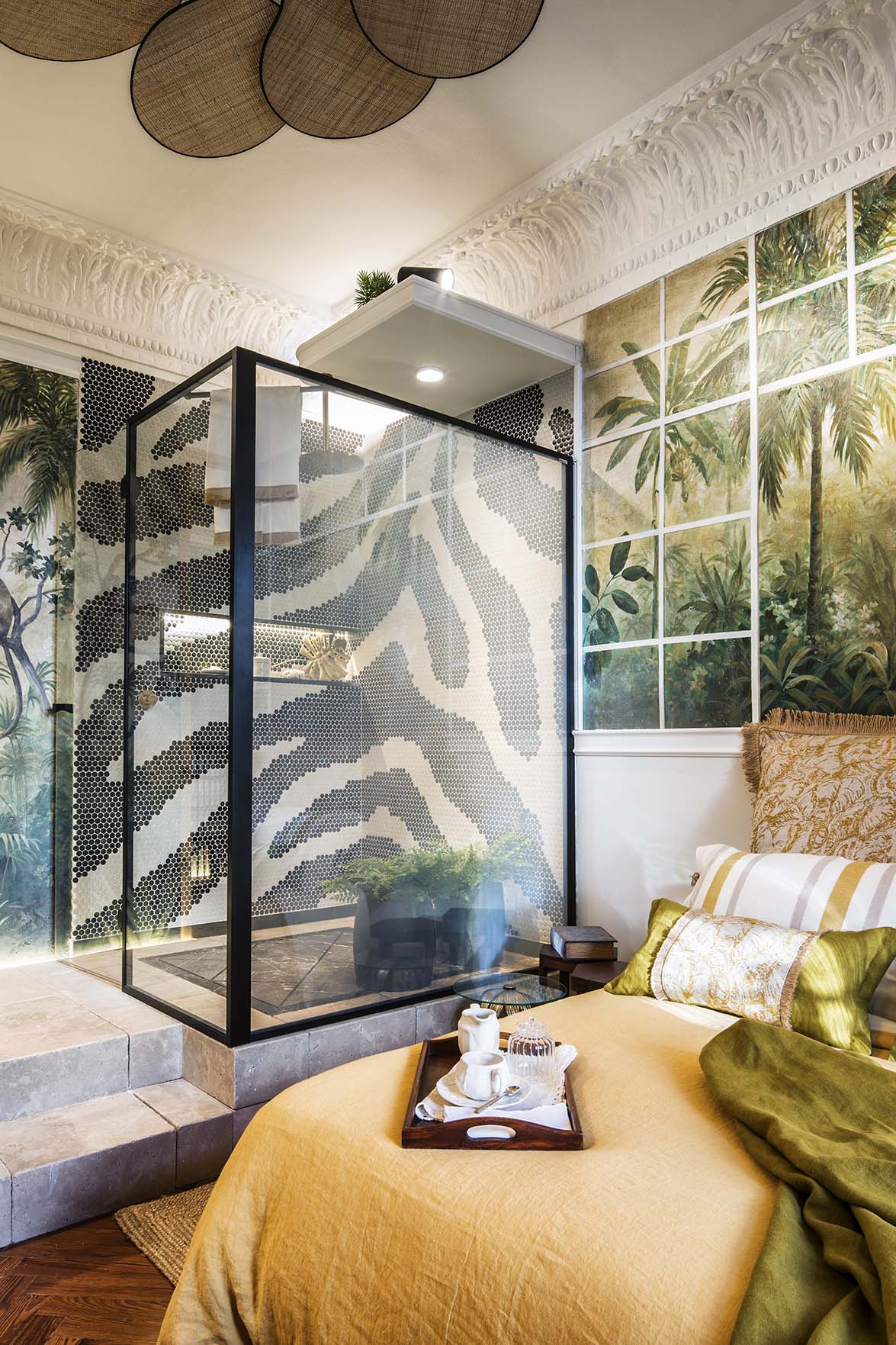 Blanca Hevia - Espacio 48
New applications
The interior designer José Lara explores new possibilities for mosaic tiles in "21st century Marquess" (space 11), a masculine dressing room that displays the luxuries of a contemporary Marquess. An elegant space that is both socially and environmentally aware. The project is based on the use of natural, recycled and hand-crafted materials that are sustainable and environmentally responsible .
One of the recycled materials that gives the space a special distinction is the eco-friendly mosaic tile by Hisbalit in a new triangular format. José Lara was inspired to surface the fireplace and shelves of the Marquess room with Vertice, the new collection from Hisbalit, an interplay of symmetries in black and white.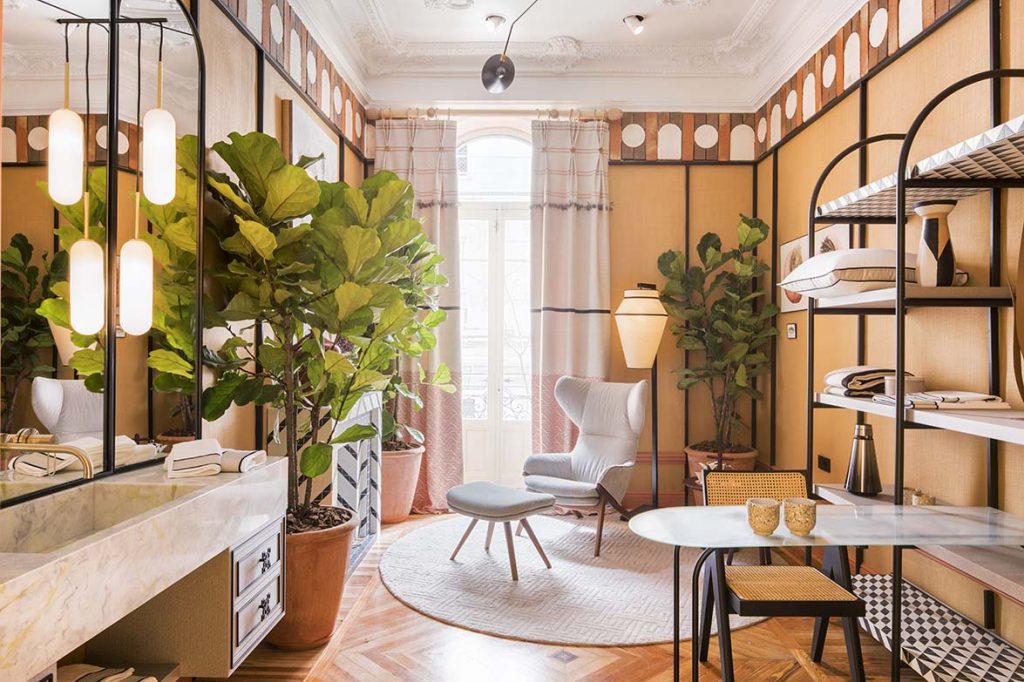 José Lara - Espacio 11
Sobriety and elegance
The welcoming space of Casa Decor 2020 (7), the "Soft & Raw" display panels, designed by Devesagenjo Interiorismo also incorporate Hisbalit mosaic tiles. This space exudes a warm and natural luxury, with and earthy artisanal vibe. A welcoming atmosphere where the interior designers chose basic geometric forms. For this, they looked to Hisbalit's Doppel Collection, in rectangular format to transmit a feeling of sobriety and elegance. Specifically, they chose the Doppel 568 in white, providing light along with terra cotta jointing for a more worked, luxurious and warm surface. The mosaic tiles extend along both walls framing the natural wood display shelves .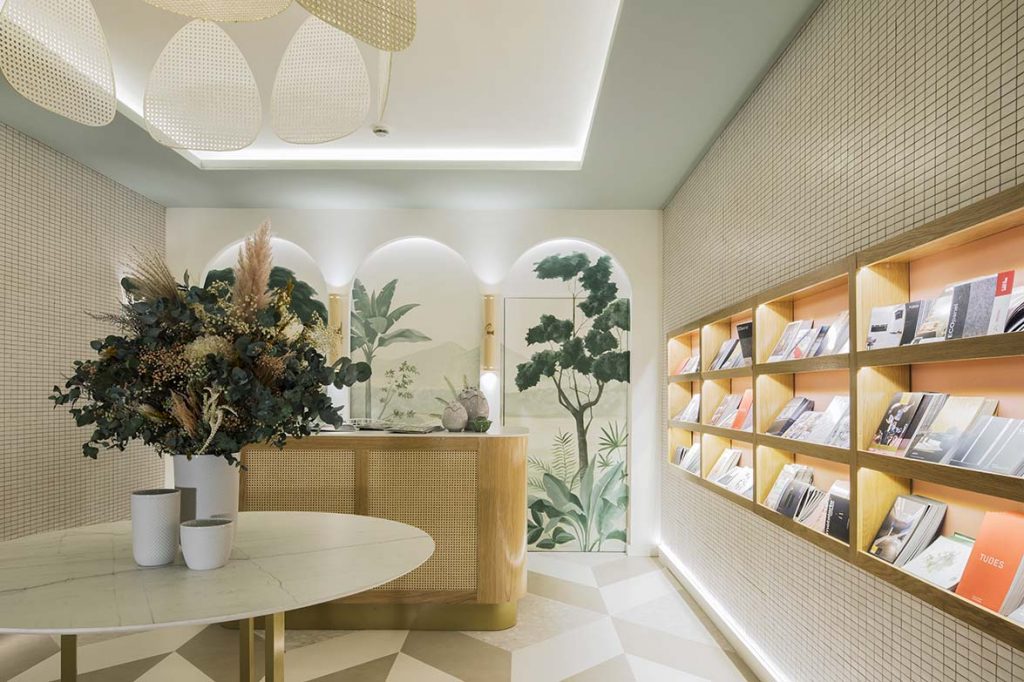 Devesagenjo Interiorismo - Espacio 7
Source: Hisbalit
Top image: Devesagenjo Interiorismo - Espacio 7
Read more news related Hisbalit published at Infurma
Read more news related with Casa Decor published on Infurma
Visit the Hisbalit website