New Silkstone collection by Azuvi. The character of a unique quartzite
The SILKSTONE collection is one of the novelties that AZUVI launched this year. A proposal with great personality, it represents the character of a unique quartzite.
Silkstone is characterized by longitudinal veining that makes it, together with its shades and delicate finish, a unique design that will undoubtedly be the centrepiece of any space. It is a daring piece aesthetically, but highly versatile in application.
Its elegant, fluid, linear and warm character is reminiscent of silk.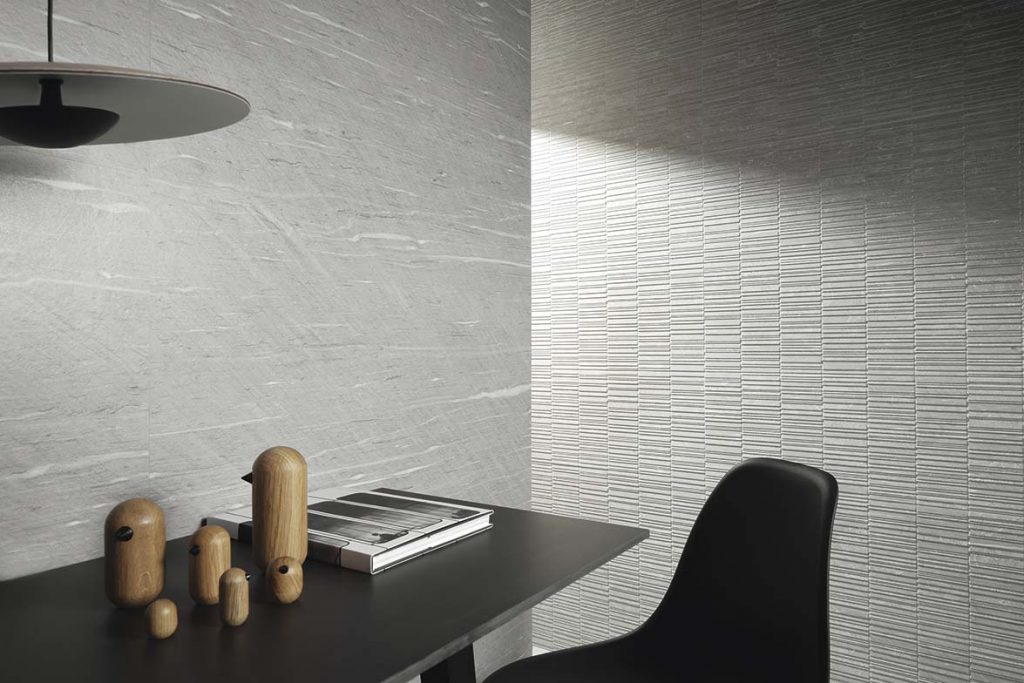 Silkstone Grey Stria Grey 30×90
SILKSTONE is available in a wide variety of formats and colours:
The 30×90 white paste wall tiles collection comes in three warm colours - White, Gray and Sand,, neutral shades characteristic of AZUVI´s clean, elegant aesthetics that create a minimalist atmosphere, with the ceramic as the focal point.
Silkstone is distinguished by its pronounced white veining, a surprising choice that succeeds in conveying a striking, groundbreaking aesthetic.
This can be paired with Stria, which gives a strong and energetic personality to this collection.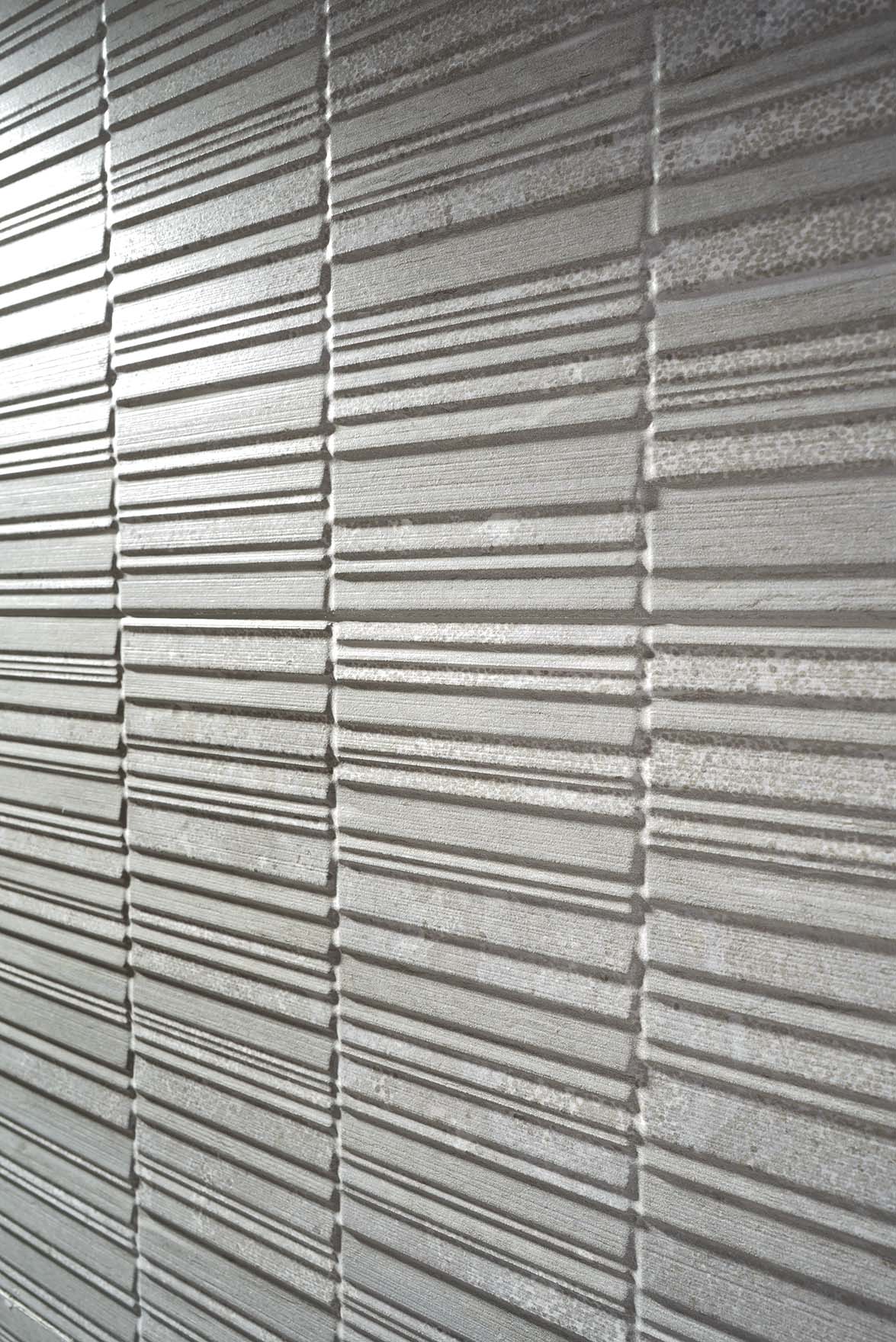 Stria Grey 30×90
It is a decor composed of a combination of seemingly arbitrary horizontal lines, creating captivating, aesthetically alluring pieces. Combined with the Silkstone, Stria is the ideal solution to create timeless interior designs full of character, energy and attitude.
In addition to the wall tiles, the Silkstone collection is also available in various flooring formats. This colour mass porcelain collection is available in 60×60, 60×120 and 120×120, as are all of AZUVI´s new collections.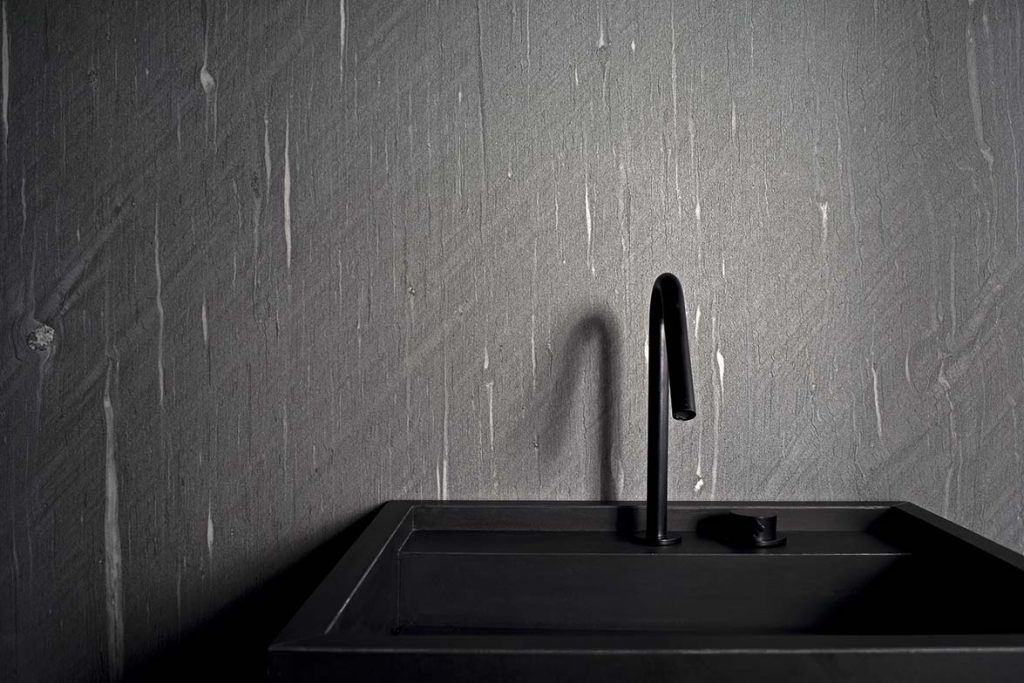 Silkstone Black 120×260
To extend the combination possibilities, AZUVI adds a darker tone to its range - an intense gray ideal for creating sophisticated and captivating spaces.
To complete the collection, the Silsktone Sand and Silkstone Gray are also available in a polished finish in 60x120x0,95 cm.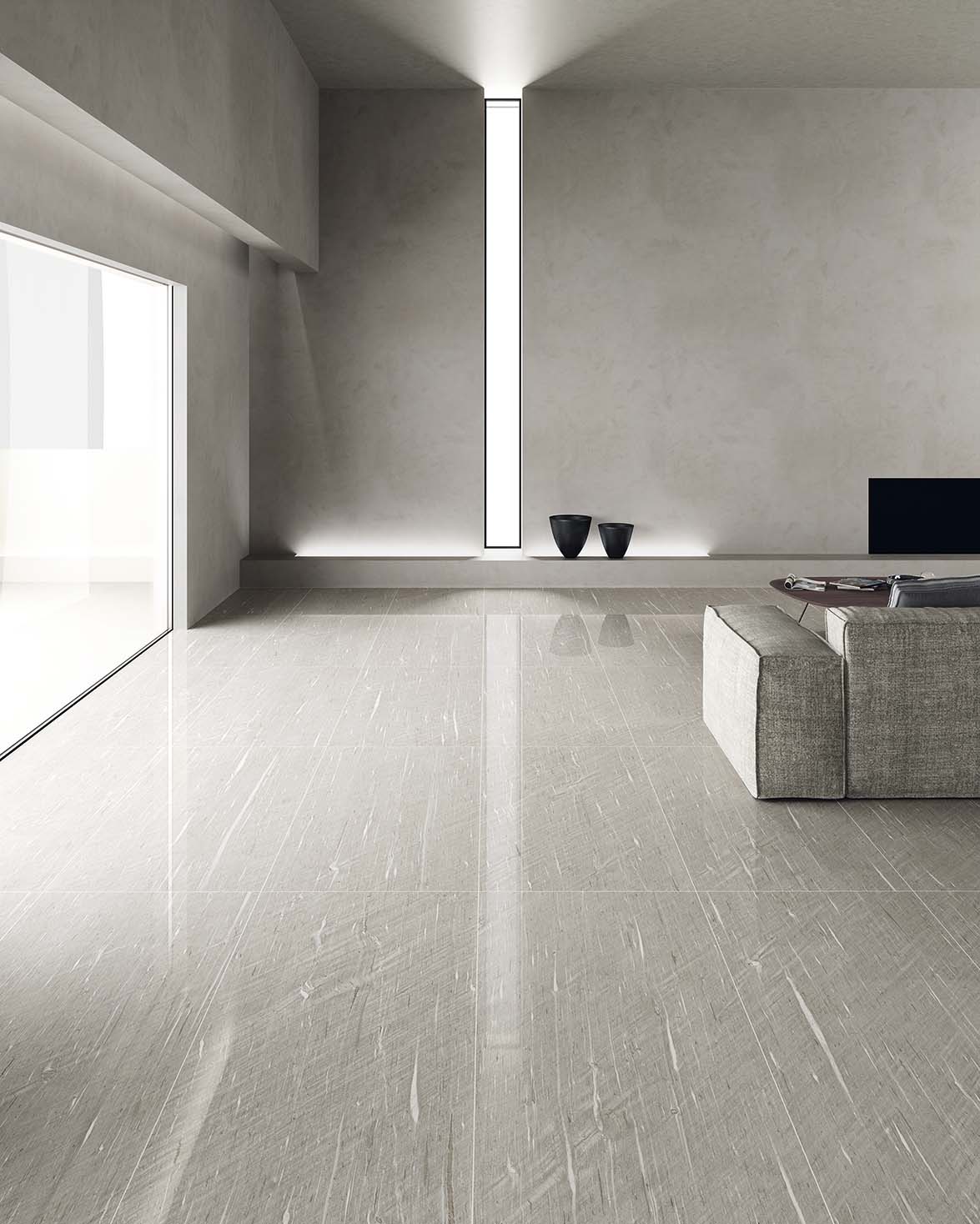 Silkstone Sand Polished 60×120
This option achieves an extraordinary presence as a result of its apparently delicate but surprisingly durable nature. In addition, its chromatic range attains a perfect fusion between timelessness and modern trends, as a result of a high gloss finish, ideal to achieve remarkable, homogenous surfaces with a mirror effect that enhances the luminosity and amplitude of all types of spaces.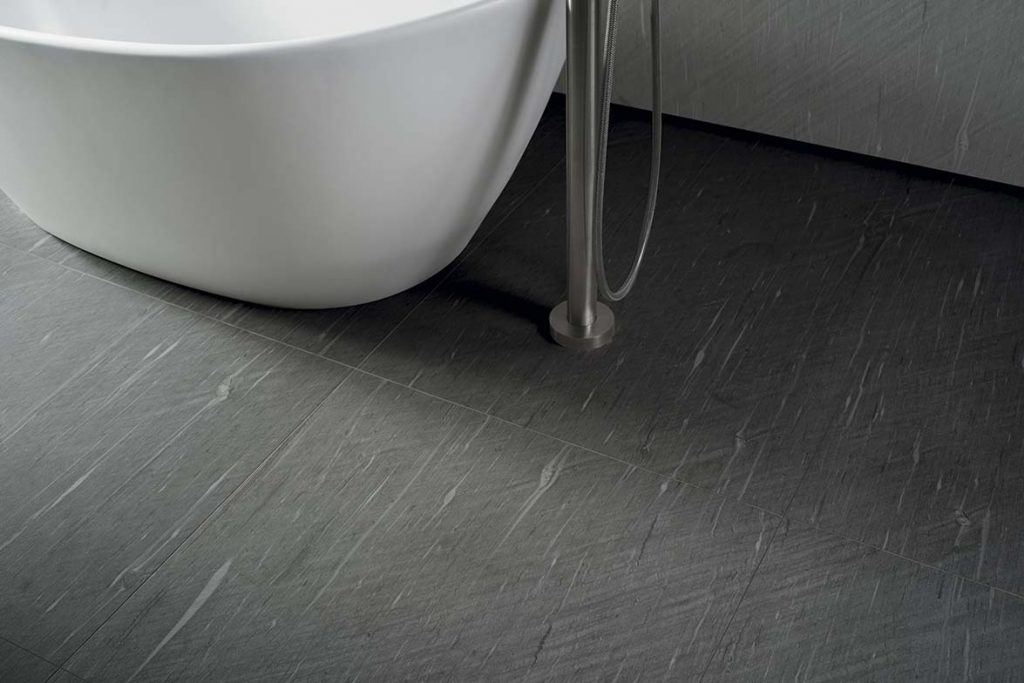 Silkstone Black 60×60
In order to satisfy the most demanding of architectural projects, the Silkstone collection is also available in the large formats as part of the LAMIKER brand.
Thanks to these large format pieces, 120×120 and 120×260, a natural stone appearance is achieved, offering improved performance and technical properties that allow for easier maintenance, installation and use, as well as greater durability, compared to natural alternatives.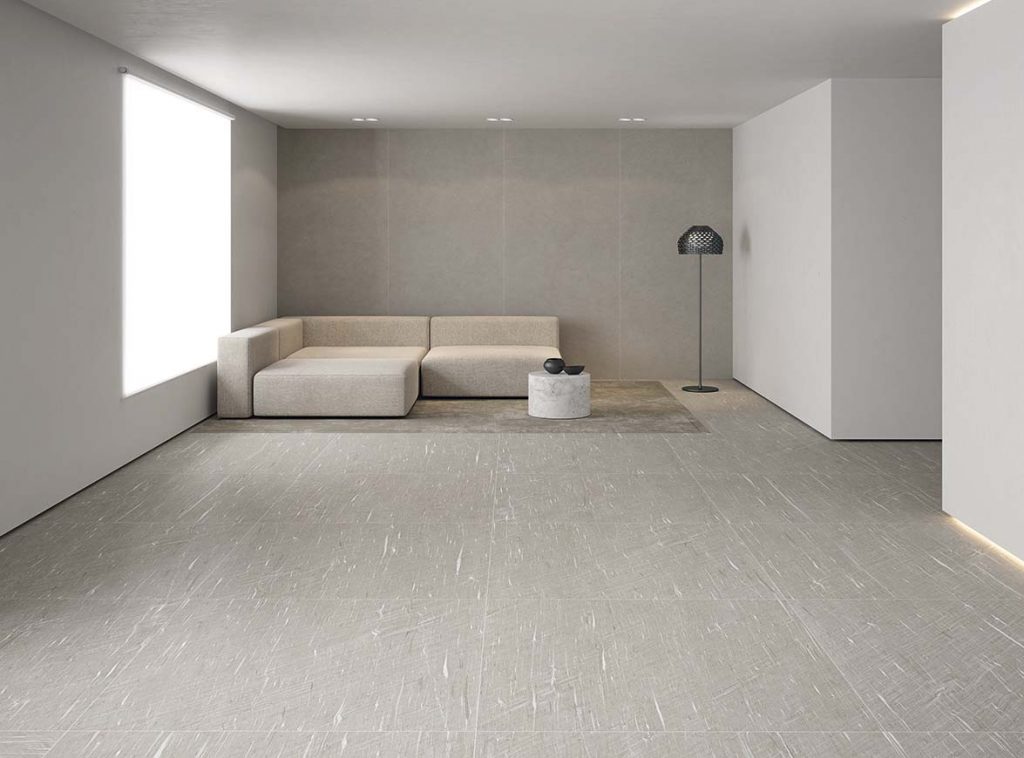 Silkstone Sand 120×120
These large formats, to which the brand is dedicated, are the ideal solution for the current problems faced in the architectural and interior design fields, and are ideal for creating striking and distinguished spaces with a clean, minimalist style that represents the essence of Azuvi's spirit.
To complement these spaces, LAMIKER APPS emerges from the concept of converting ceramics to pieces of furniture, contributing added value to porcelain collections. The Silkstone collection is one of many available finished for all applications.
Sikstone Grey 120×260
As a result of matching the ceramic tiles of the Silkstone collection with the furniture made using the same material, an exclusive and exquisite space can be achieved that is awe-inspiring to architects, interior designers and customers alike, due to the striking visuals attained by its unique structure.
Source: Azuvi
Top image: Silskstone Sand Stria Sand 30×90
Read more news related Azuvi published at infurma
Visit the AZUVI website