The Pure Talents Contest for up-and-coming designers held by imm cologne y LivingKitchen confirms its international standing even in corona times, attracting 862 product entries from 59 countries.
With no fewer than 240 design schools involved, the newcomers represent the global creative sector's level of achievement in the field of product and interior design. Interactive products, sustainability concepts, innovative furniture and clever kitchen ideas feature strongly among this year's designs, which could be entered for a LivingKitchen Selection again this year in keeping with the two-yearly rhythm of the international kitchen fair.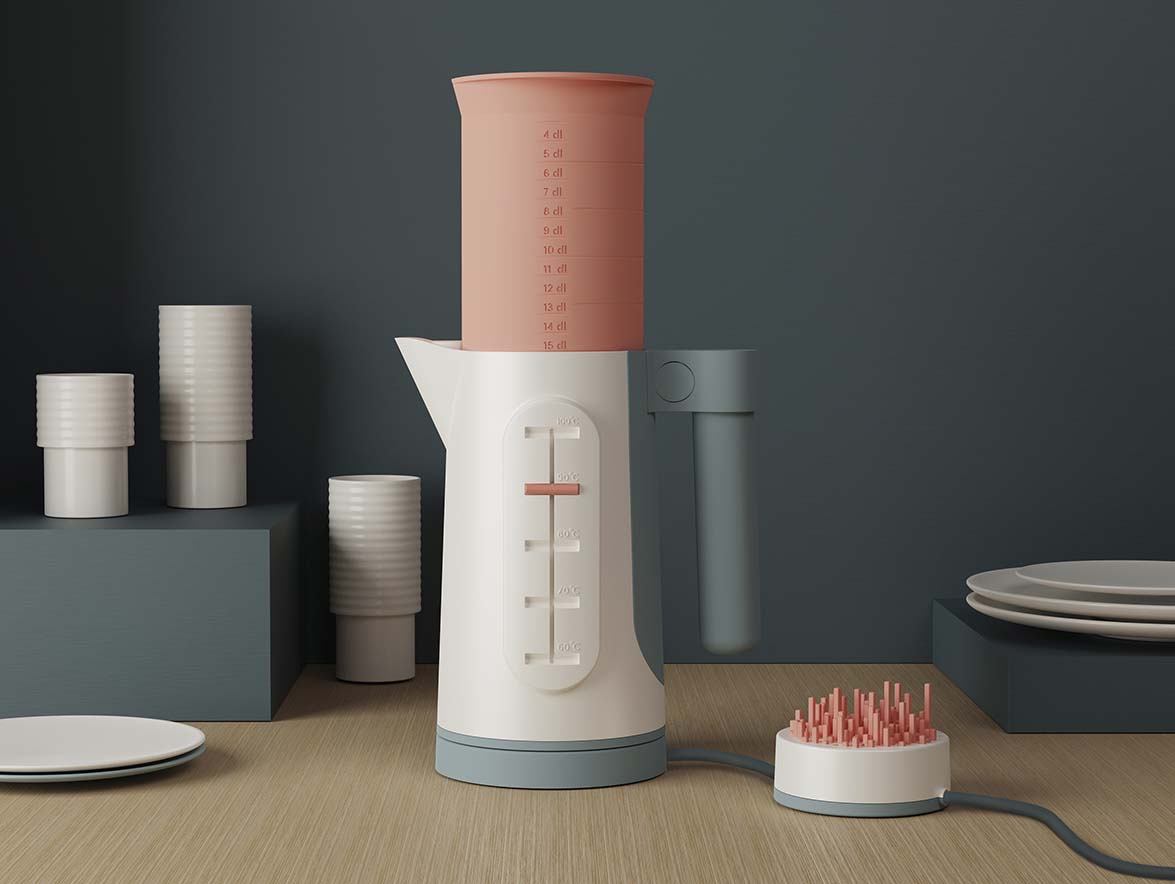 Studio AJA_LK_The Blue Project By applying theories of behavioural change and nudging to a water kettle we want to encourage sustainable user behaviour, bridging the intention-action gap prevalent in many environmental issues. This is done through regulating water consumption and heat by demanding user presence, giving emotionally understandable feedback on energy use, and showing the environmental impact of production in a marking that makes the user commit to a minimum number of years of use. www.jacobalmandersson.com /www.alexandrafransson.com
How can a low-tech air conditioner work and double as a decorative object? What additional functions can a bookend perform? How can the mood of an interior design be changed via light and movement? And why hasn't anybody ever come up with the idea that hot snacks can be sold from coolly designed, ultra-flexible street food carts? Young designers are reflecting on sustainability, interactivity and ideas for the home and kitchen - that's the positive conclusion that can be drawn from the 18th edition of the Pure Talents Contest.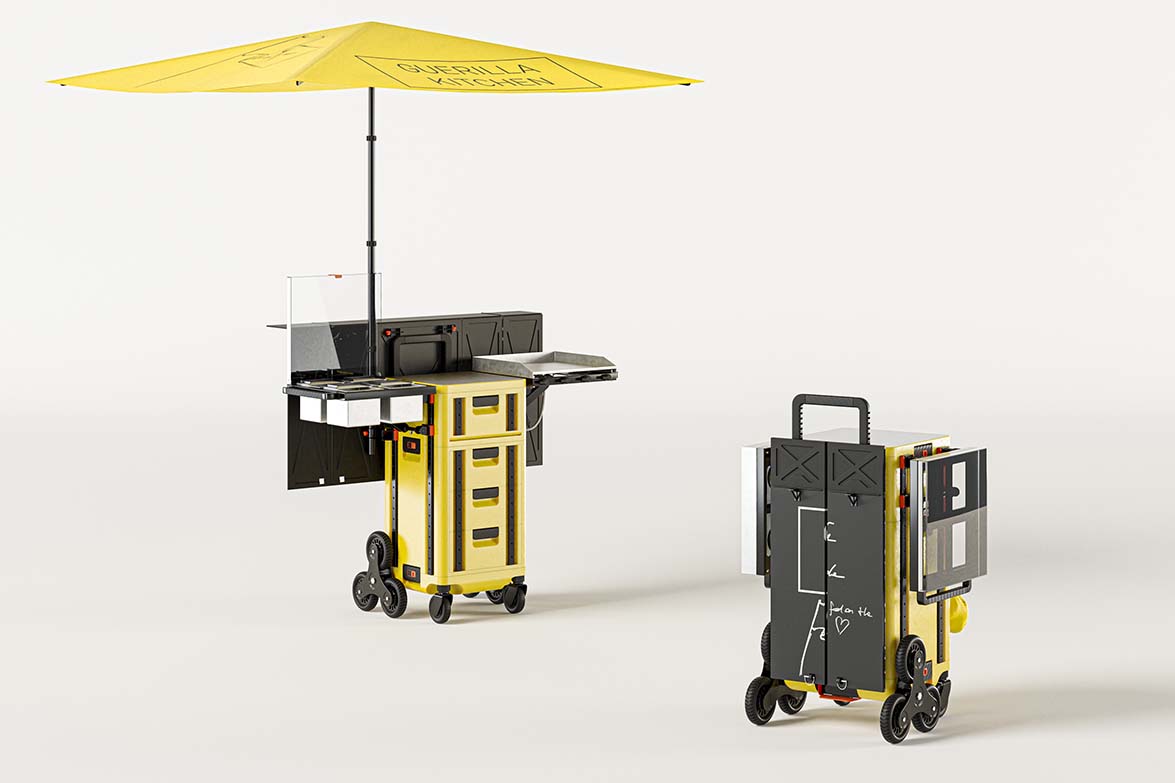 Erik Mantz-Hansen_LK_Guerilla Kitchen The Guerilla Kitchen is a tool for preparing street food in the urban space. The individually combinable modules can respond flexibly to users' every requirement and are suitable for preparing a wide variety of dishes. What's more, their compactness and mobility make them easy to transport through crowded cities and provide a space-saving solution for diverse usage options.
Altered conditions for the Pure Talents Contest as a result of the pandemic
The coronavirus pandemic confronted the Pure Talents Contest with new challenges too - challenges which, with the help of all those involved, the organisers were nevertheless determined to address as part of their wholehearted commitment to helping the creative sector make a new start. Especially under the complicated conditions of the current competition, internationality is particularly important to the organisers. "Because of corona, we had to keep adapting the conditions of participation to the pandemic situation over the course of the year. So we're all the more delighted about the surprisingly positive level of registrations. We're very much aware of our responsibility towards the young creatives and are standing by the contest even in this difficult year, despite the fact that we've had to cancel the imm cologne 2021 in the meantime," says imm cologne director Claire Steinbrück, underscoring the competition's importance for the creative sector.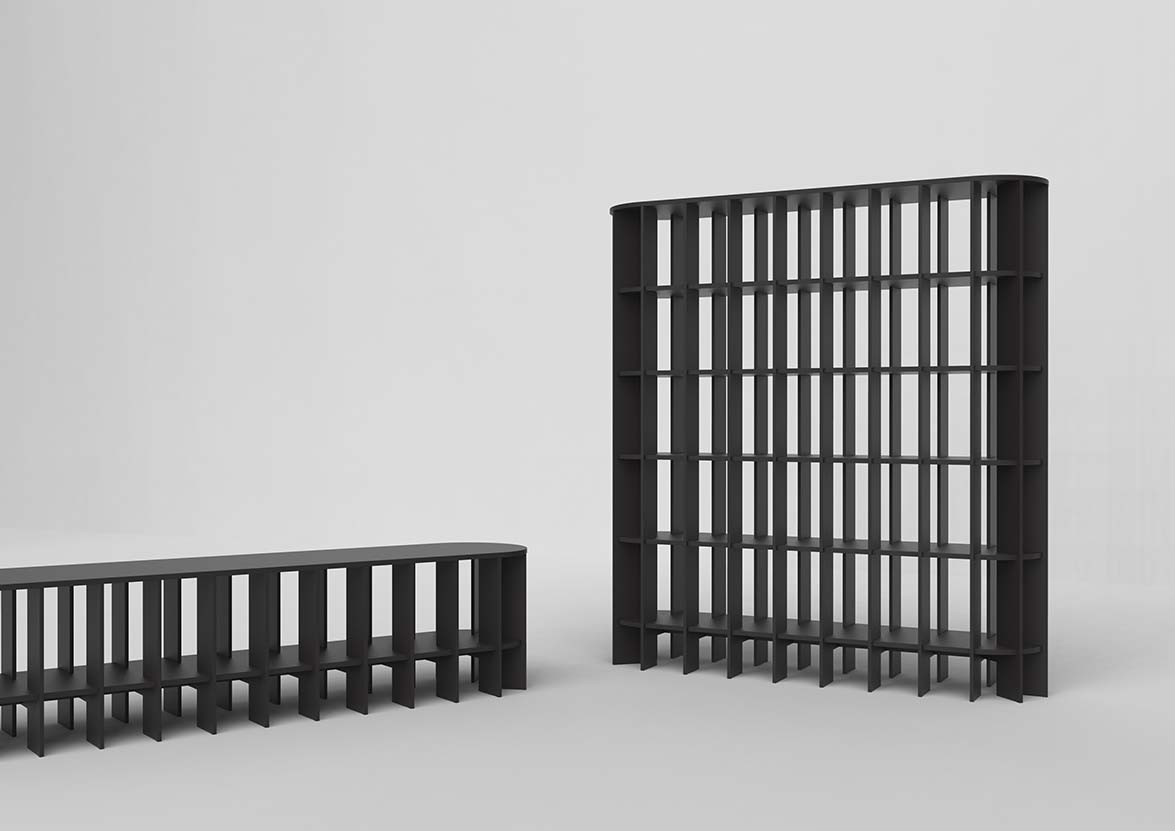 Nils Ahrenberg_imm_ V.NA.01 The V.NA.01 bookcase, which also doubles as a sideboard and room divider, offers the possibility of arranging, presenting and storing objects in a totally new way all round. V.NA.01 was developed by Nils Ahrenberg for Verk Projects AB in 2020 and is made entirely of natural materials produced in Sweden.
Normally, the 20 nominated designs - or 26 in LivingKitchen years - are staged as prototypes in a lavish exhibition during imm cologne and LivingKitchen and personally presented by the designers themselves. The cancellation of the in-person event means this special Pure Talents Contest showcase will not be held either. "Although the direct exchange between the participants themselves, as well as with visitors and the imm cologne exhibitors, can no longer take place, we're confident that both the public and the sector will notice and encourage the young talents. The Pure Talents Contest is our way of shining a spotlight on the newcomers."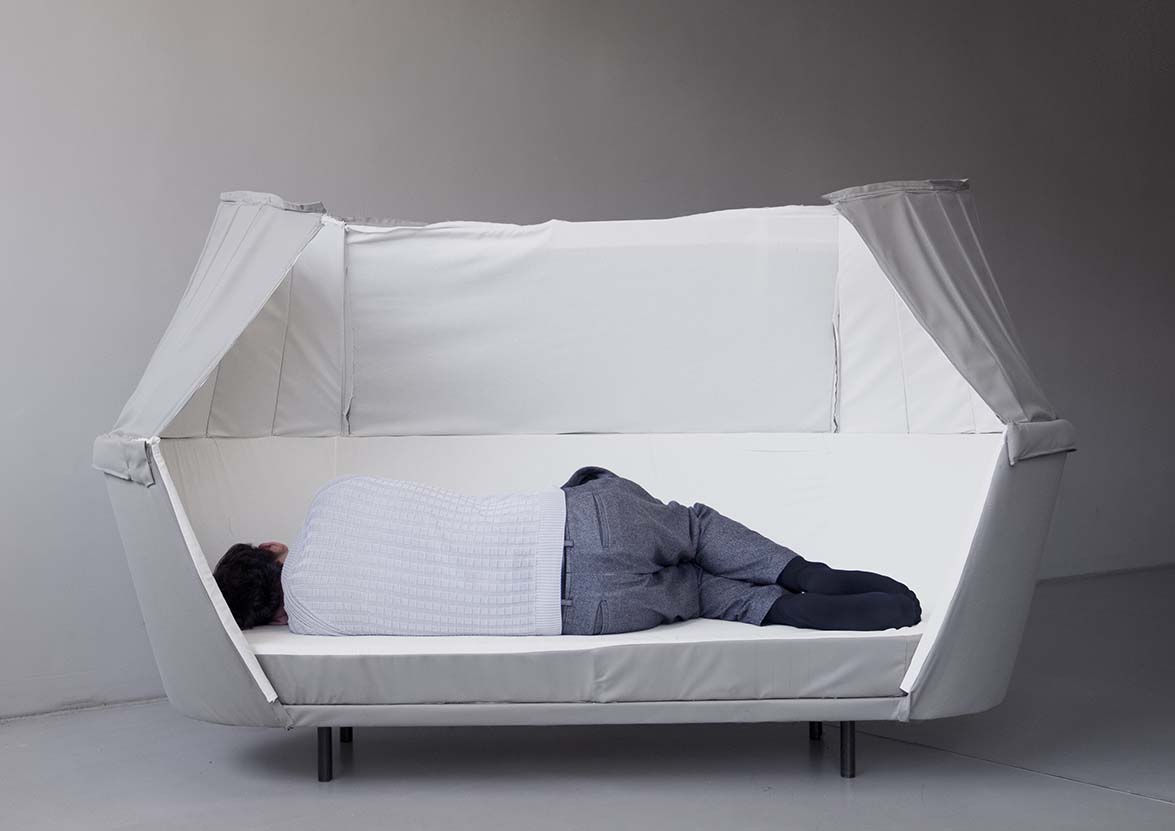 Steven Dahlinger_imm_ Nesting NESTING is a modular piece of furniture that offers two different situations: folded together it functions as a sofa, unfolded it transforms into a personal retreat. The backrest of the sofa is double-layered; by pulling the inner layer upwards and pushing it to the back, a protective structure unfolds. Nesting offers a room within a room that appears and disappears with ease to provide some shelter in bigger spaces like open plan offices.
Judging session at Koelnmesse's HQ in October
The top-notch jury of the Pure Talents Contest met in Cologne in October to inspect a total of 862 product entries from 59 countries. This year's judges are designer Eva Marguerre (Studio Besau-Marguerre) from Hamburg, Jennifer Reaves, CEO of international design trade show blickfang, designer Sebastian Herkner from Offenbach and Norbert Ruf, creative director and managing director of Thonet GmbH.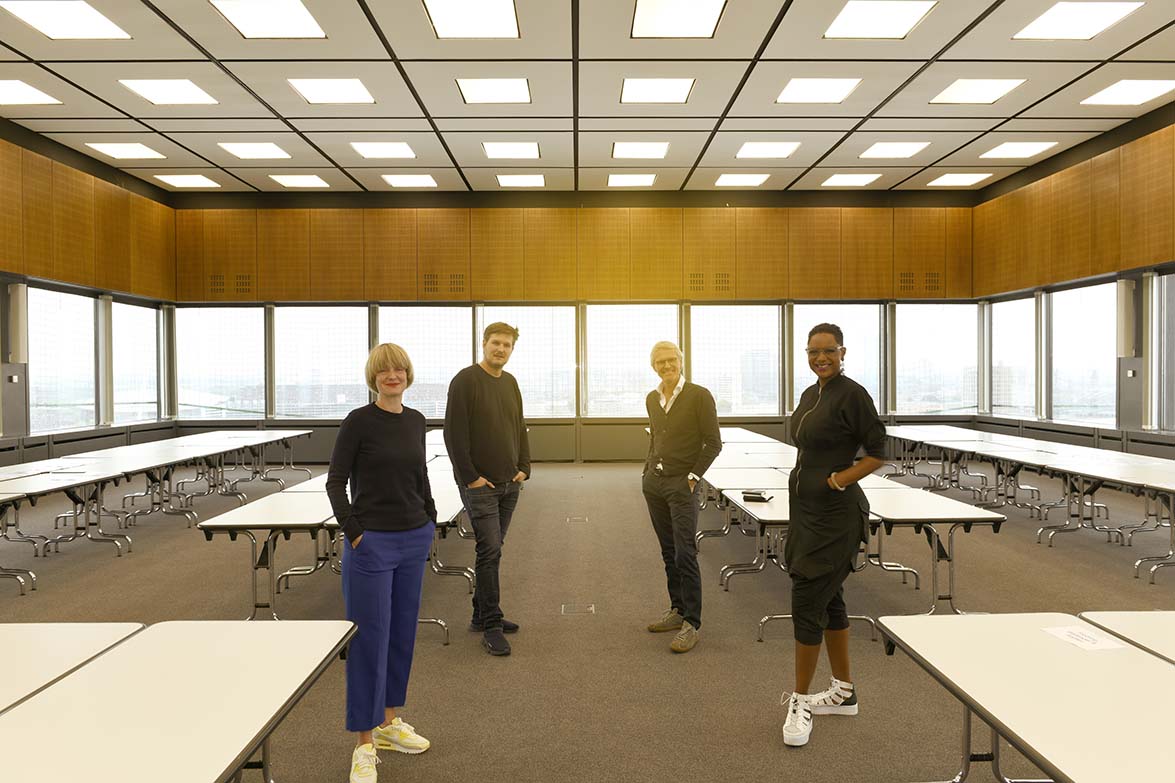 Held and organised by Koelnmesse, the competition is specifically aimed at designers who are either still at college or have just completed their training. As the number and internationality of the product entries for the current competition go to show, it is among the most renowned international contests for young design in its field. This time round, the young designers come from 59 countries and represent a total of 240 design schools. And with a 48%-share of male contestants, the competition achieves a well-balanced gender distribution too.
Pure Talents Contest is a platform for launching careers
The 26 nominated designs represent the product categories furniture, floor coverings, wallpapers and textiles, lighting, smart home, home accessories and kitchens. Jury was impressed by the many international entries and the creativity exhibited and, in the same breath, pointed to the fact that the already difficult circumstances young designers face when they finish training are even more challenging than usual right now.
"For the young generation, being seen and expanding their network is the be-all and end-all. At this point in their careers, young designers don't have anything to show for themselves yet," says juror Jennifer Reaves. "This could now be a lost generation of designers because there's currently not any opportunity for young designers to meet producers. What's more, most companies tend to play safe and hire established designers rather than relying on young talents. That's why it's important for imm cologne to hold this competition, even in corona times," says jury member Sebastian Herkner of the situation young designers are facing today.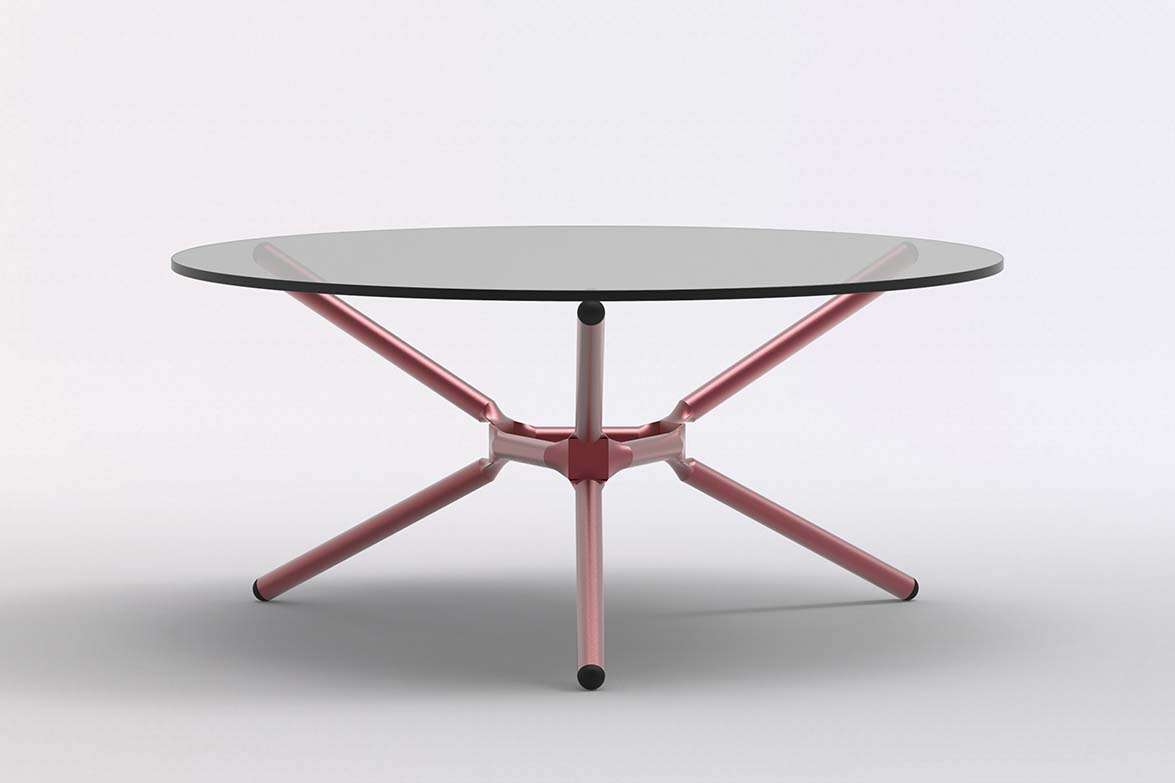 Kieren Swinden_imm_Pinch - Coffee Table Pinch is a table range showcasing a unique and contemporary joint fixing for domestic furniture. This collection was driven by experimentation with tubular steel and a focus on manipulating the material to create this interlocking technique. This new approach to joining demonstrates the capabilities of tubular steel by optimising its properties of strength and malleability whilst illustrating a sleek and modern take on domestic furniture. www.kierenswindendesigns.com
Bright ideas? Forward-thinking product concepts by young creatives
The selected designs exhibit a surprisingly broad spectrum not just of functions, construction principles and materials but of different approaches too: the ideas for products for our everyday lives range from textile design to latex all the way to tubular steel, from a simple magnetic connection to ingenious hinges all the way to interactive controls. More and more, the focus is on the relationship and interaction between furniture and its users.
The two halves of the Twin lampshade series by Albane Hundevad, for instance, are simply clipped over the lamp holder as a quick and easy way to adapt the lighting mood to the situation.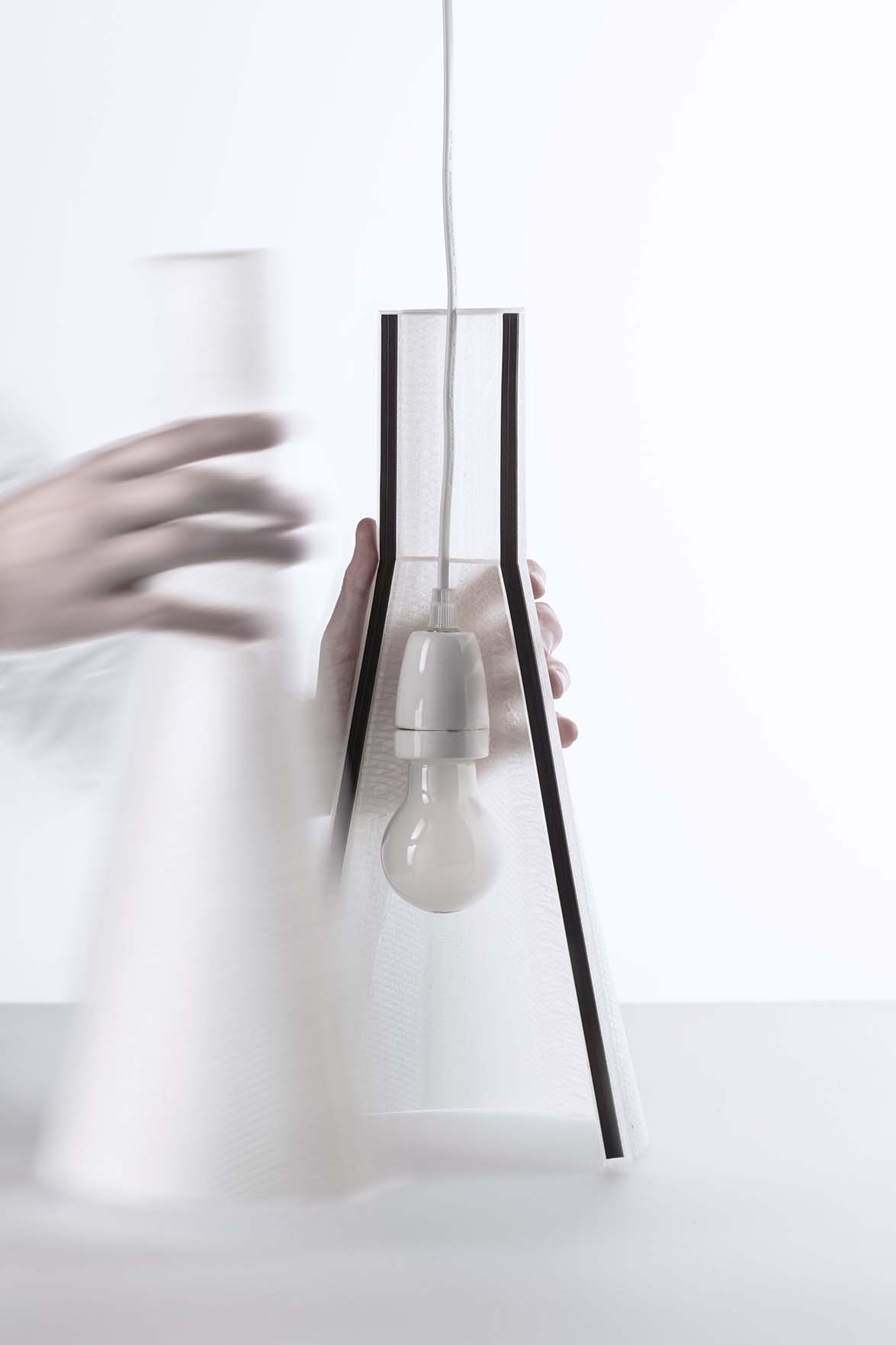 Albane Hundevad_imm_TWIN The TWIN lampshade series was developed as a quick and easy way to adapt the lighting mood to life. Each of the three lampshades in the TWIN series consists of two halves that can be clipped over any simple lamp holder thanks to the magnetic strips along their edges. The combination of the striking upstanding edge bordering the magnets and the simple design language adds up to a classic lampshade with a modern twist.
And the Elina lamp by Dirk Vosding, which is designed as a bookend, only reveals its true purpose at second glance. It can either be used as a table lamp or as a reading light on the shelf. "The lighting category was very impressive this year. We saw a lot of innovative and sensuous solutions," says designer Eva Marguerre, describing an important development in young design.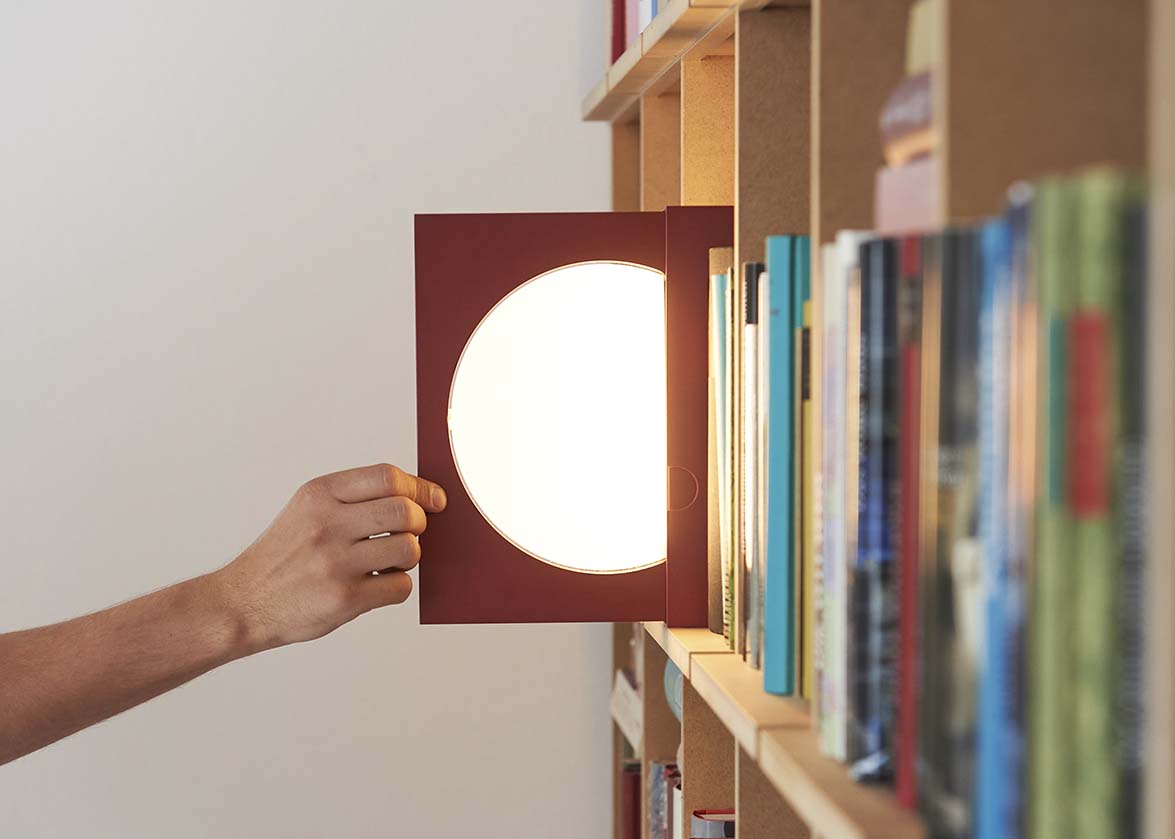 Dirk Vosding_imm_Elina In our digital and hectic world, Elina shines a light on books again as an escape from thoughtlessly, hastily and anonymously posted fake news and rumours. Elina stands on the shelf like a classic book and performs its function as a bookend. But if it's pulled out slowly, the disc inside begins to glow and sheds more and more light on the surrounding books. When pulled out completely, the illuminated circle can be adjusted to serve as a reading light. www.vosding.de
Norbert Ruf, creative director and managing director of Thonet GmbH, is no less pleased. "This year, besides some very conceptual and artistic approaches, there were also a lot of designs that had already been taken further and fleshed out. That's not to say the designs didn't surprise us - on the contrary: we saw a great many creative and interesting ideas." This time too, there were several chairs among the 26 nominations, including the Olivia chair by Finnish designer Tatu Laakso. His explorations of the balance between lightness, sturdiness and economics in moulded plywood resulted in a light yet sturdy structure that doesn't compromise good ergonomics.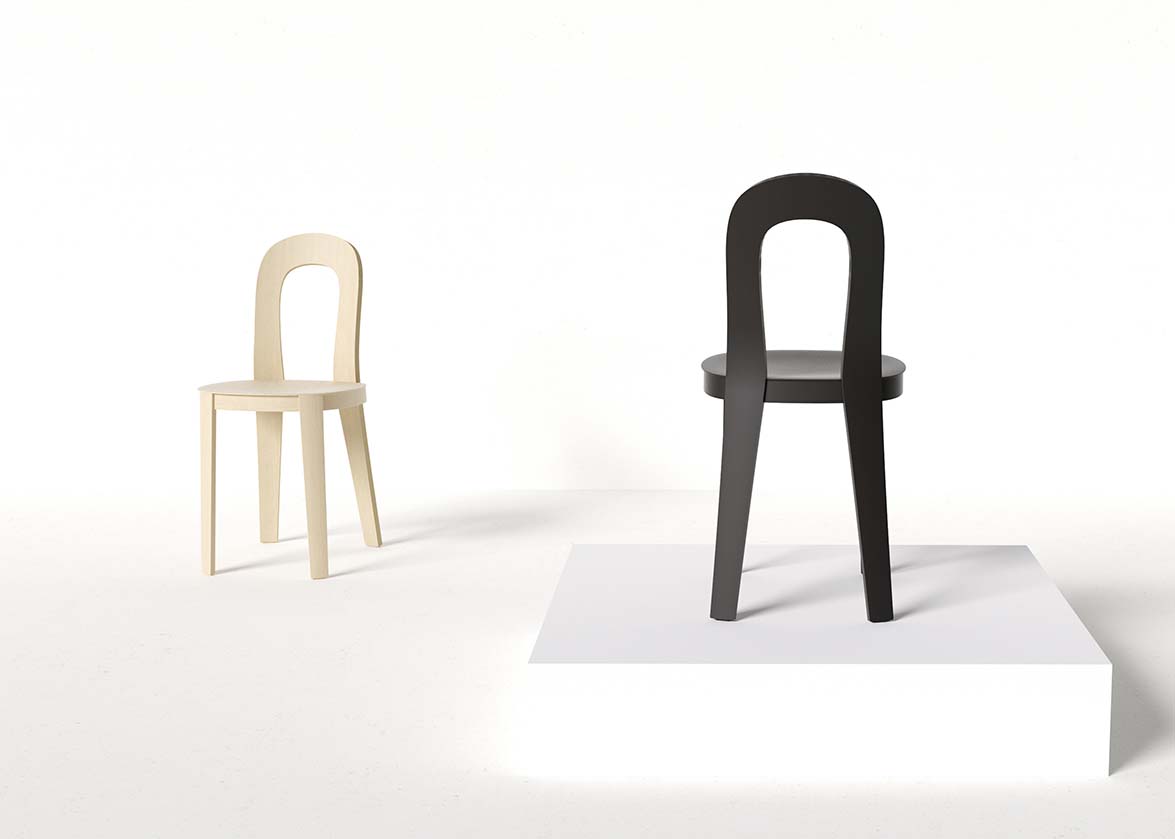 Tatu Laakso_imm_Olivia chair Olivia is a light universal wooden chair that successfully balances its slender structure with a comfortable sitting experience. The design explores the balance between lightness, sturdiness and ergonomics in moulded plywood, resulting in a light yet sturdy structure that does not compromise good ergonomics. The simple and compact form represents contemporary Nordic design. The gentle curves and refined details create a harmonious, sympathetic and elegant design. www.tatulaakso.com
Elie Fazel's idea for the aluminium TLV's Chair, which is intended for multifunctional use in the public space, came from Tel Aviv. According to the designer, who graduated from ECAL/Ecole cantonal d'art de Lausanne (CH), the residents of the bustling city use the public space as if it were their own living room.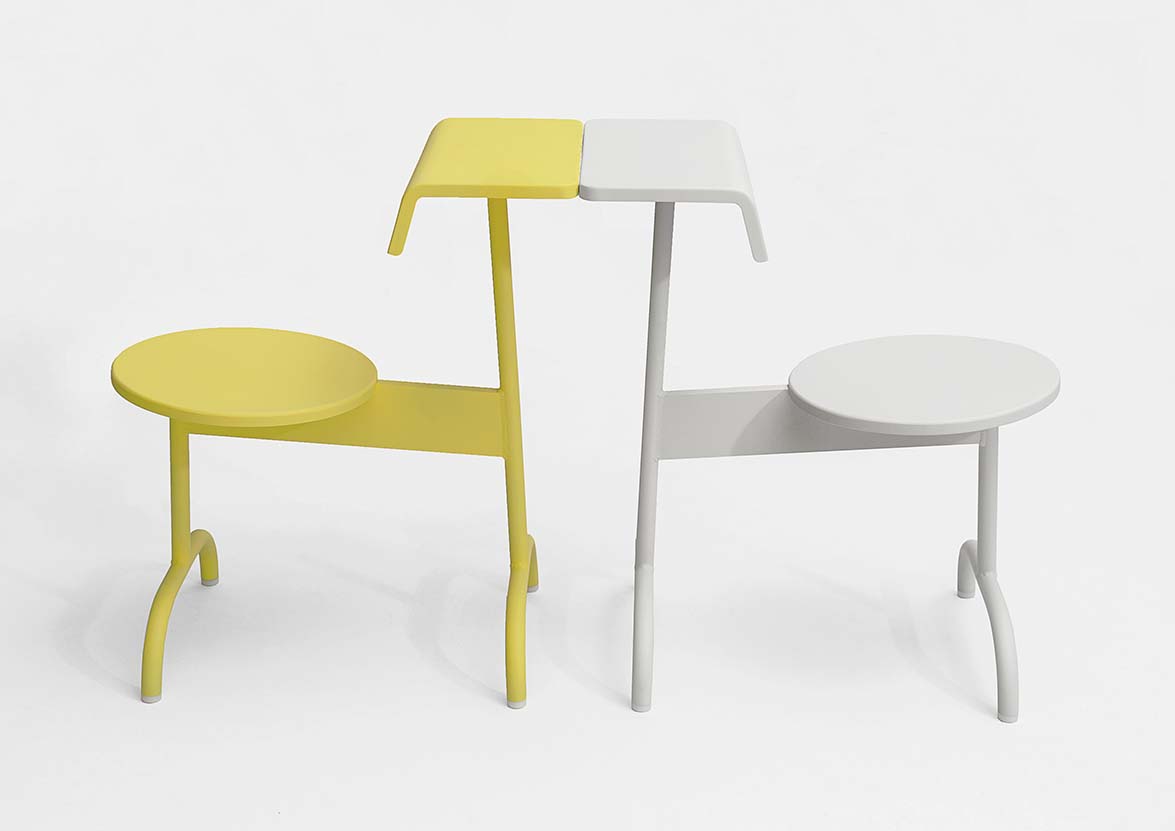 Elie Fazel_imm_ TLV's Chair Tel Aviv is my second home. In this bustling city, many residents use the public space as if it were their own living room. It is also one of the few cities where chairs are available in the streets for public use. These are often refurbished old chairs that can be unsightly. TLV's chair is a much better alternative: it can be used in multiple positions, with the backrest becoming a table or an armrest, and is made of aluminium so that it is easily movable. www.eliefazel.com
Accolades: Four awards for the best products from the Pure Talents Contest 2021
Six products from the categories kitchen accessories, kitchen appliances and kitchen concepts were nominated for the LivingKitchen Selection of the Pure Talents Contest. Including the prize for the LivingKitchen Selection, the Pure Talents Contest jury can present a total of four awards for the best entries. The winners will be announced in February.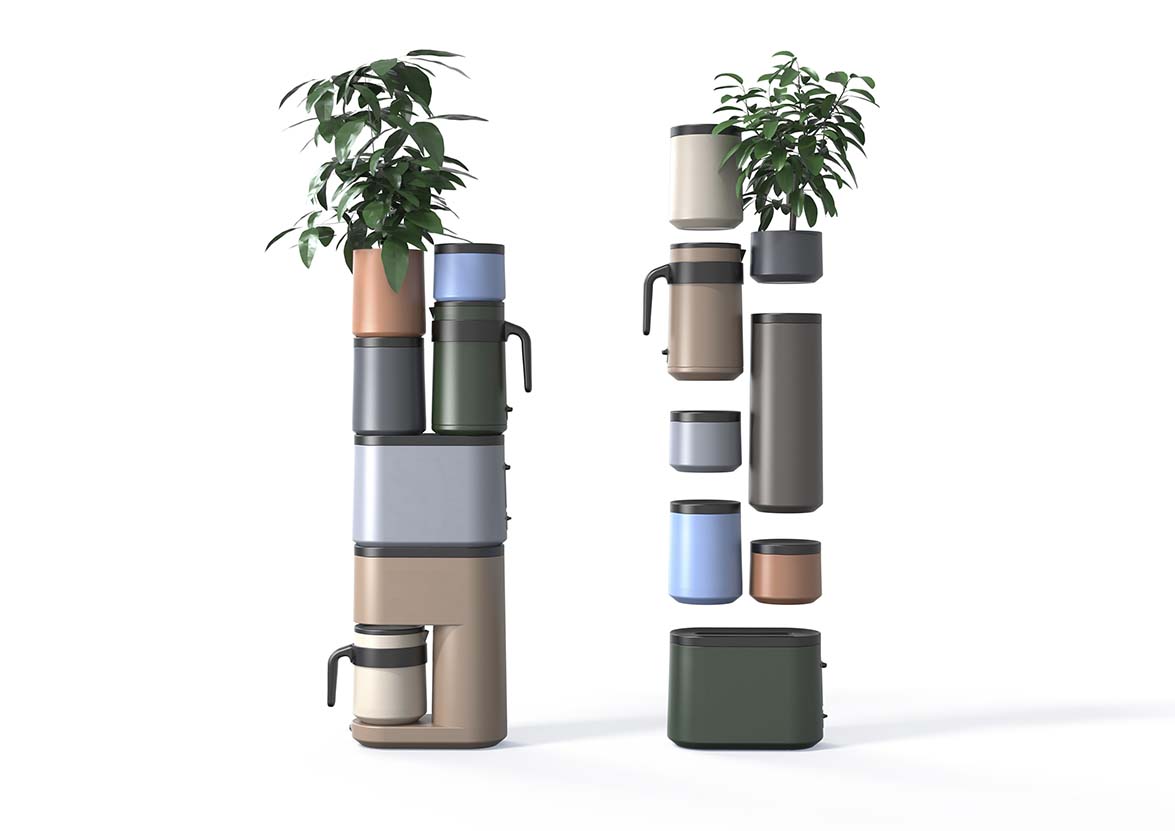 Tomi Laukkanen_LK_Keko In Finnish, the word keko means stack or pile. The set is designed to save kitchen counter space as all the products can be placed on top of each other in a pile when not in use. Keko works especially well in small kitchens where there isn't much space for appliances. The aim behind Keko is to make keeping the kitchen clean and organised easy. www.tomilaukkanen.com
For information about the nominated contestants and their designs, complete with explanations of the creative process involved, go to: https://www.imm-cologne.com/events/pure-talents-contest/
Source: Koelnmesse
Visit the imm cologne website
Read more news related Imm Cologne published at Infurma
Visit the "Fairs & Events" Calendar on Infurma