What makes architecture more than just bulding? The Guggenheim Museum Bilbao presents Architecture Effects exhibition
An exhibition curated by Manuel Cirauqui, Curator, Guggenheim Museum Bilbao, and Troy Conrad Therrien, Curator of Architecture and Digital Initiatives, Solomon R. Guggenheim Museum, New York. From December 5, 2018 to April 28, 2019
The Guggenheim Museum Bilbao presents Architecture Effects, an exhibition of architecture, art, and storytelling in the context of unique 21st century conditions beginning to appear. The point of departure of Architecture Effects is the reappraisal of a timeless question: What makes architecture more than just building?.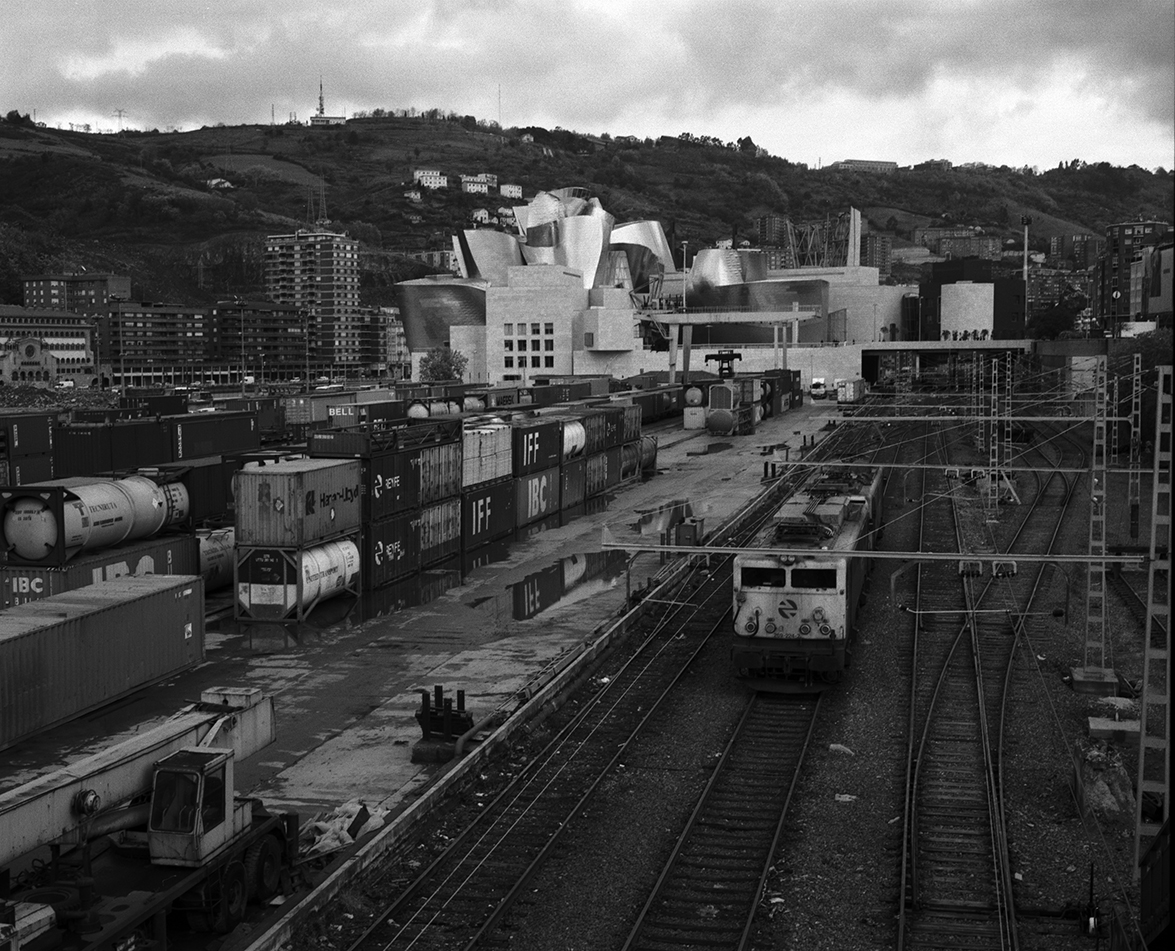 Mikel Eskauriaza - Bilbao, circa 1997 , 2018. Slide projection, Dimensions variable. Courtesy the artist ©Mikel Eskauriaza
Architecture Effects evaluates the present state of the field two decades after the Guggenheim Museum Bilbao reignited popular interest in the effects of architecture. Pioneering in its use of digital technology in its design, construction, and image circulation, the building was both a product and emblem of the information and communication technologies that have become determining factors of the cultural sphere in the early 21st century. This time has also witnessed radical changes in the social value of architecture as well as contemporary art and storytelling.
The installation leverages art and narrative to create an environment for contemporary architecture that honors the richness and magic reintroduced in contemporary life by the Guggenheim Museum Bilbao and its benchmark effect. The selection of works and documents traces the maturation of emerging 21st century culture, extending from the logistical and material substrates of our world to themes of identity, consciousness, and ritual to make the complexity of architecture legible.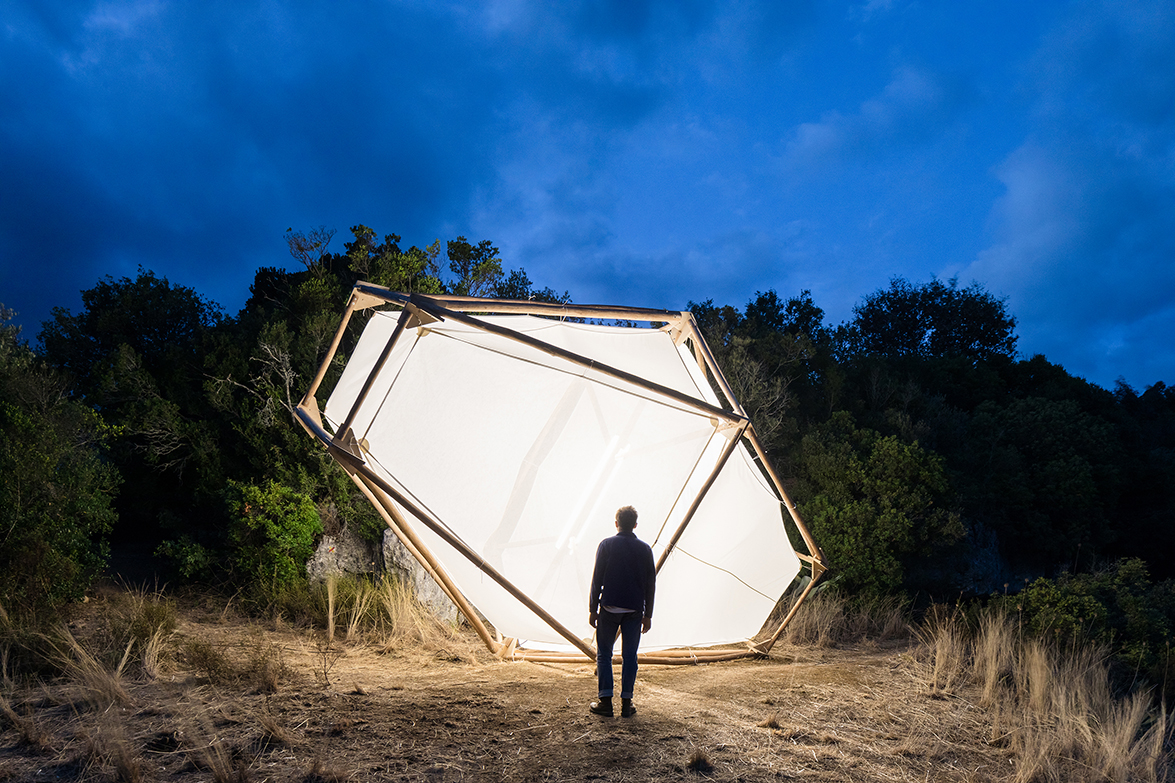 Didier Faustino - A Home Is Not a Hole, 2016. Installation of skinned eucalyptus trunks, silver birch plywood, canvas, mosquito netting, felt, and fluorescent lights 600 x 700 x 400 cm. Courtesy the artist and Michel Rein, Paris/Brussels; Galeria Filomena Soares, Lisbon; Parque Galeria, Mexico DF ©Didier Fïúza Faustino, VEGAP, Bilbao, 2018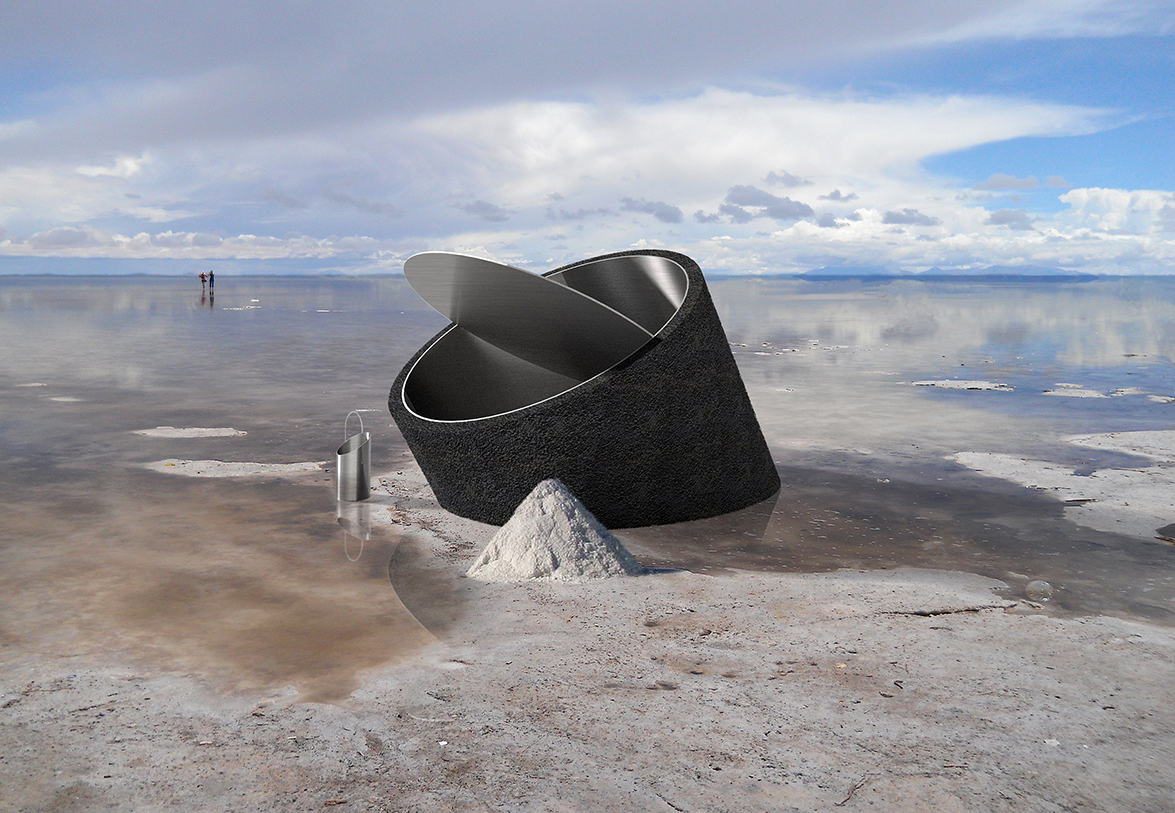 Leong Leong - Float Tank 01, 2018. Stainless steel, water, salt from the Salt Valley of Añana and diverse materials 267.5 x 231.7 cm (base); 231.7 cm (top diameter), 204.7 cm (top height), 70.9 cm (low height). Courtesy Leong Leong, New York ©Leong Leong
Architecture Effects presents a contemporary environment as a constant back-and-forth between the material and the virtual, the ancient and the futuristic, a territory navigated by citizens that are hyperconnected in space and time, body and psyche. Experimental and speculative thinking emerge at the crossroads.
Along three linked territories— Airlock, Garden, and Bubble—the exhibition features works by Nina Canell, Frida Escobedo, Mikel Eskauriaza, Didier Faustino, Frank O. Gehry, Andreas Gursky, Lynn Hershman Leeson, Oliver Laric, Nikki S. Lee, Leong Leong, MOS, MAIO Architects, Nemesis, or Jenna Sutela, among other participants, and will present guest contributions by John Menick, PWR Studio, Venkatesh Rao, and Gordon White, alongside graphic design and consultation by Wkshps.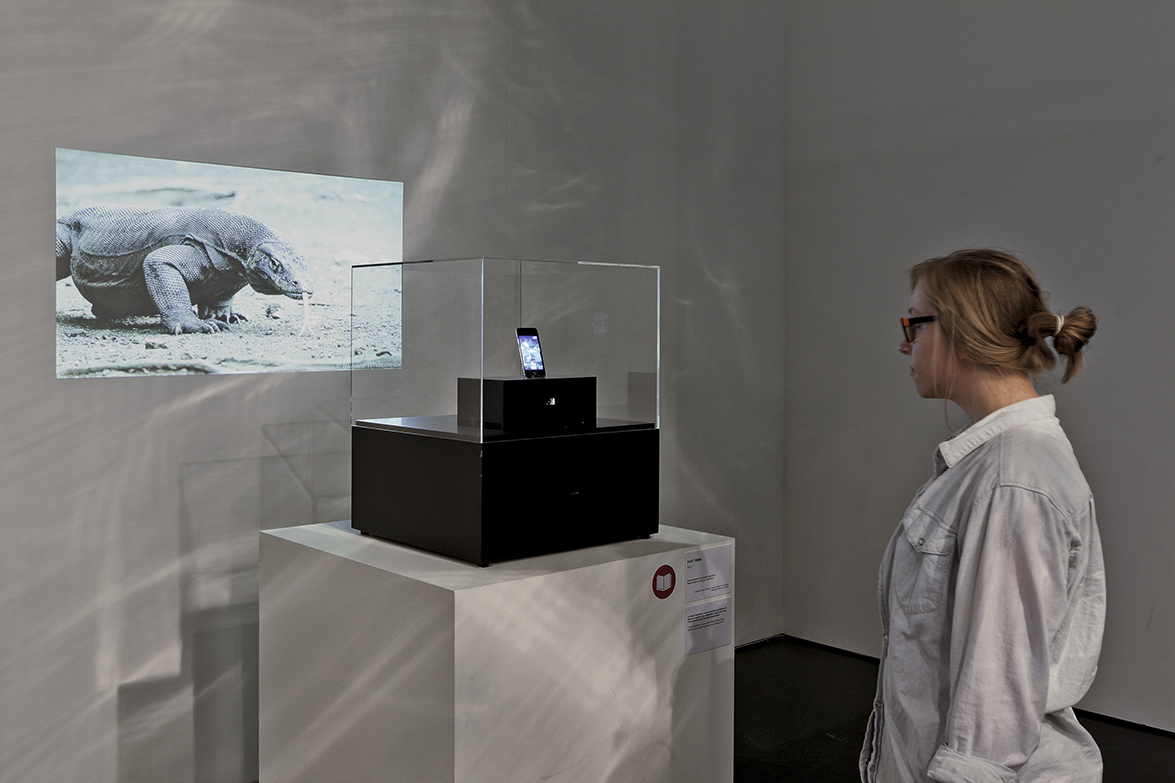 Lynn Hershman Leeson - Past Tense, 2014. Network based multimedia artwork (Mac mini, cell phone, projector, sensor, webcam, speakers) 20 x 48 x 48 cm. Courtesy the artist and Bridget Donahue Gallery, New York. ©Lynn Hershman Leeson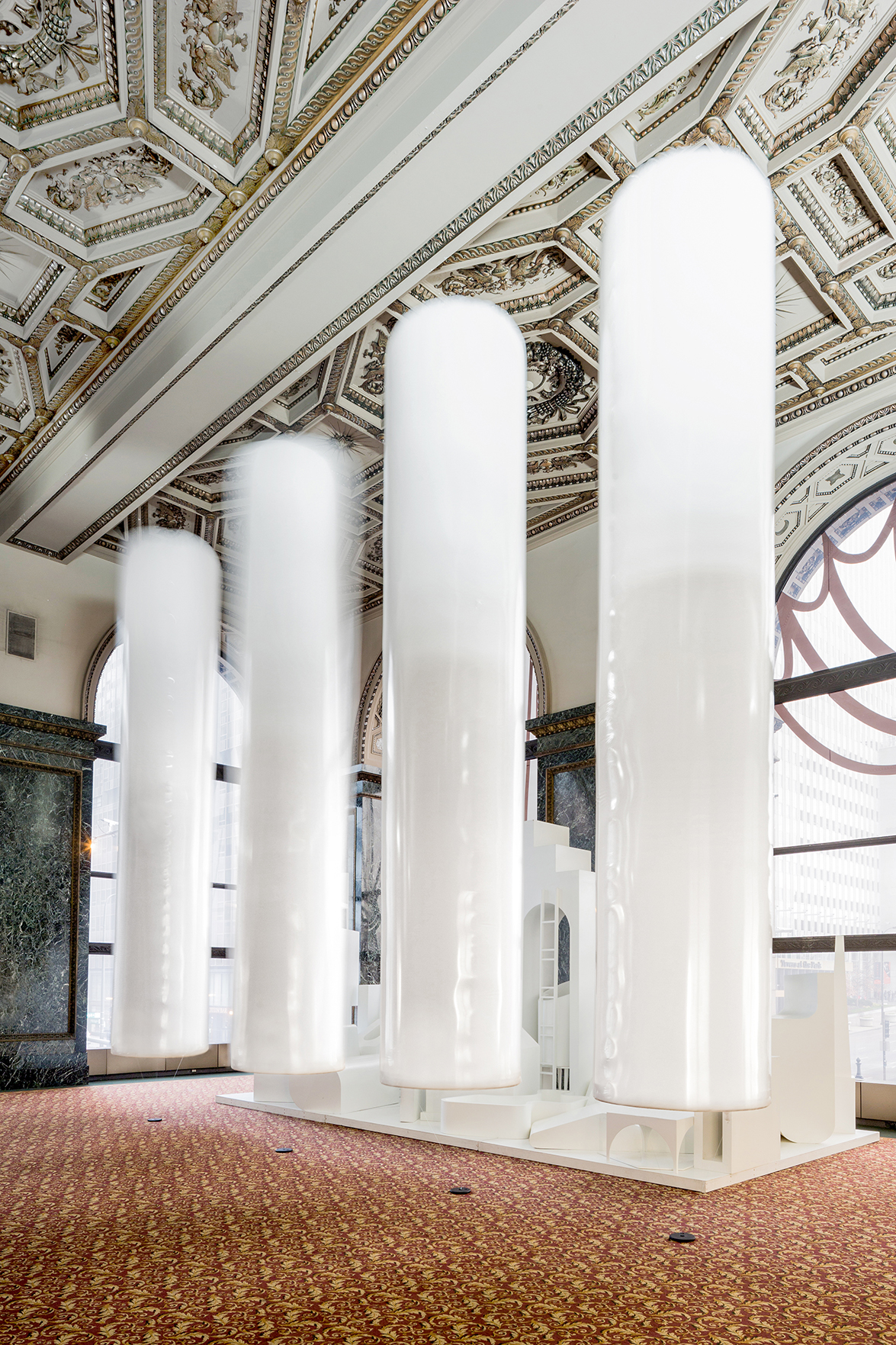 Maio Architects - 5 m Floating Columns, 2015. Five pneumatic structures inflated with helium and speakers 5 m high x 1.1 m diameter each. Courtesy Maio, Barcelona ©Maio Architects
The documental backstory of the exhibition, the Airlock, includes benchmarks in digital technology, biology, space exploration, pop culture, the occult, medicine, finance, design, or political economy in the form of video, audio, memorabilia, archival material, and historical artifacts.
In the main space, the Garden, the list of contemporary art and architecture works also includes moving images, sculptures, prototypes, animation, real-time video feeds, 1:1 models, or artificial intelligence.
The exhibition extends beyond its physical boundaries through a digital "Bubble", an online collection of various forms of media that further contextualize and illustrate the works in the Garden and the Airlock that is hosted in a specific app available for free to Museum visitors.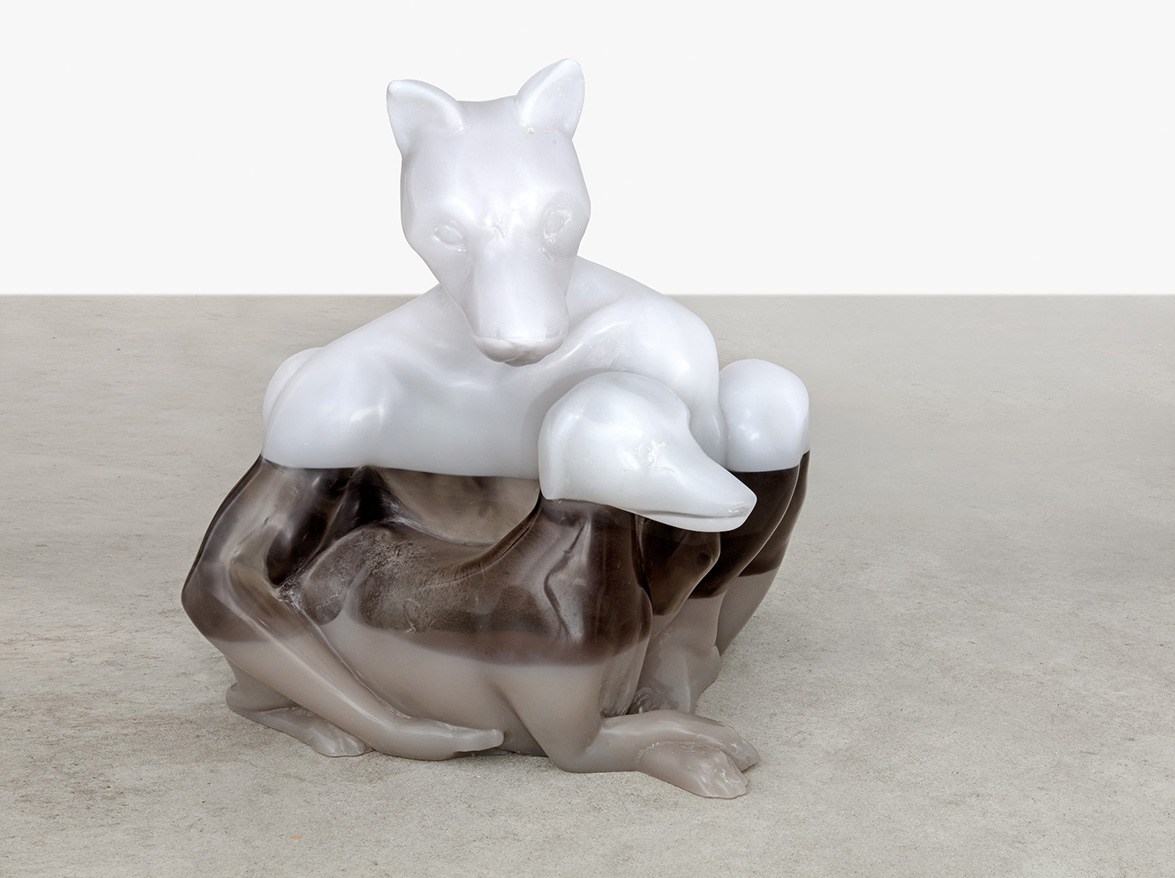 Oliver Laric - Hundemensch, 2018. Polyurethane and pigment 53 x 52 x 58 cm Unique. Courtesy the artista and Tanya Leighton, Berlin ©Oliver Laric Photo: Gunter Lepkowski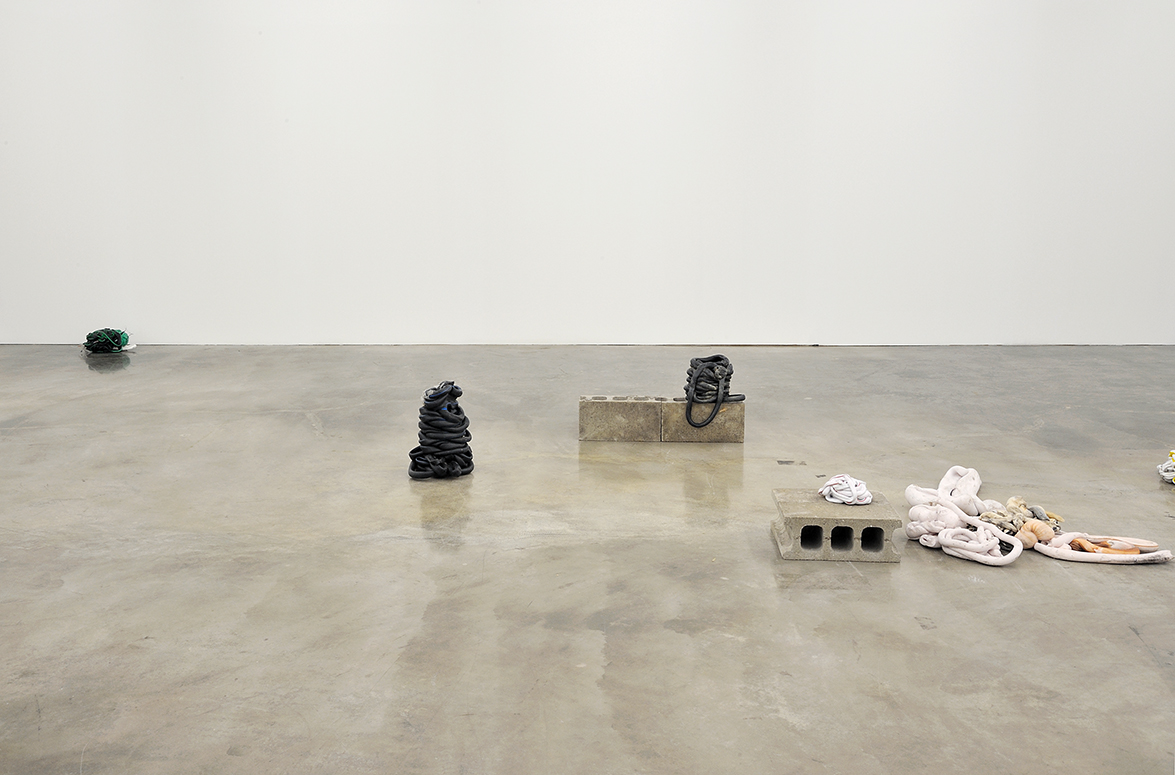 Nina Canell - Shedding Sheaths (H), 2015. Fibre optic cable sheaths and concrete Courtesy the artist and Galerie Barbara Wien. ©Nina Canell, VEGAP, Bilbao, 2018. Photo: Robin Watkins
Information & images by courtesy of Guggenheim Museum Bilbao
Read more news related Guggenheim Museum Bilbao published at Infurma
Further information about the exhibition, HERE