The exhibition, hold from October 30, 2015 to February 21, 2016 at Guggenheim Museum Bilbao, sheds new light on Africa through the work of 120 contemporary artists and designers, who illustrate how design accompanies and drives political, economic, social, cultural, and technological change on the continent.
The Guggenheim Museum Bilbao is pleased to present Making Africa - A Continent of Contemporary Design, an exhibition organized by the Guggenheim Museum Bilbao and Vitra Design Museum, in collaboration with the German Federal Culture Foundation and the Art Mentor Foundation Lucerne.
The show exhibits work from a diverse range of creative fields: object and furniture design graphic arts, illustration, fashion, architecture, urban planning, craft, film, photography, as well as digital and analogue approaches; these works demonstrate the political, economic, social, cultural, and technological transformation of the continent.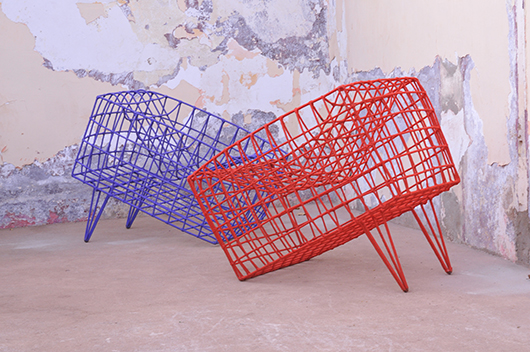 Cheick Diallo, Sansa 2010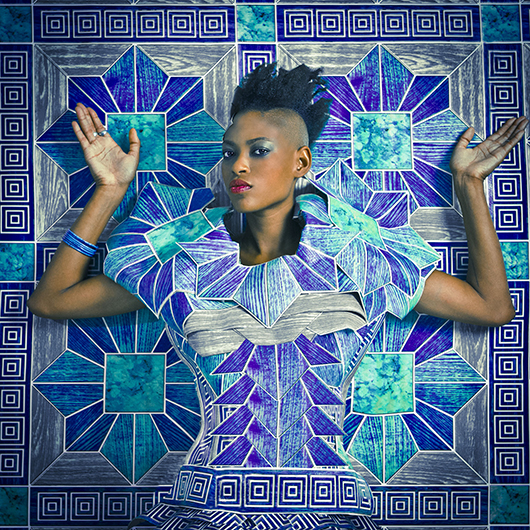 Omar Victor Diop, Mame 2014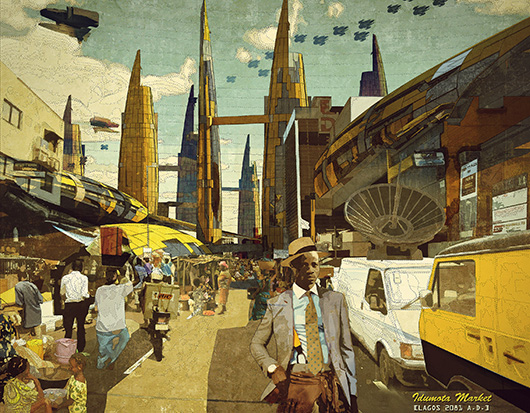 Ikiré Jones, Idumota Market, Lagos 2081 A.D. 2014
This evolution, especially evident in Africa, is led by a new generation of thinkers and makers, who propose multidisciplinary, innovative solutions for the continent and the world, simultaneously revolutionizing our traditional understanding of design.
The works in the exhibition provide concrete answers to the question of what twenty-first century design can and should achieve. These pieces are often created in small quantities by a collective of individuals; they are typically produced de-centrally, in an urban context, and are more oriented to the process than the result. They often emerge from the in formal maker culture, in which something existing is reworked or new work is produced with traditional and electronic tools. The works establish connections between the digital revolution and our analogue existence, radically rethink materials, concentrate on society rather than the market, and make bold statements about the future.
These contemporary creations forge a link to the middle of the twentieth century
, when a young generation celebrated its liberation from colonialism and self-assuredly asserted its place in the world and its right to a promising future. Throughout
Making Africa
, examples of art and design from that era are juxtaposed with recent works. What the exhibition does not strive to present, however, is a complete picture of design in Africa. Comprising 54 nations, more than 2000 languages and cultures and a billion inhabitants, the continent is simply too large, too complex and too diverse. What the exhibition offers instead is a new story, one perhaps not yet known. It is one possibility among many for looking at Africa and an invitation in this regard to consider a wholly new perspective. , 2013″]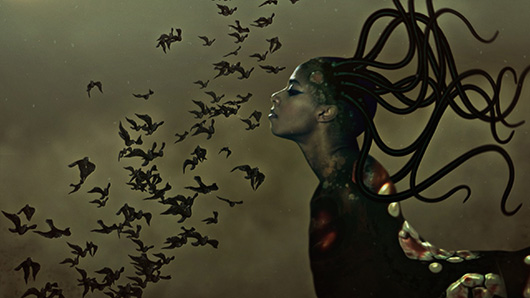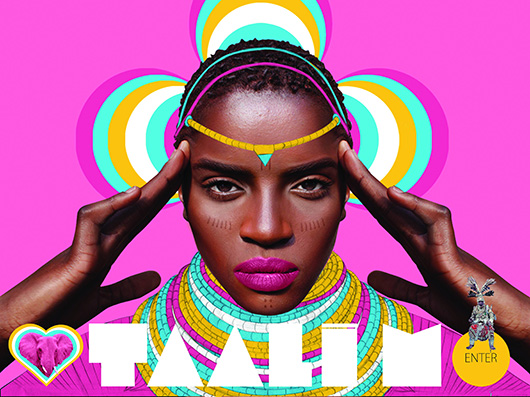 Pierre-Christophe Gam, The Kingdom of Taali M, 2013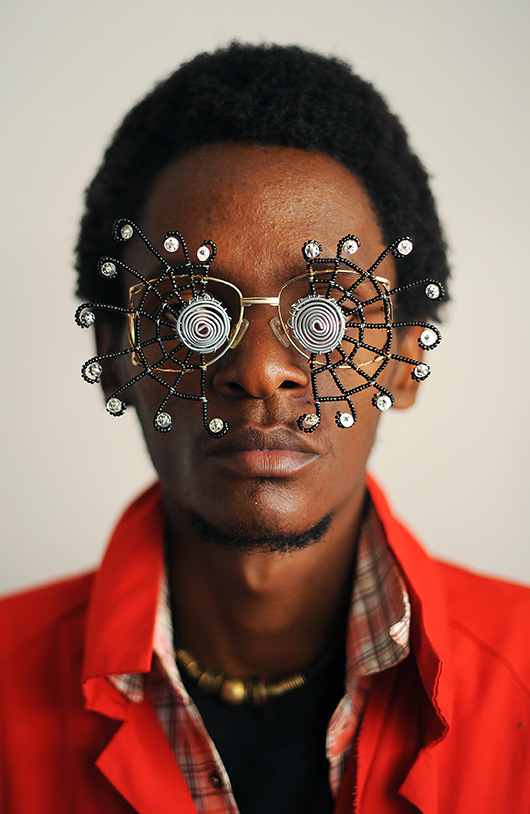 Cyrus Kabiru, Caribbean Sun 2012
The challenge of Making Africa - A Continent of Contemporary Design is to shed new light on contemporary African design through the work of over 120 artists and designers and to illustrate how design accompanies and drives political and economic change on the continent. The exhibition presents Africa as a hub of experimentation generating new approaches and solutions of worldwide relevance and as a driving force for a new discussion about the potential of design in the twenty-first century. The exhibition focuses on a new generation of African entrepreneurs, thinkers, and designers —"digital natives" who address a global audience and provide a new vantage point on their continent. They often work across several disciplines simultaneously and break with the conventional definitions of design, art, photography, architecture, and film.
When the "African boom" comes up in the media, the reports tend to focus on the continent's rapid economic growth and the expanding middle class, phenomena that will remain at the root of fundamental changes in the coming decades. However, another development has altered the everyday lives of all Africans and yields a significant influence on the work of artists and designers. At present, there are 650 million mobile phones in Africa, more than in Europe or the United States. Many of these devices have access to the internet and thus create a platform to communicate and exchange information with the world. This technology has generated and enabled a shift in perspective that lies at the center of Making Africa - A Continent of Contemporary Design.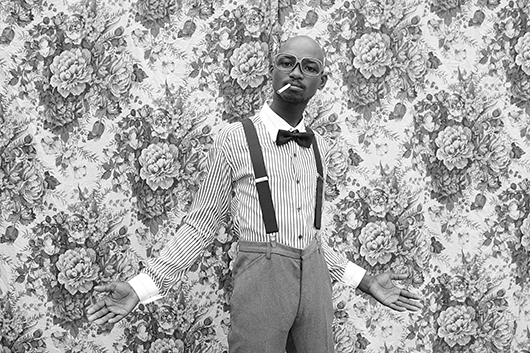 Mário Macilau, Alito, The Guy with Style 2013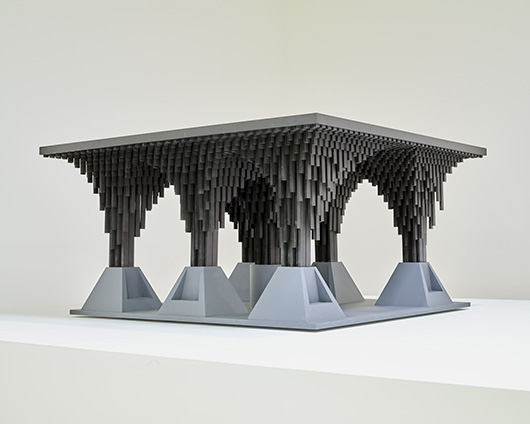 Sunsum, 2015 Park Station, Johannesburgo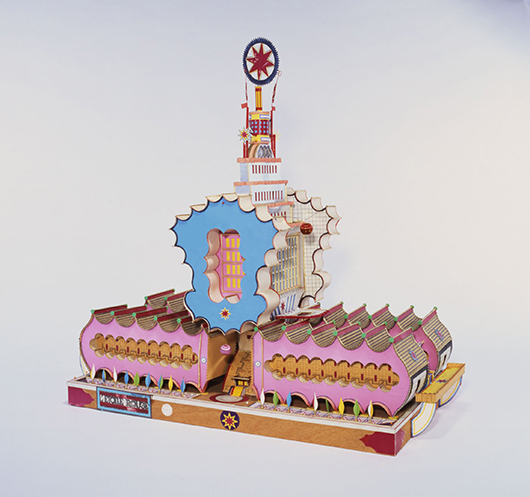 Bodys Isek Kingelez, Étoile Rouge Congolaise 1990
Making Africa - A Continent of Contemporary Design
- Dates: October 30, 2015 - February 30, 2016
- Curators: Amelie Klein, Vitra Design Museum; Petra Joos, Guggenheim Museum Bilbao
Information & images by courtesy of Guggenheim Museum Bilbao
Read more news related Guggenheim Museum Bilbao published at Infurma
Read more news related Vitra Design Museum published at Infurma
Further information about the exhibition, HERE