Eco-friendly Hisbalit mosaic and esparto, key materials for the sustainable coworking Impact Hub Piamonte 23, designed by CH+QS Architects
The project, developed by CHURTICHAGA+QUADRA-SALCEDO studio, has been chosen "Best Co-working Space of the Year 2019" at the Frame Awards

In the district of Chueca, in downtown Madrid, we find the "Best Co-working Space of the Year", Impact Hub Piamonte 23, winner of the renowned Frame Awards recognising the best interior design around the world. The space is four floors bursting with vitality and versatility, designed to inspire a great community of professionals looking for a place to work and connect.
Conceived by CHURTICHAGA+QUADRA-SALCEDO, Piamonte is a showcase of modernity and environmental commitment, designed using local, sustainable and recycled materials.
Thus, the designers chose to create diverse and sustainable co-working spaces using eco-friendly, 100% recycled mosaic tiles from Hisbalit, a leader in the design and manufacture of glass mosaic tiles.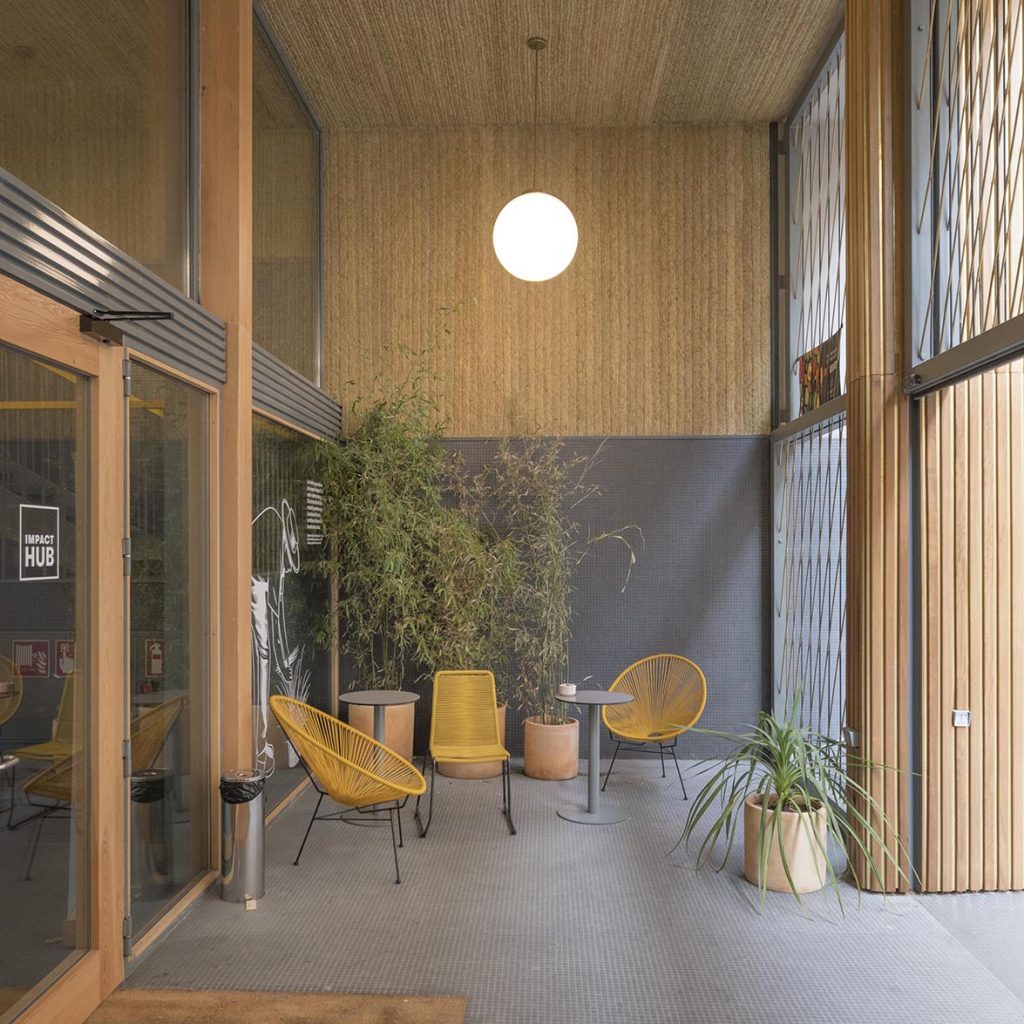 Entrance
Vibrant spaces with transformative materials
The space is designed to inspire and focus concentration thanks to a combination of warm and vibrant colours. There is also an interplay of textures bringing an unique sense of rhythm and dynamism to the space.
The entire building is surfaced, in one form or another, with Hisbalit recycled mosaic tiles. Specifically, the reference STONE 564, in square format, was used on the walls, floors and ceiling of the lobby. The grey tone of this mosaic tile, with the contrasting yellow handrails, gives the space an industrial feel. Brown sofas, green plants and chalk drawings on the tile itself all combine to give the necessary warmth to make this a richly inviting space.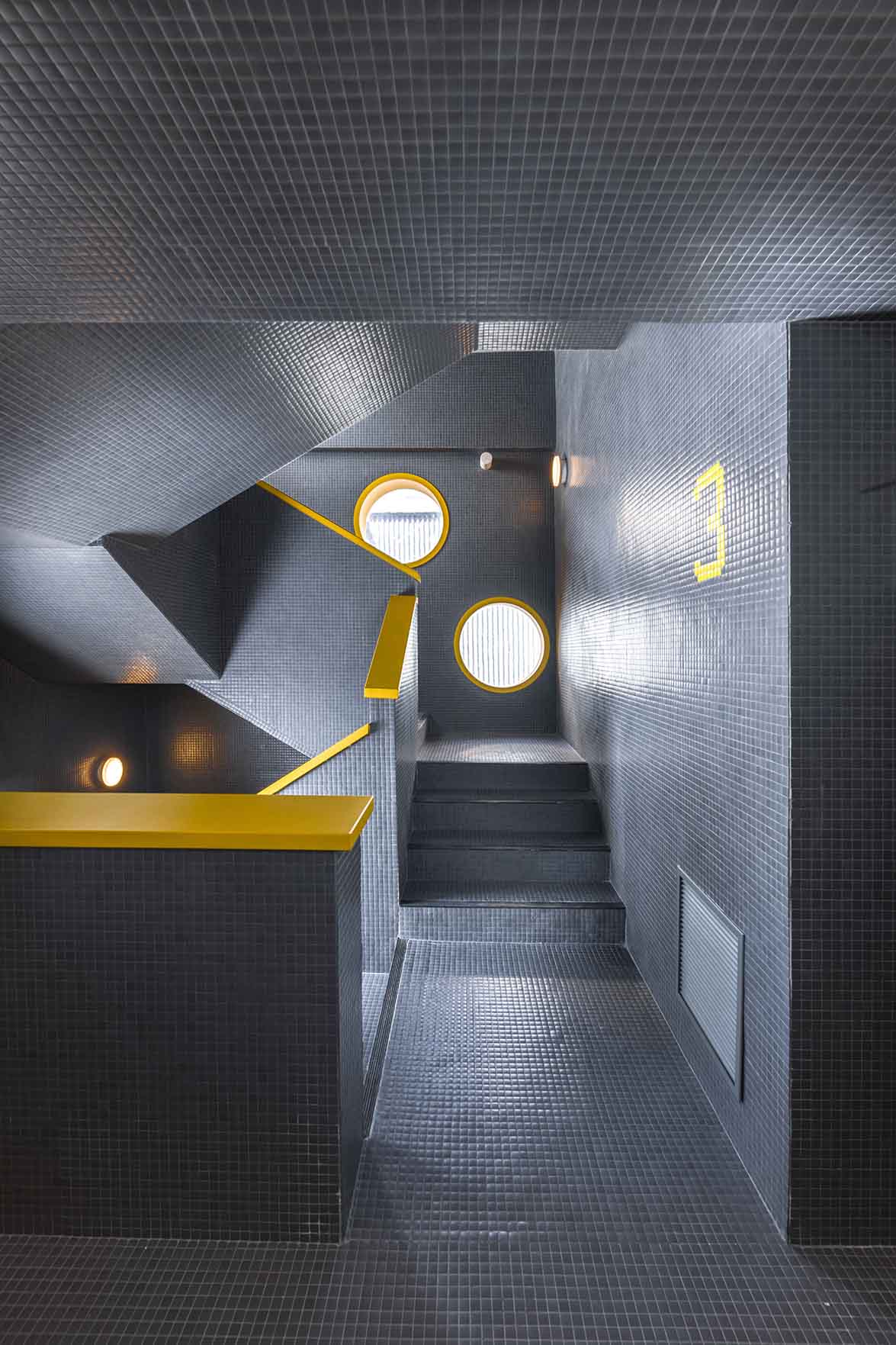 Between levels
The industrial touch also extends to the areas between floor, where walls, floors, stairs and ceilings are all completely surfaced in Hisbalit's mosaic tiles. Floors are identified by numbers in yellow tile, reference 302 from Hisbalit's Unicolor collection. This custom design was created using Hisbalit's exclusive Art Factory personalisation service.
In the cafeteria, the striking combination of materials and textures will seize anyone's attention. Hisbalit tiles are used from the entrance to the floors and part of the walls, giving an attractive visual uniformity to the space.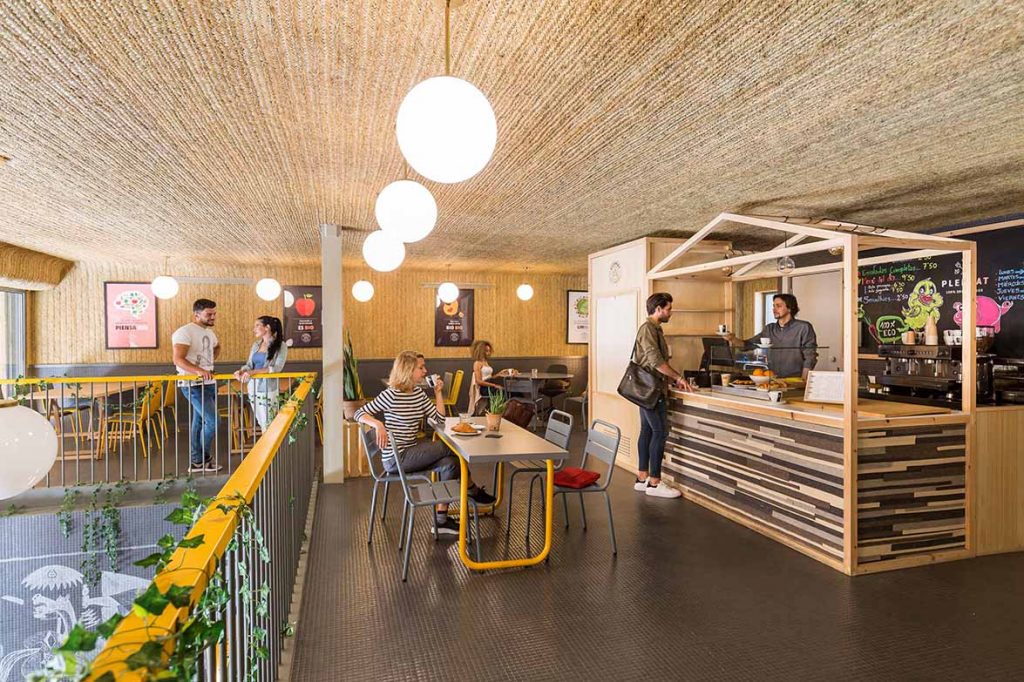 Cafeteria
Large spherical lamps provide ideal lighting and to add additional warmth, the upper parts of the walls and ceiling are covered in handcrafted esparto.
Other areas, such as the auditorium or entrance also share the signature motif with esparto and mosaic tiles providing a striking contrast of cool and warm tones and textures.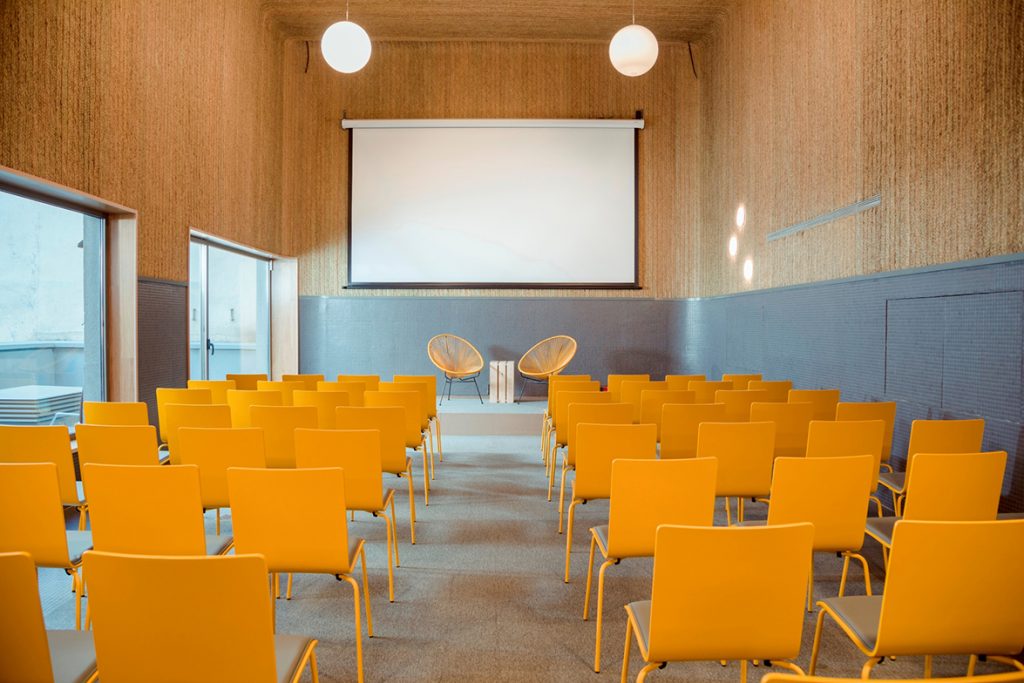 Auditorio
The choice of materials was the key to marking the difference in this project. Hisbalit's mosaic tiles are manufactured using high-quality recycled glass acquired from other industries with a production process that is entirely clean, using eco-friendly kilns producing zero emissions, all natural pigments and minimum water consumption.
Source: Hisbalit
Top image: Lobby
Read more news related Hisbalit published at Infurma
Visit the Hisbalit website