Stellar results of CIFM / interzum guangzhou 2021 bolstered by strong economic recovery
Asia's largest and most comprehensive woodworking machinery, furniture production and interiors trade fair drew to a successful close on Mar 31 in Guangzhou, China
With the partnership of two major exhibition forces - Koelnmesse and the China Foreign Trade Centre (Group) - CIFM / interzum guangzhou 2021 boasted a scale of 340,000 square meters with 2,100 exhibiting companies covering six key product categories.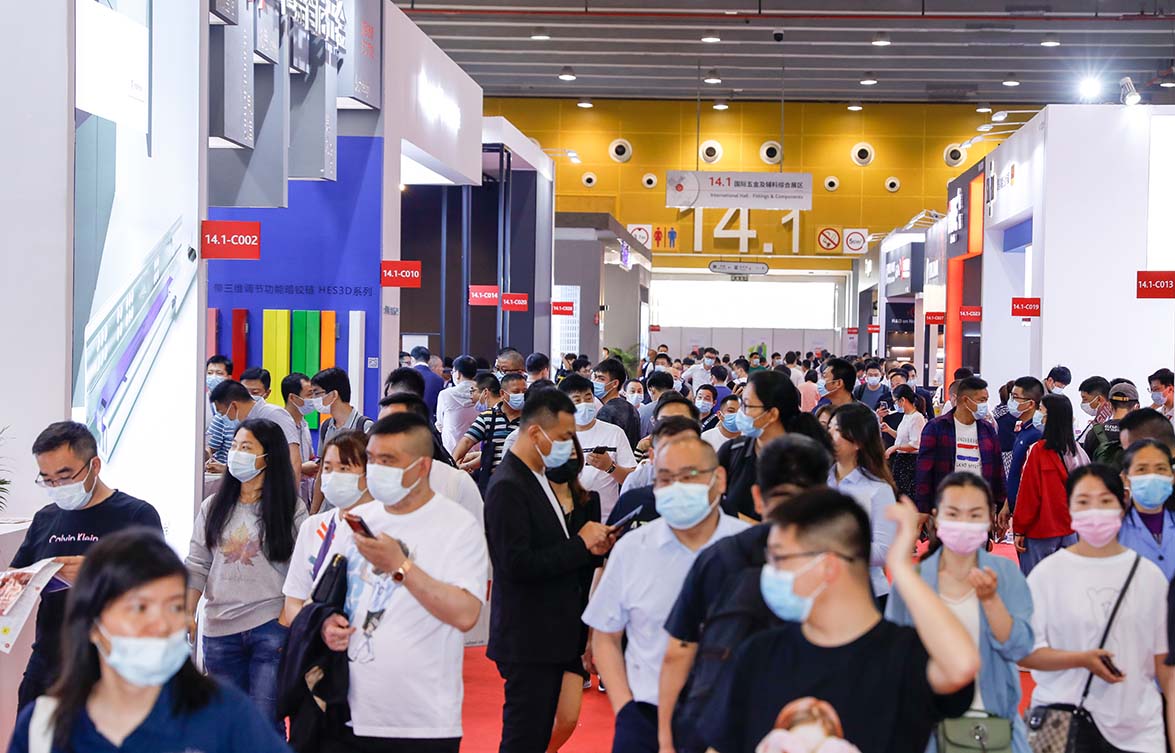 Internationally renowned brands at the event included: HOMAG, Biesse, Cefla, IMA, SCM, WEINIG, Heveaboard, Impress, Kronospan, Lamigraf, PFLEIDERER, REHAU, Schattdecor, LG, Hyundai, LINAK, LIMOSS, OKIN, Henkel, SABA, Arpico, Italiana Ferramenata, King Slide, Repon and Sugatsune.
Nearly 200,000 visitors were drawn to the southern Chinese city to participate in the event - an increase of over 20 percent compared with the last edition.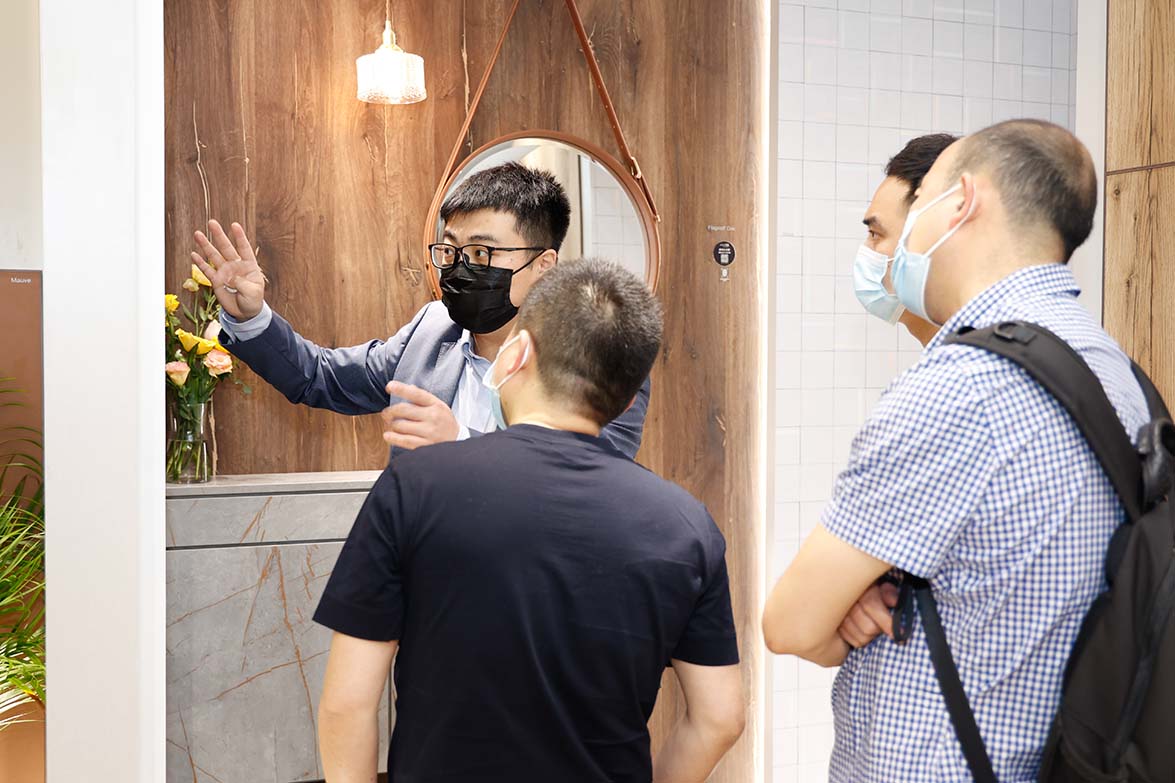 Testimonials
"Visiting interzum guangzhou 2021 was to me an eye-opener towards how closely our economies are intertwined - not just in the field of automotive or high-tech: China is a major market for German hardwoods, which have been grown in ecologically sustainable forestry, and of indispensable components such as glues, coatings and hinges which are indispensable for producing furniture in the legendary German quality, highly appreciated by Chinese customers," complimented the German Consul General in Guangzhou, Mr. Martin Fleischer, who was invited to visit the show.
Mr. Matthias Haasler, CEO of Rehau in Greater China and North East Asia said: "This is a good place to show new developments and really to go into good discussions with the customers here. The industry has also seen and experienced interzum guangzhou over the past years. It is a very important place to meet and to see new products coming up. Being here is important - to simply show your strengths and to show the power."
Ms. Vika Pesenti from Italiana Ferramenta was equally pleased: "I think it was very great to see so many people this year, so for us it was a very big advantage. We got a lot of visitors coming, and especially the first day we have registered about one thousand people coming to our stand. It was a great success!"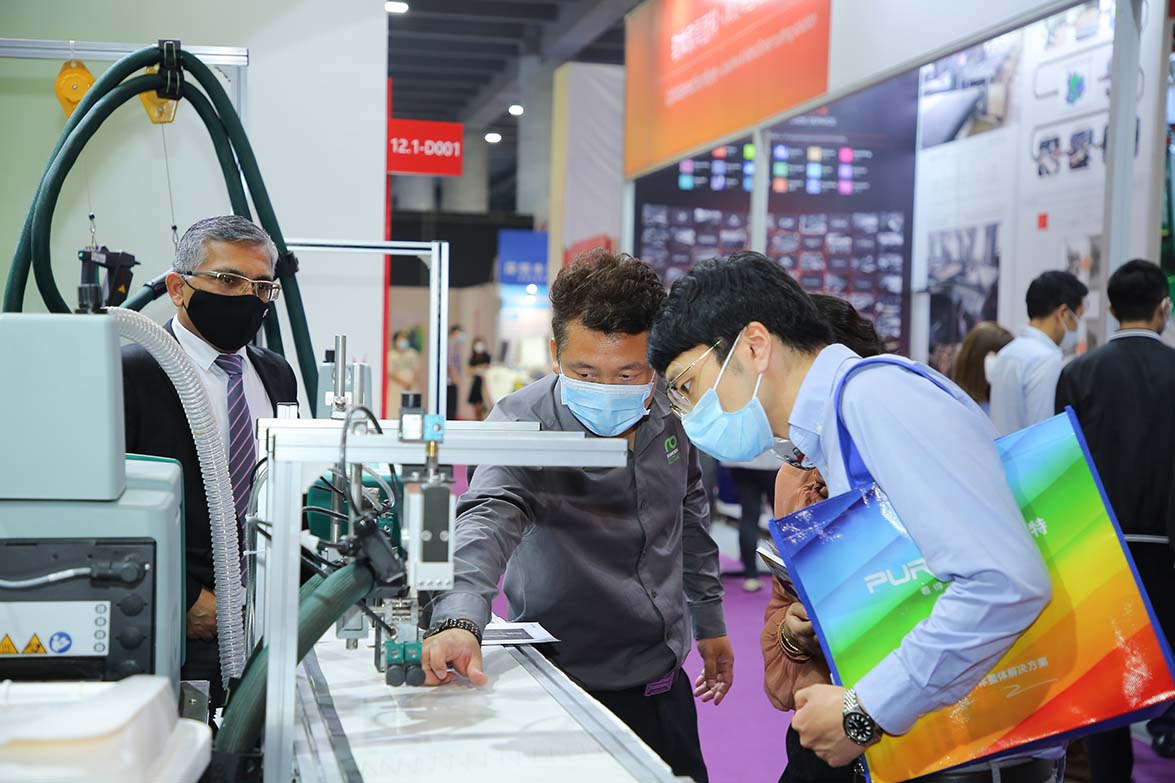 CIFM / interzum guangzhou is not only an important platform for visitors to discover and understand new products, but also allow exhibitors to gain insight into new market needs and lead the development of the industry.
Mr. Liu Chenglong, Project Manager of woodworking machinery manufacturer SCM, said: "We've made good gains at the exhibition. Visitor flow is relatively heavy. We've also met a number of new customers and got to know some new needs."
Innovations and novelties
As the industry's flagship exhibition, CIFM / interzum guangzhou has always been a stage for the furniture industry to showcase new technologies, new products and new trends, and create business opportunities.
The 20 PLUS 20 Annual List for outstanding furniture accessories is a tribute to enterprises that are actively exploring creative solutions and keen to innovate. The 2019-2020 awards ceremony was held on the first day of the exhibition with 15 exhibitors receiving the accolade.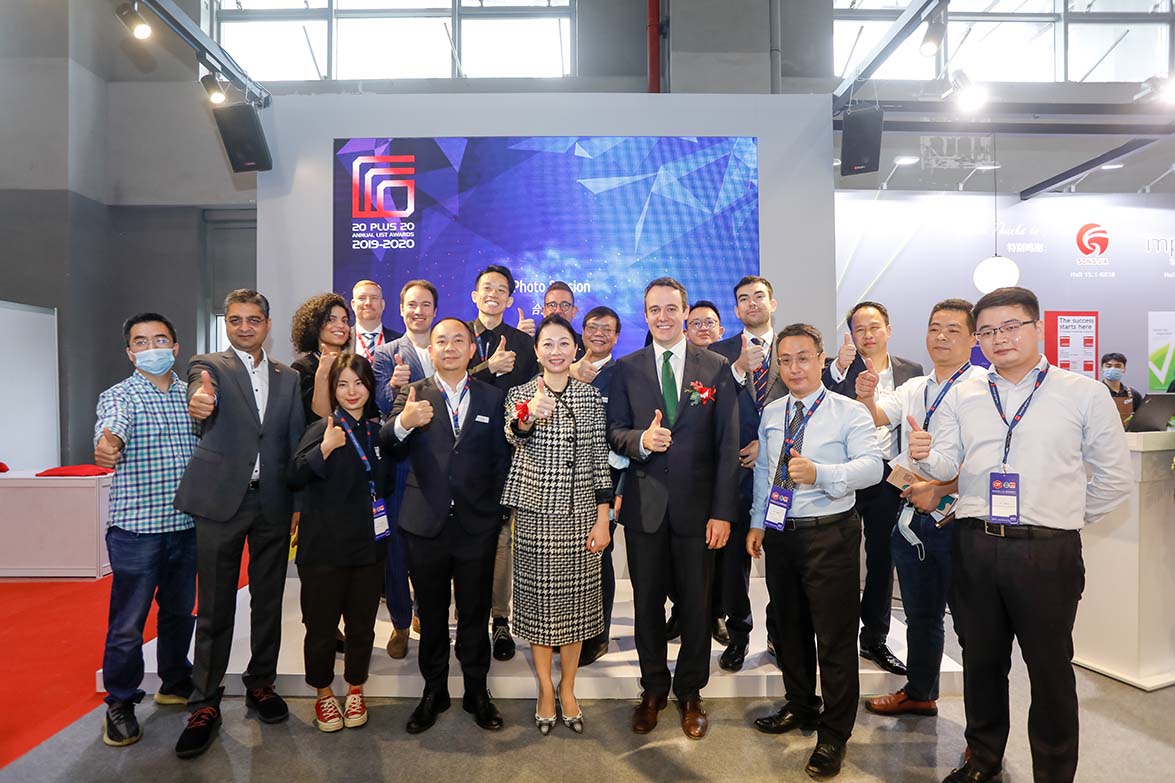 A dedicated showcase featuring 2018-2020 awarded products were also on display, allowing show participants to review the innovative development of the industry in recent years. In addition, nominations for the 2021-2022 list is also officially open for exhibitors in 2022.
Parallel Activities
With the debut of the Business Package Plus (BPP) to assist affected overseas brands maintain their presence at the show, buyers were still able to continue to source innovative products and solutions from all over the world.
Also held at the BPP zone by the Agricultural Trade Office of the US Consulate General in Guangzhou, a seminar themed "Back to Nature - Modern Wood Structure" was streamed live on the online conference platform and received encouraging response.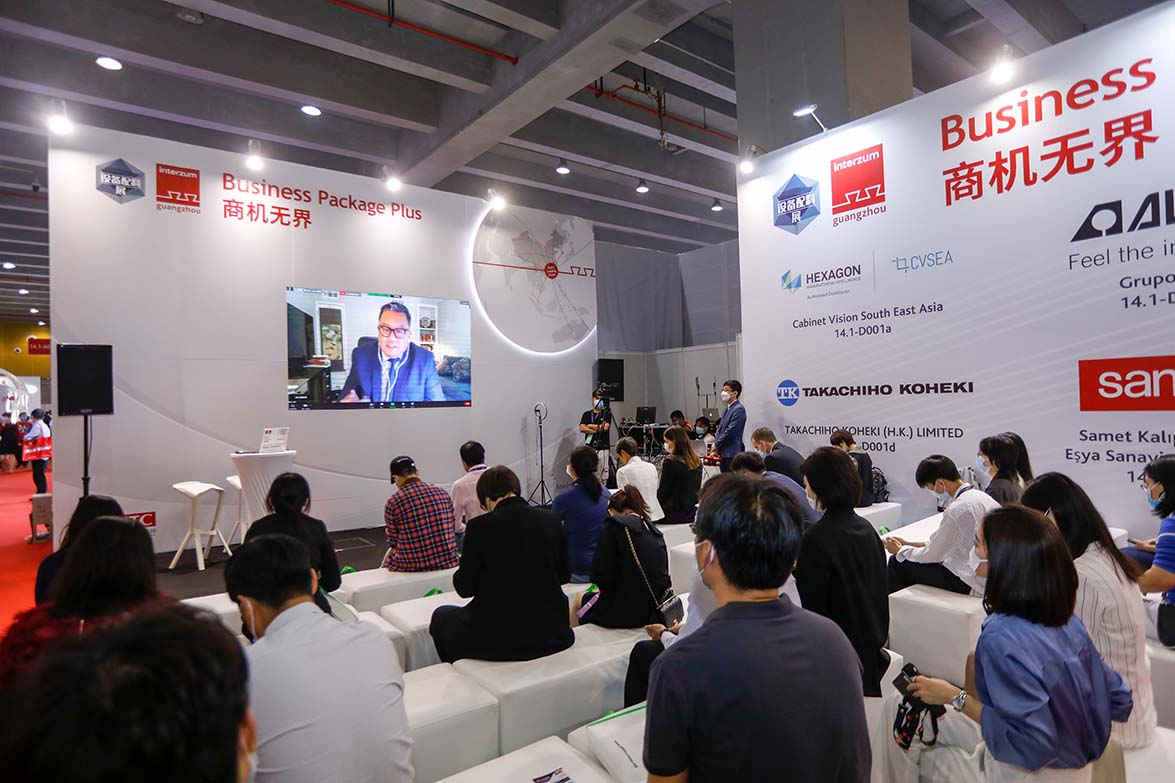 Over at the PIAZZA lounge, a series of forums surrounding topics such as smart home systems, home lighting, furniture lifting technology, and new materials and technologies saw experts of the respective industry verticals sharing application cases and imparting valuable knowledge to attendees to quickly understand the high-quality products and innovative technologies of the industry, and promote the development of smart furniture.
A total of 124 online and offline business matching meetings were successfully conducted over the four-day period.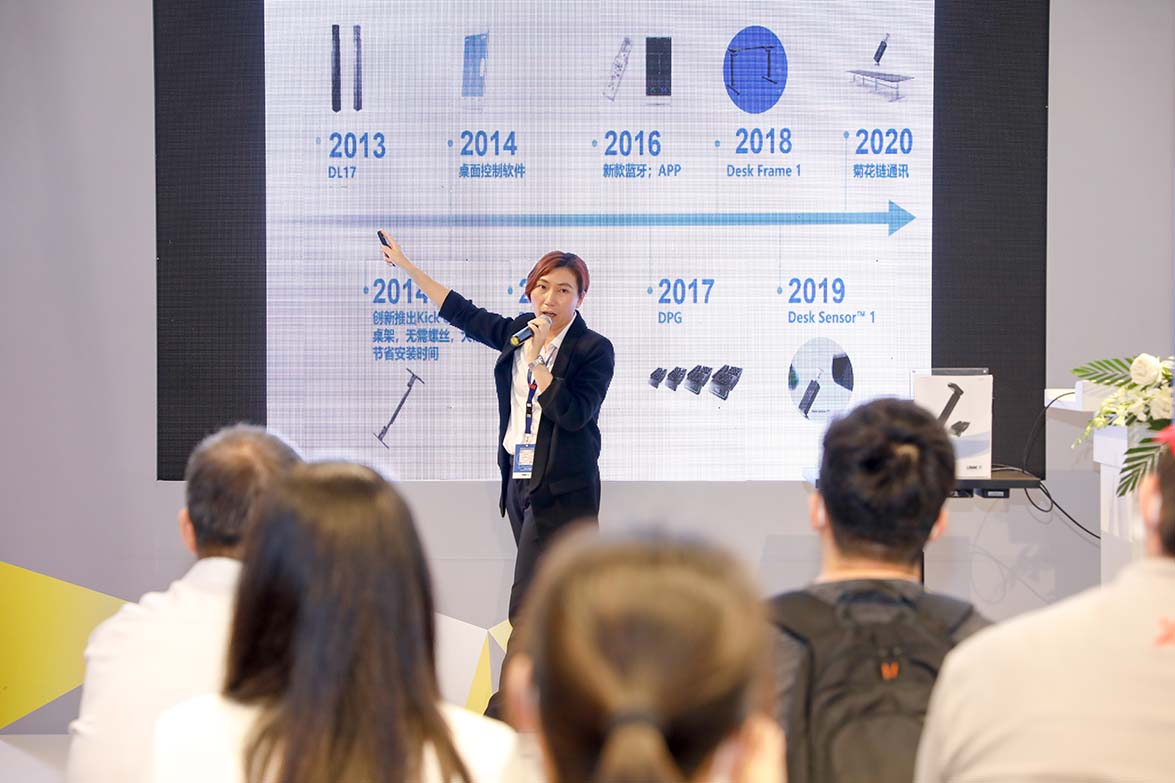 More testimonials
Impressed by the results, Mr. Li Lin, Strategic Purchasing Manager of Oppein - Asia's leading cabinetry manufacturer based in China - said: "The business matching event is able to efficiently match our needs to the right suppliers. We have met some excellent companies, and will continue to follow up with these new contacts. The event format is brilliant."
"interzum guangzhou is one of the most important exhibitions of the year for us. It is a platform to find new suppliers and interact with the industry. We participate in the business matching activities every year, and this year is no exception. Everything took place very smoothly, from the pre-show selection of suppliers to the on-site coordination arrangements, greatly improving communication efficiency. We've also received some good results. Thanks to the organizers for their professionalism and meticulous efforts," commented Mr. Li Peng, R&D Director of well-known custom furniture maker Vifa.
After enjoying similar good outcome, Mr. Engarafat Alharahsheh, General Manager of SAS-TECH INDUSTRIAL GROUP LTD was quite satisfied: "The event was good and well organized with professional service. For sure I will join next year."
Affected by the pandemic, Mr. Nilesh Kumar, owner of Mayur from India, was unable to visit the exhibition in person. Making use of the online business matching for the first time, he expressed his delight at the unexpected results: : "Before trying this out, I was unsure if I could seriously meet any of the manufacturers...(but) I really enjoyed the session and have gotten new manufacturers and suppliers who could help me out. Thanks to the team for their awesome work, and I would recommend for others to try this out."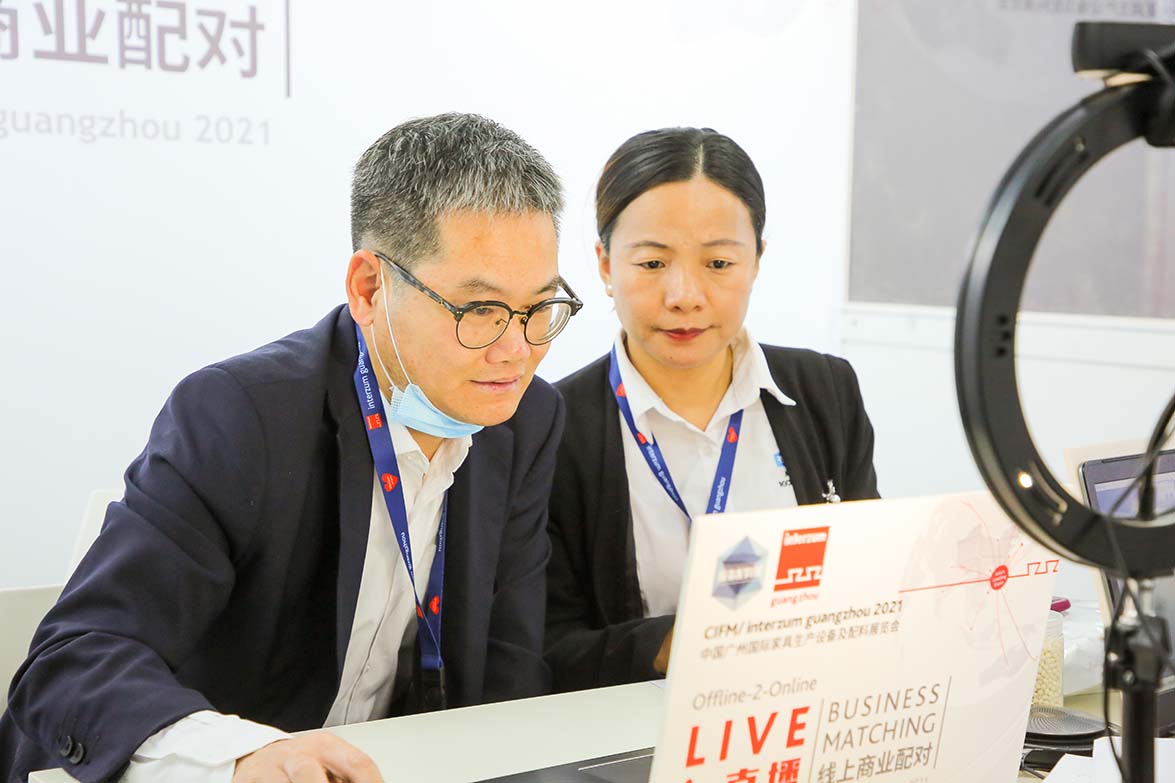 The next edition of CIFM / interzum guangzhou slated to take place from March 28 - 31, 2022
Source: CIFM / interzum guangzhou
Visit the CIFM / interzum guangzhou website
Read more news related with CIFM / interzum guangzhou published on Infurma
Visit the Fairs & Events Calendar in Infurma