Gayafores presents its novelties at Cersaie with the campaign "You, You & You", in which "People" are its source of inspiration
The company honours its clients, collaborators and employees in a communication campaign focussing on the strength and value contributed by the people around it to its growth and development
Gayafores dedicates 2018 by honouring the engine that has made its journey possible: people. The new communication campaign with the leitmotif of YOU, YOU & YOU, recognises the commitment the company has to all those involved and lets them know that they are all important for its ongoing development. Each piece, each new collection, is a product that originated from a client, from employees and from collaborators, who are a valuable source of inspiration and creativity, emerging from their curiosity, requirements and influence.
A key result of this intensive analysis of trends and requirements is "Maridaje" in the Gayafores ranges, a concept best translated as a harmonious blend or a pairing. These new collections combine perfectly with each other, allowing for countless possibilities. Woods with stone or with marble, revival styles with wood, concrete with decorative elements. A whole world of MARIDAJE so that each individual can create their own style.
This is the idea that Gayafores is taking to its annual appointment at the Cersaie trade fair, the perfect arena for presenting the collections that will be the leading trends of the season:
CONCRETE FORMWORK
The reinforced concrete of the Studio collection claims its place among the contemporary interiors as a brute, simple, and attractive material against the perfect, the polished, and the shiny. The design of this concrete formwork creates some extremely natural spaces, with surfaces showing a crude but kind beauty. It is a categorical design where a great effort was put to the edges, with reliefs stressing each strip. It is available in white, grey, and dark grey. A fourth, "paint" tonality, is added as a singular colour, with white paint leftovers over the grey base of the formwork. The series is complemented on a decorative level with a scratched concrete base, as if it had been scraped with wire creating longitudinal grooves that provide afresh brutality.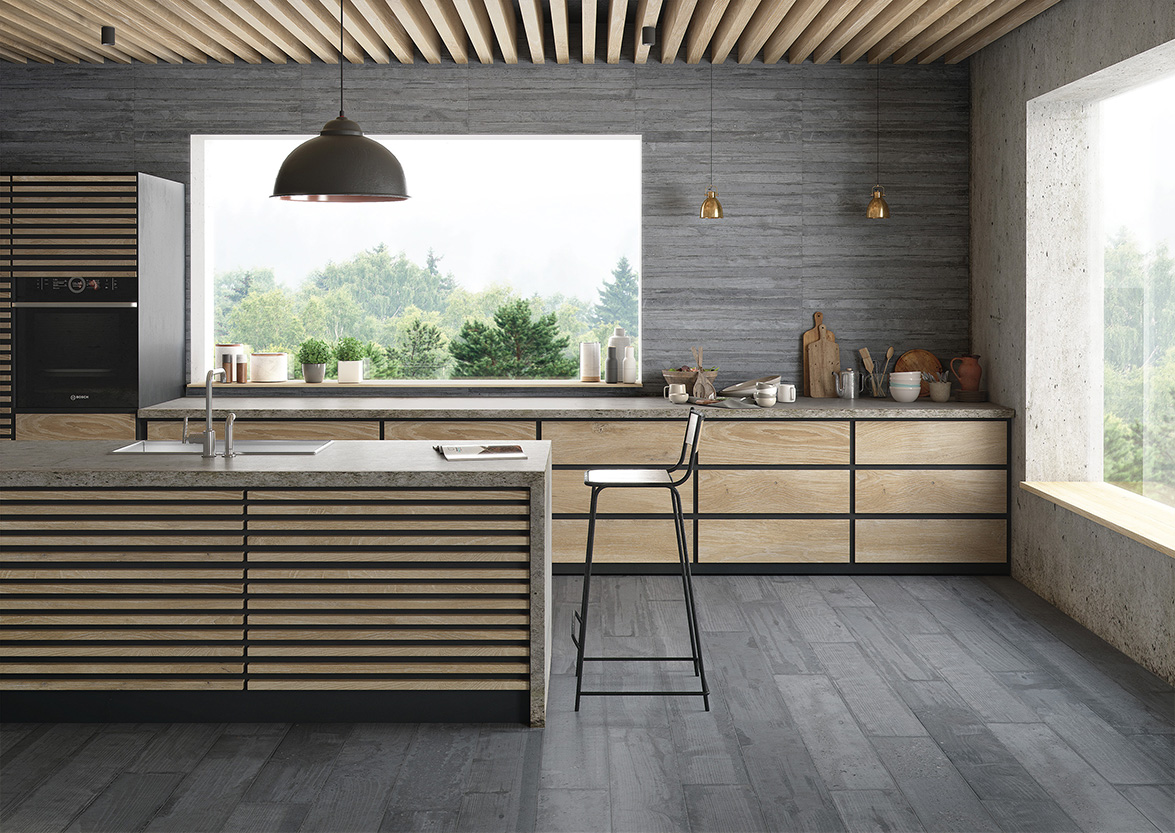 Studio
STONES
Crossland is the latest collection to be added to the family of the stones. It is a quartzite of extremely natural elegance, with digitally developed pearlescent crystallization, that comes to the surface like frost between its undulating, truncate and parallel strata, cramped to one another, showing a register of the climate changes that have generated it. It is complemented with a carved stone concept, directional grooves that reproduce the beauty of the handmade artisan work. It is available on light tonalities: white, almond and an intermediate shade grey.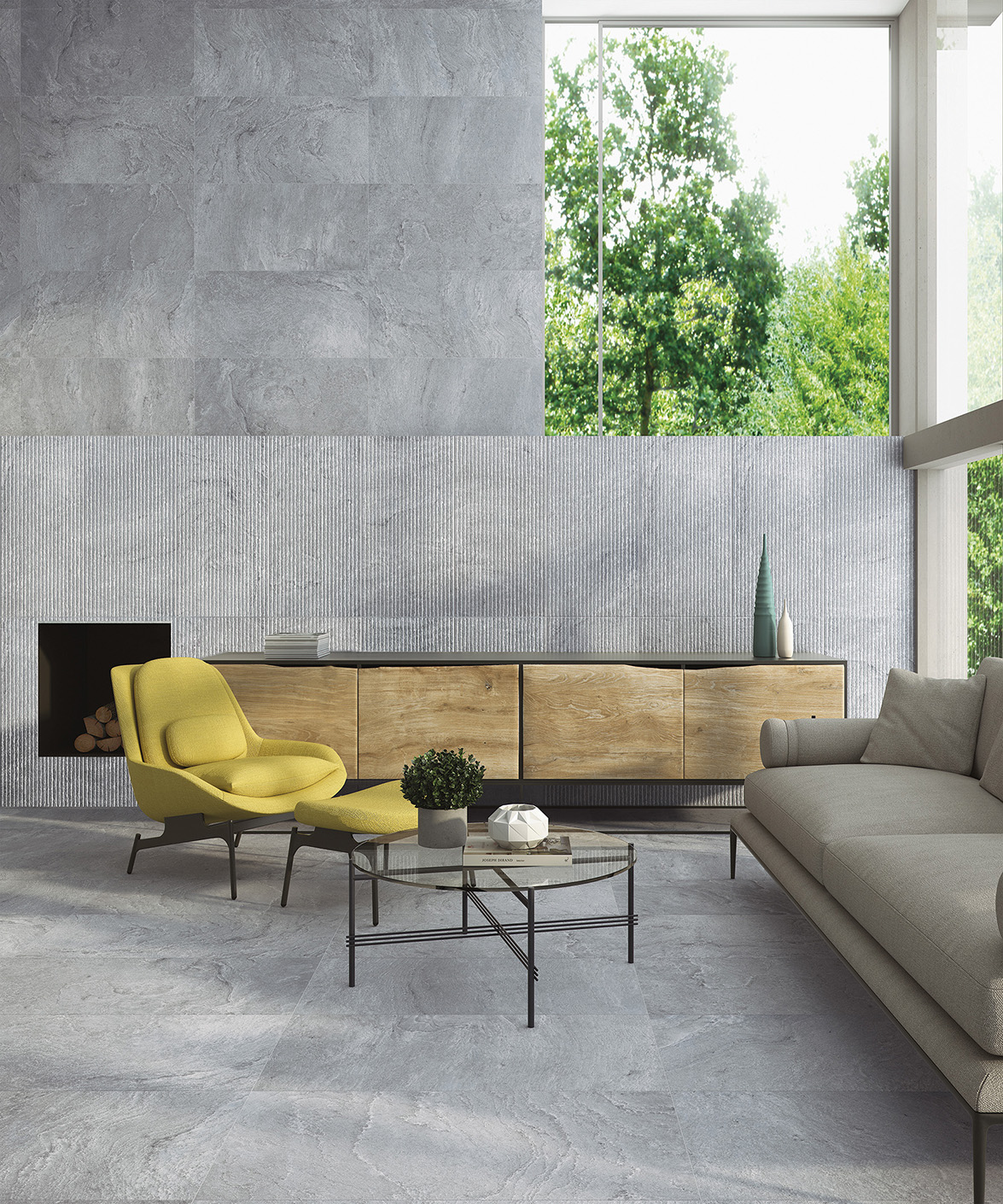 Crossland
Patagonia is other product with a strong personality and great richness of details inspired by the glacial origins of the land of extremes and irregularities from which it gets its name. It is available in four tones, marengo, grey, almond and white. The collection is complemented with a decoration featuring a surface treatment of vertical lines in relief that generate a striation of great serenity and compositional rigour.
The softness of the Austral stone is complemented with a decoration in 45×90 and 32×62,5 format. Deco Austral is a simple piece with refined lines that can be used alone in contemporary and sophisticated environments.
DECO
Velvet appears as a response to the use of classic marbles as a decorative trend of the last few years. It is a precious collection of marbles in neutral tonalities, white, grey and black, with matt finish that is honed to the touch, versatile, and easy to combine with different materials to create a vast array of environments. On a decorative level, black and white chart patterns of a revisited retro aesthetic have been developed, playing with parallel and crossed straight forms that generate sprigs, rhombuses and varied regular shapes. These are filled in contrast with the marbles in the Velvet-Geo and have their ridges drawn digitally on the Brick Velvet-Geo, generating delicate shapes in silver tones.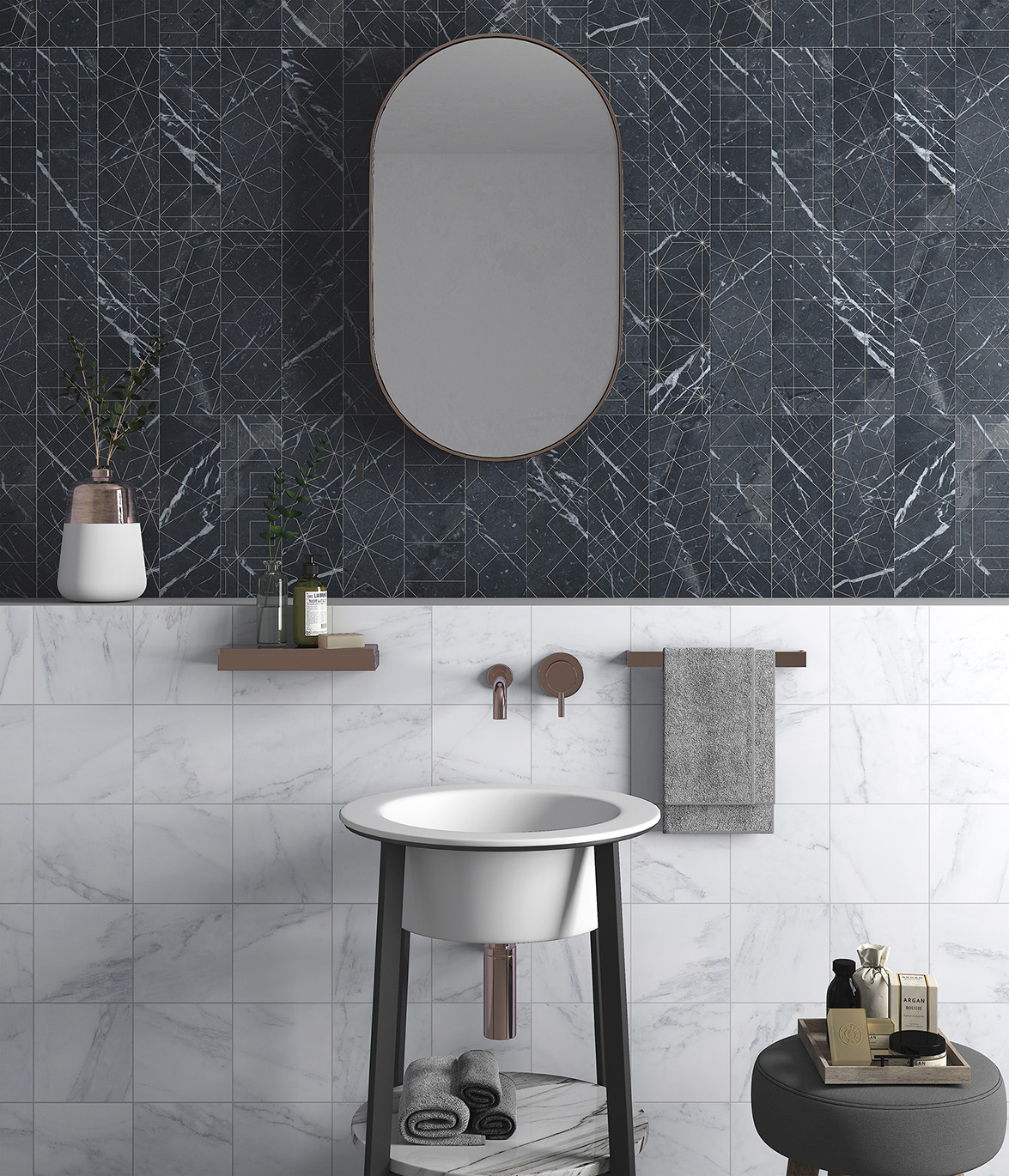 Velvet
This series completes the extensive deco range of Gayafores for the year 2018, where you can find powerful proposals in contrasting styles.
Fun is guaranteed with the new Kaleido collection, an ingenious cladding inspired by the wooden block construction toy, with surprising geometry and daring colours that generate new graphical patterns.
In the series Brick Delta, triangles invade the rectangular brick structure giving movement to a serene, stable geometrical form. Rectangular and isosceles triangles finished in gloss settle against each other in a combination that generates plenty of visual rhythms.
With an ethnic design, tribal motifs and plant elements worked into gloss shades, the Nairobi series develops a cladding of geographical and racial lines that bring a touch of sophistication, spirituality and enchantment to our environments.
Pandora, our talisman collection that captivates by the combination of classic elements bathed with the essence of luxury and sophistication, offers subtle plays of gloss and matt, emulating precious fabrics with combinations of silk and lurex threads.
WOOD
Inspired by the high-quality solid wood of the Sequoia, the Oregon series has become one of the most valued of the Gayafores' woods. Its striking reddish-brown colour goes with the peculiarity of its format, very large slabs that give a feeling of amplitude to spaces.
Village is without a doubt one of the most realistic and attractive collections on the market. It's a wood sawn in different directions, untreated, with very marked streaks and alternating fibres that provide great naturalness to a rustic-urban decorative style.
To add to the new products listed above, we are launching our new corporate website this year, www.gayafores.es. In keeping with its commitment to innovation and technology, Gayafores has embraced the Internet as a fundamental medium for marketing its products and relating to the public. Designed and developed to offer a better browsing experience to its users, the website is intended to be a useful tool for viewing our products as well as being an extensive shop window of the latest trends and a meeting place for news and current events about the company.
The company extends its invitation to you to visit its stand at Cersaie, located at HALL 19 Stand C1 from 24 to 28 September, to the first to view all the innovations and decorations in the extensive product range.
Source: Gayafores
Top image: Patagonia Collection
Read more news related Gayafores published at Infurma
Visit the Gayafores website